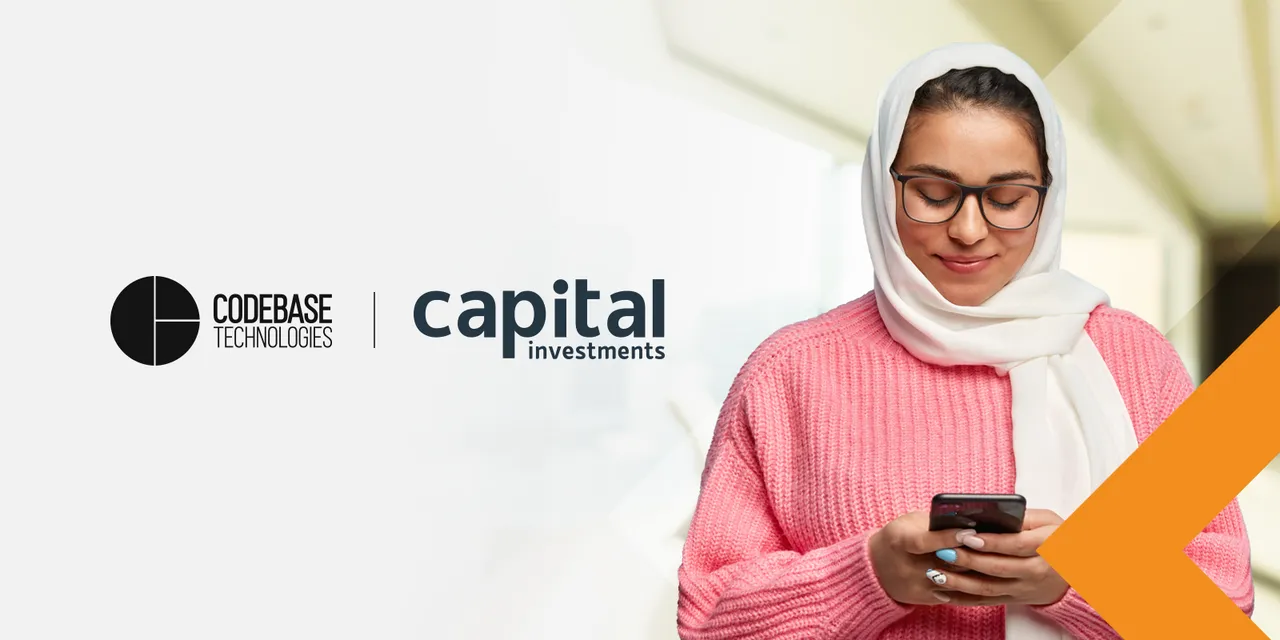 Capital Investments, the dedicated investment arm of Capital Bank of Jordan, has launched its digital onboarding services. These services are designed to allow new customers to register for and start using Capital Investments trading accounts. The Digibanc platform by Codebase Technologies was selected to bring this proposition to market due to its security, flexibility, and track record as a proven innovation platform for digital banking.

This latest digital transformation initiative continues the strategic partnership between Capital Bank of Jordan and Codebase Technologies. In 2022, this partnership led to the successful launch of the neobank Blink and Capital Bank of Jordan's new mobile banking app, both of which operate on the Digibanc platform.

Hani Khalil, Group Chief Digital and Innovation Officer at Capital Bank of Jordan, commented, "Capital Bank of Jordan is embracing technology to revolutionize and improve the banking experience for its customers. We have made significant strides in digitizing our business by prioritizing a customer-centric approach, which has culminated with the successful implementation of fully digital onboarding across multiple Capital Bank Group entities. To ensure success, we are partnering with Codebase Technologies."

The WealthTech industry is predicted to surpass traditional investment channels, reaching an estimated value of $18.6 billion by 20311. This impressive growth can be attributed to the ease with which both new and experienced investors can sign up, manage, and transact. However, recent statistics show that almost 68% of customers abandon a financial application during the onboarding process2. Aiming to capitalize on this market gap, Capital Bank of Jordan has prioritized financial services access in its digital transformation journey, catering not only to retail banking customers but also to those looking to invest and open brokerage accounts.

"Capital Investments has been a respected regional leader in brokerage and investment management for over seventeen years. However, we constantly faced the same challenge that many banking institutions are facing today—customer attrition during onboarding. Considering the current dynamics of technology and the need to reach more people remotely, we were keen to re-strategize and integrate technologies that would support us now and in the future. The Digibanc platform has been a powerful tool of innovation for the Group, and we are excited to launch it for our wealth management as well as trading customers." commented Bashar Amad, Chief Executive Officer at Capital Investments.

By implementing an intelligent onboarding process enhanced by essential capabilities like eKYC, Capital Investments has significantly improved its ability to acquire and retain customers while managing risks more efficiently. While Capital Bank utilizes Digibanc's sophisticated analytics, the bank can also deliver hyper-personalized experiences to customers, maintaining a competitive edge while promoting financial literacy and inclusive banking for all. Leveraging the platform, Capital Bank of Jordan aims to optimize its customer acquisition cost-effectiveness, thereby increasing profits and advancing innovation. Thus, by introducing digital onboarding through its contemporary banking app platform—which allows customers to onboard themselves from anywhere, anytime, in just a few minutes—Capital Bank Group offers its customers the convenience and flexibility needed to bank and invest in today's dynamic digital era.

"We commend Capital Investments for their forward-thinking leadership in launching digital onboarding for their investment and brokerage accounts. This is a crucial step in broadening access to wealth management services across the country and giving customers a market-leading digital experience that will enhance engagement and reduce attrition during onboarding, " added Tamer Al Mauge, Managing Director of MENA at Codebase Technologies.