The Ministry of Coal has completed the Special Campaign# with remarkable success. The achievements of the Ministry during the Special Campaign 3.0, concluded on 31.10.2023 are as under:
(i)100% target achieved in disposal of Public Grievances, PMO References, CMO References and IMC.
(ii) Space Freed - 65,88,878 sq.ft. Ministry of Coal is in the top position under the 'Space Freed' Category amongst all Ministries/Departments in the Government of India.
(iii) Cleanliness Campaigns were conducted at 956 sites, against the initial target of 763 sites identified during the Preparatory phase, by the Ministry and its CPSEs.
(iv) The following two Best Practices of MoC have been highlighted in the Campaign: "Plastic Danav" (NCL) and "Kabad se Kalakriti (SECL).
(v) Revenue of Rs.33.71 crores earned through disposal of 8424 MT scrap (MoC is at 4th position in the category of 'Revenue earned from Scrap')
(vi) 1,39,969 physical files and 1,05,369 e-files were reviewed and total of 69227 files were weeded out/closed.
The space freed up from scrap & waste disposal is being used for various purposes like plantations, horticultural activities, beautification, wider passages Parking space, office sitting arrangements, storage, etc.
 

       

                             Before

   After

     

Before

After
Best Practices reported during the campaign
Going one step further, the Coal PSUs have taken the campaign as an opportunity to create the best from waste by turning mining scrap materials into beautiful sculptures. Some of the best practices adopted by the CPSEs are:
E-Waste Collection Camp, BCCL
BCCL had organized e-waste collection camp on 27.10.23 to responsibly dispose of electronic waste and contribute to a cleaner environment
Punarutthan Charka Udyan, NLCIL
In Neyveli Township, a garbage dump area was repurposed and established Punarutthan Charka Udyan, encompassing 36,000 sq.ft.The Park will features a Charka with remberence of Mahatma Ghandhi along with various metal sculptures ( Lion, Astrich, deer, monkey, peacock, scorpion etc.,) crafted entirely from scrap materials. The children play area, walkways, water fountain also provided for the benefit of general public.
An Eco- tourism park, SECL & ECL

Towards a sustainable future- SECL has undertaken a mission to transform Manikpur Pokhari - a closed Open Cast Mine in Korba district of Chhattisgarh, into a Ethnic Eco-tourism site.
An abandoned de-coaled mine of Bishrampur Area, SECL is converted into a beautiful popular tourist spot.
Under Environment Friendly BEST PRACTICES an ECO PARK, has been developed over scrap land (approx 15000 sqft) of underground mine at Kenda Area ECL. 32species of plants/ trees are panted there.
| | |
| --- | --- |
| | |
| SECL | ECL |
Donation of used computers through Vidyanjali Portal
ECL has undertaken the work of distribution of 427 Nos. of computers in Government Schools nearby ECL operational Areas to promote digital literacy.
Vertical Wall Plantation from Single-Use Plastic, NCL:
In Jhingurda, NCL, innovative minds have harnessed single-use plastic waste to create stunning vertical wall plantations. By recycling and repurposing plastic, they've not only reduced pollution but also turned barren walls into lush, eco-friendly havens. This green initiative is a beacon of sustainability in the heart of Jhingurda.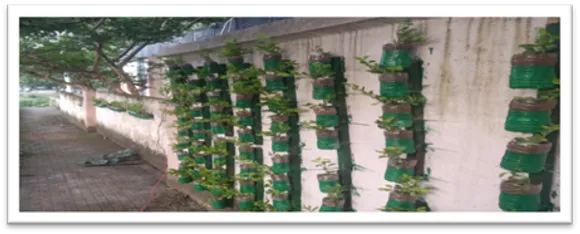 Crafting Animal Artifacts by Coal Miner Artisan at Central Workshop, WCL
WCL have used the scrap materials for making beautiful artifacts like Cock, Eagle, Elephant, Giraffe, Horse, Lions, Peacocks and Squirrel which have been placed at different locations at CWS Tadali with a view to have awareness about environment among employees and their wards. This practice aligns with our broader sustainability goals, reinforcing our pledge to preserve the planet for future generations. The choice of animals for the artifacts reflects the rich diversity of the animal world.
Summer storage tank, SCCL
One artificial ground water storage tank was developed at RG OC-II, SCCL RG-III Area (in front of GM's Office), namely Summer Storage Tank with 127 Million Gallons capacity to recharge groundwater during rainy season to increase the water table in nearby villages which will increase agricultural activities in this area.
These initiatives reflect the Ministry of Coal and CPSES's resolute commitment to fostering cleanliness, sustainability, and responsible waste management. Special Campaign serves as a testament to their dedication in creating a cleaner, greener, and healthier environment for all.