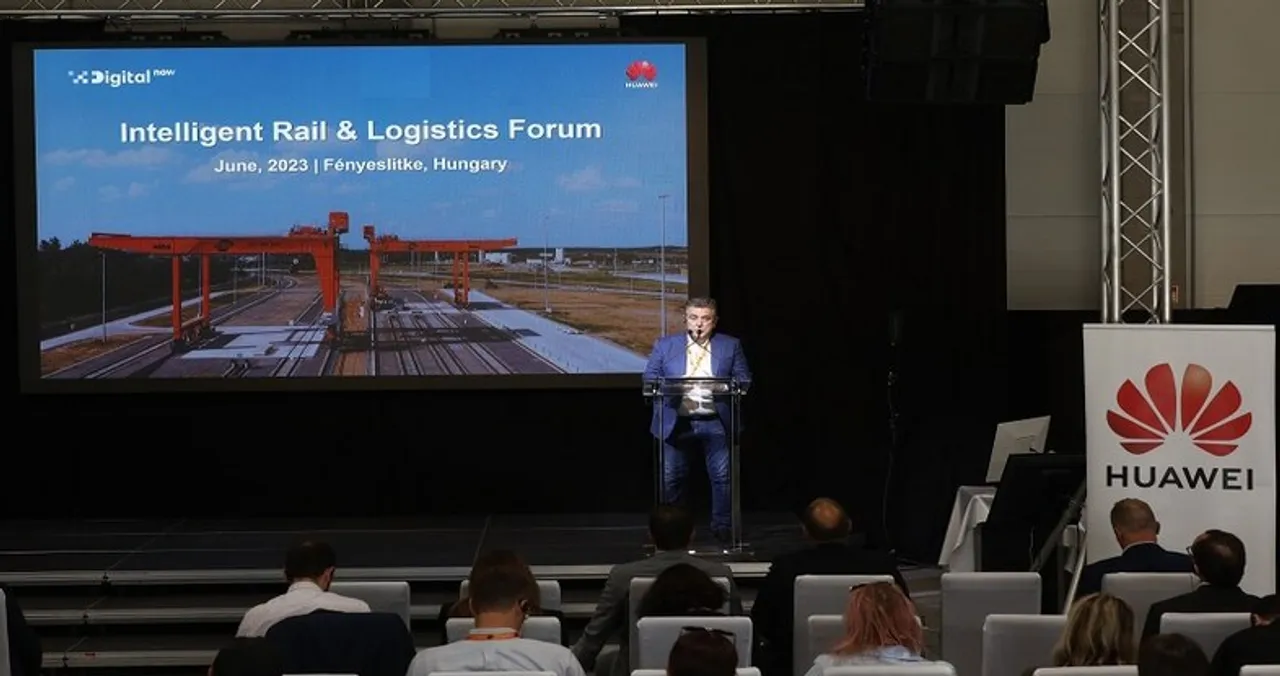 the Intelligent Rail & Logistics Forum 2023 was held in Fényeslitke, Hungary. During the forum, the United Nations Industrial Development Organization (UNIDO) announced that it would establish in July the Global Alliance on Artificial Intelligence for Industry and Manufacturing with Huawei and international partners. This Alliance will be committed to building a platform for collaboration and knowledge sharing to promote innovation and application of AI technologies in industry and manufacturing and boost the digital economy.
the Intelligent Rail & Logistics Forum 2023 was held in Fényeslitke, Hungary
In his speech, UNIDO Deputy to the Director General and Managing Director, Mr. Ciyong Zou stated, "We are witnessing how mobile connectivity and industrial innovation come together. 5G combined with AI and cloud computing bring many benefits to the transport and logistics sectors. The efficiency and quality of jobs have been upgraded greatly. The safety of the site has improved. Participation of women in a previously male-dominated working environment has increased."
As the benefits of AI solutions become increasingly visible across industries, it is important to help businesses go digital. "The objective of the Alliance is to serve as a platform for collaboration, knowledge sharing, and showcase best practices," added Zou.
János Tálosi, CEO of East-West Intermodal Logistics Plc., noted: "The East-West Gate (EWG) intermodal terminal began operations in October 2022. At the terminal, 1 million TEUs (twenty-foot equivalent units) can be quickly loaded and unloaded between wide–gauge and standard-gauge railways each year, meaning high requirements for both efficiency and safety. As 5G enables the interconnection of all internal communications and technical equipments, the terminal's highly automated cranes can be controlled remotely and are capable of subtle movements. This greatly improves productivity while providing a more comfortable working environment for operators."
"The project marks a key milestone in the development of 5G technologies in Hungary and the digitalization of rail freight, and enables EWG to become an intermodal railway logistics hub in the digital era," Tálosi added.
Radoslaw Kedzia, Vice President of Huawei's CEE&Nordic Region said, "East-West Gate Intermodal Terminal is a story of creating social value with excellent collaboration of different partners and dedicated investors. The facility's digitalized, high-tech solution attracts many young locals to stay in the area. The average age of employees is 23-25 years. There is high safety, there is healthy and clean environment for workers, no harsh conditions anymore. The solution proves that 5G has been truly applied in Europe's smart railway sector using next-generation digital technologies and they solve common problems, promote digital transformation."
The Intelligent Rail & Logistics Forum 2023 took place at East-West Gate (EWG) intermodal terminal in Fényeslitke, Hungary. Covering an area of 5 million square meters (including the terminal, warehouses, and development zones), EWG is the largest and most modern inland intermodal terminal of its kind and the first private 5G-supported container railway port in Europe