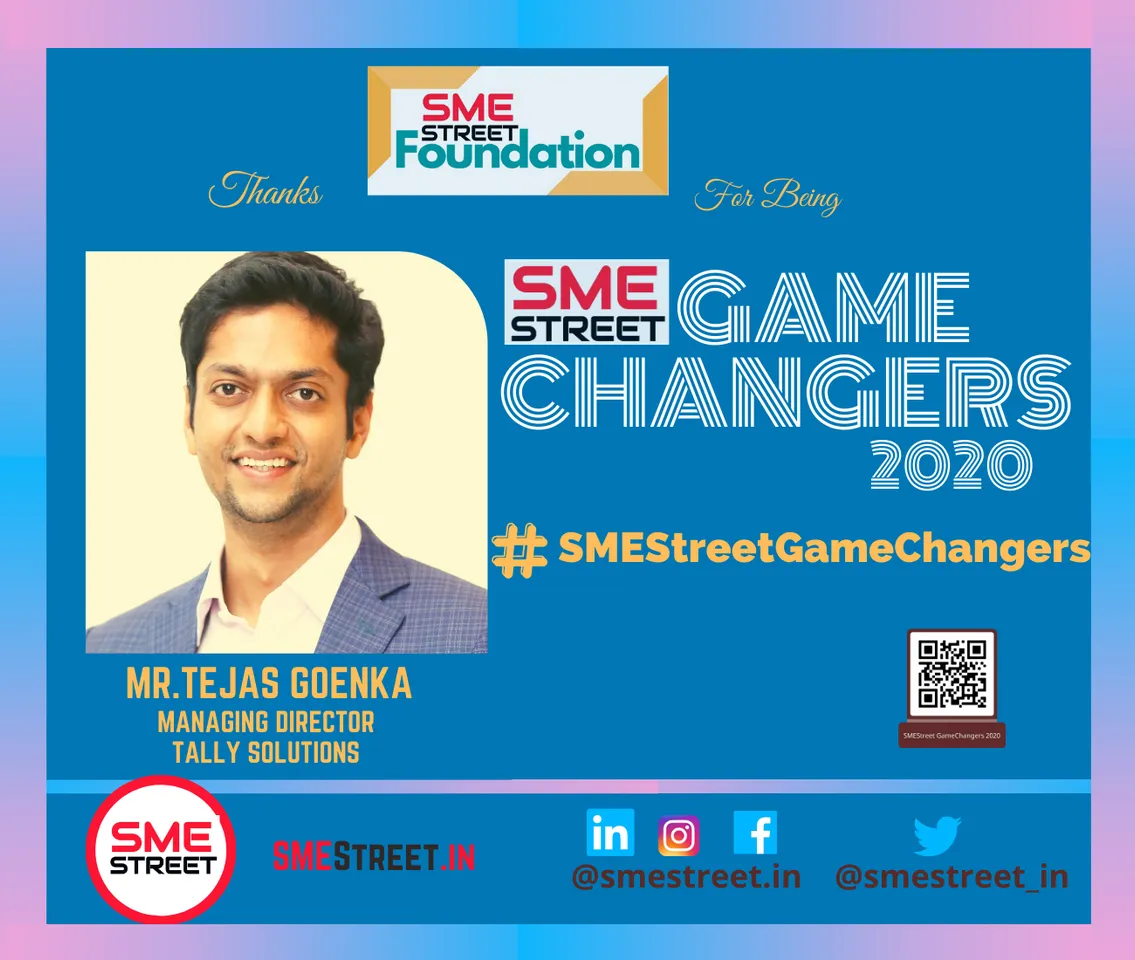 The SMEStreet Foundation has recently unleashed SMEStreet GameChangers award Listing in which industry thought leaders have been identified for their efforts on ensuring a strong response to COVID-19 pandemic. The SMEStreet GameChangers List included ten names from various backgrounds and profiles from Hon'ble Shri Nitin Gadkari, MSME Minister, Govt of India to Shri Siddharth Nath Singh MSME Minister of Uttar Pradesh Govt. and many other distinguished personalities.  In this list, Mr Tejas Goenka, MD of Tally Solutions is also featured for his work towards ensuring smooth financial management among MSMEs through product and services of Tally Solutions.
"The COVID-19 pandemic has shown us how fragile, yet how resilient we are as a society, and within that we have seen the tremendous spirit of the entrepreneurs in India and across the world to push through to serve and survive. We are blessed to play whatever small part we can to help them in their journey and are thankful to SMEStreet for the role they have played and for this recognition," says Mr. Tejas Goenka, Managing Director, Tally Solutions while getting listed into SMEStreet GameChangers 2020.
"At SMEStreet Foundation, it is our great pleasure to recognize important game-changers who led our society to come out of this crisis of pandemic, which impacted the economy and the entire economic cycle. Industry leaders, policymakers have made a lot of efforts during the last nine months and ensured a support mechanism for their respective business ecosystem," says Mr. Faiz Askari, Secretary-General and Editor of SMEStreet Foundation & SMEStreet.in. Congratulating all the distinguished listed GameChangers, he mentioned, "I am thankful to all the listed professionals, policymakers and bureaucrats who made their efforts to support their respective business ecosystem in the times when it is needed most."  
SMEStreet GameChangers is an attempt to recognize such individual success stories which have made a significant impact in their respective horizons of business. Success stories of successful COVID Warriors while doing something innovative, something constructive in sustaining business will get showcased here. We can refer to these heroes as COVID warriors of supporting business.