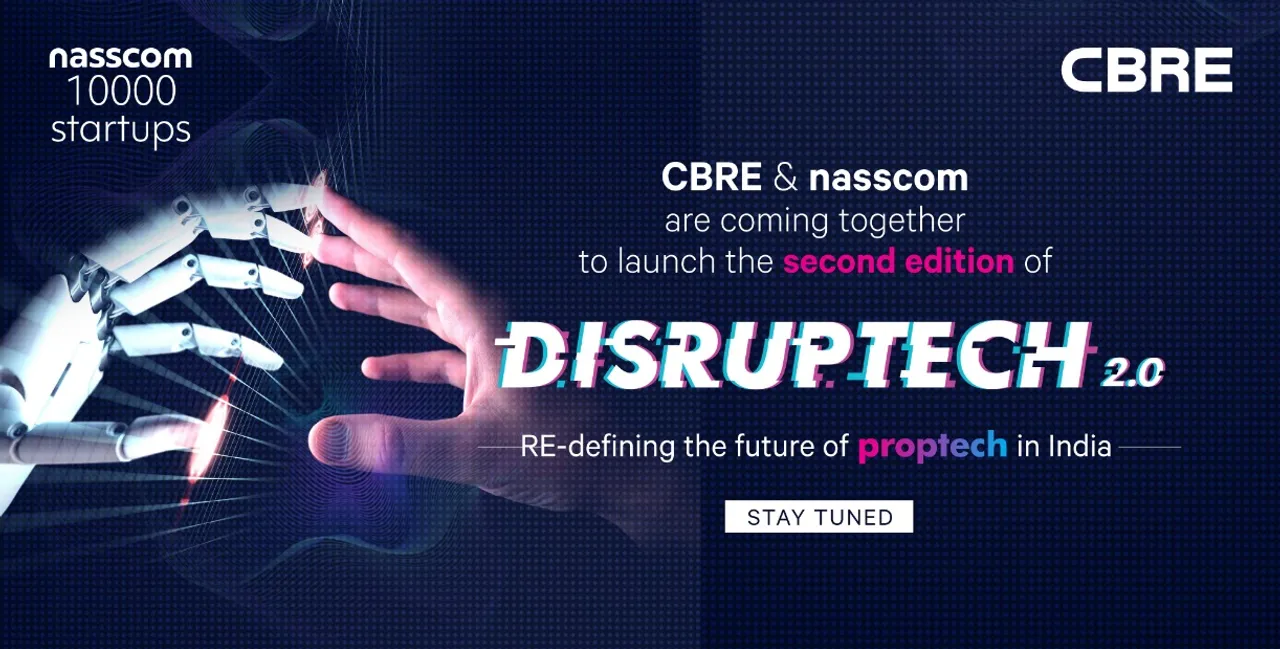 CBRE South Asia Pvt. Ltd., the leading real estate consulting firm in India, is set to unveil the winners of DISRUPTECH 2.0, India's biggest PropTech challenge at the grand finale event in Delhi on October 31st, 2023. With participation from nearly 400 startups eyeing entry to the top league, this hackathon challenge has emerged as a beacon of disruptive PropTech and innovation in the real estate industry, symbolizing the indomitable revolution of startups and entrepreneurs across the nation. 
The top 10 stellar finalists will be evaluated by a distinguished panel of jury members which comprise of renowned industry veterans and experts from across domains. The top 3 winners will be felicitated by Hon'ble Chief Guest Shri Piyush Goyal, Minister of Commerce & Industry, Consumer Affairs, Food & Public Distribution and Textiles, Government of India, in the presence of Anshuman Magazine, Chairman and CEO, India, South East Asia, Middle East, and Africa, CBRE.
The winners of DISRUPTECH 2.0 will receive a comprehensive array of rewards and recognition, including access to real estate angel funding, participation in the CBRE Global Start-up program, opportunities for proof of concept (POC) collaborations with CBRE clients, access to the NASSCOM start-up ecosystem, mentorship with experienced investors, and valuable marketing support from CBRE Advisory. 
The 6-month-long journey of DISRUPTECH 2.0 is a testament to the commitment to fostering innovation and collaboration in the entrepreneurial ecosystem. The outstanding response with participation from nearly 400 PropTech start-ups from over 45 cities in India, including Tier 1, Tier 2 and Tier 3, cities underscore the enthusiasm of start-ups to redefine norms and bring transformative solutions to the forefront. The entries for the challenge are divided into categories focused on ESG, Fintech, Construction Technology and Indigenous Tech for the local market. 
The platform designed to identify, mentor, and develop the best technology solutions will enable the Indian real estate industry to take a quantum leap over the coming years.
Anshuman Magazine, Chairman and CEO, India, South East Asia, Middle East, and Africa, CBRE, said, "Our partnership with Nasscom for the second edition of DISRUPTECH 2.0, India's largest PropTech challenge, is aimed at enabling start-ups to revolutionize the industry with their innovative solutions. The platform will enable these pioneering innovators and act as a catalyst in empowering them through their transformative journey, offering essential support, resources, and mentorship. This collaborative and innovative journey has the potential to bring about a revolution in the real estate industry, and we're excited to witness the growth potential of these visionaries."
The last edition of DISRUPTECH 2019 saw three winners who have scaled to new heights. The 2019 winners were, PropVR, QuickSpec and WEGoT. All three companies are now clocking exponential growth and have witnessed considerable acceleration in business expansion and innovating solutions for their clients.