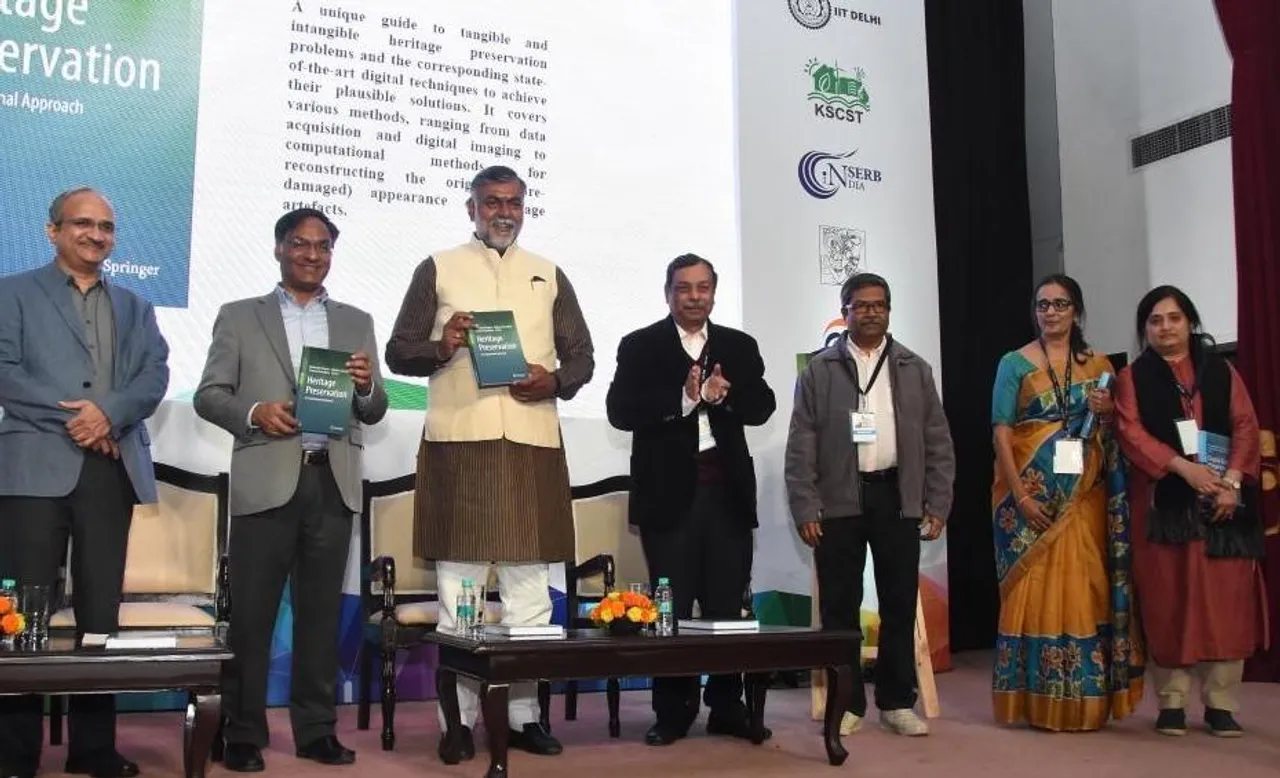 The first-ever International Heritage Symposium and Exhibition (IHSE) incorporating a month-long exhibition was inaugurated today at the National Museum, New Delhi. It has been jointly sponsored by the Department of Science and Technology (DST) and  Karnataka State Council for Science and Technology (KSCST), and organized by the Indian Institute of Technology (IIT) Delhi.
Hon'ble Minister of Culture and Tourism, Shri Prahlad Singh Patel was the Chief Guest on the occasion. Along with the symposium and exhibition, he also launched two edited books on Digital Heritage, namely: "Digital Hampi: preserving Indian Cultural Heritage and "Heritage Preservation: A Computational Approach"
The 'IHSE 2020' has been developed around the frequently articulated need for preserving India's rich cultural heritage digitally, for the future generations. The two-day event will witness an interdisciplinary dialogue between scientists, academia, historians, social scientists, practitioners, musicologists, policymakers, allowing for adoption of best practices and technology to preserve world and India's heritage.
The event has bought together for the first time in India, communities from such diverse disciplines such as science, technology, culture and social sciences who are engaged in conservation, preservation and management of world heritage in physical and digital space.
Speaking on the occasion, Shri Prahlad Singh Patel, Hon'ble Minister of Culture and Tourism and Chief Guest at the event said," The vast cultural diversity of India is the main attraction for tourists and we all are working together very hard to preserve and strengthen the country's rich cultural heritage and to promote tourism. This initiative of integrating technology into heritage will make it accessible to literally everyone in the society and is a great initiative indeed."
Shri Ashutosh Sharma, Secretary, DST and Guest of Honour at IHSE 2020 said "I have witnessed efforts in the field of digital preservation from last 5 years and this exhibition is a culmination of those efforts. Vizara Technologies, a start-upworking in this space has made enormous strides by recreating our cultural heritage using AR, VR, MR and AI technologies etc. We all know that the future is all about convergence of technology in all aspects of our life and this event is a step towards discussing some of the key issues that challenge us in preserving our heritage. I am of the view that we need to step up efforts significantly and thus look forward to discussions on the possibilities that this sector holds for our country over next two days of the symposium"
Speaking on the sidelines of the event, Dr. Anupama Malik, Organising Chair for IHSE &Managing Director, Vizara Technologies Pvt Ltd said, "IHSE is a recognition of the need for a meeting of the best minds globally to discuss ways of preserving India's rich heritage digitally. This event has created an eco-system where all stakeholders working in the Digital and Cultural heritage domain, have come together to identify open issues in Indian heritage management"
Four panel sessions are lined up for tomorrow. These include Performing Arts: Preserving the tradition (Intangible), Conservation Technologies in Art, Design and Archaeology, Understanding Traditional Engineering Systems for Future (Tangible) and Harnessing the Digital for the Museum Experience.
The month-long IHSE exhibition entitled "INDIAN HERITAGE IN DIGITAL SPACE" will highlight work done under DST initiatives for digitizing heritage and will be the first ever public showcase of digital preservation work that has been undertaken in India using cutting edge AR, VR, MR and AI technologies. The exhibition will showcase 3D fabricated models of 5 Indian monuments (including Kashi Vishwanath, Taj Mahal, Sun Temple Konark) with interactive Virtual walk-throughs and Projection Mapping, and a room-scale 3D model of a Hampi Temple, with AR, VR and Holographic interactions and much more.
The foundation for IHSE was laid by the Indian Digital Heritage (IDH) project (2010-2014), which was a unique initiative of the Department of Science & Technology supporting collaborative projects between researchers in the areas of technology and humanities for the digital documentation and interpretation of our tangible and intangible heritage. The goal of the IDH Research Project (www.digitalhampi.in) was to extend the power of digital technologies to well beyond monuments to art, architecture and all forms of cultural and historical knowledge. The aim of the project was to go beyond simply storing and sharing the heritage data and knowledge and use emerging technologies to create vivid experiences of the heritage for common users. IDH initiative gave birth to some of the most advanced techniques and technologies in digital heritage preservation, and DST motivated setting up of technology start-ups to translate this research into commercial products, one of them being Vizara Technologies Pvt Ltd.