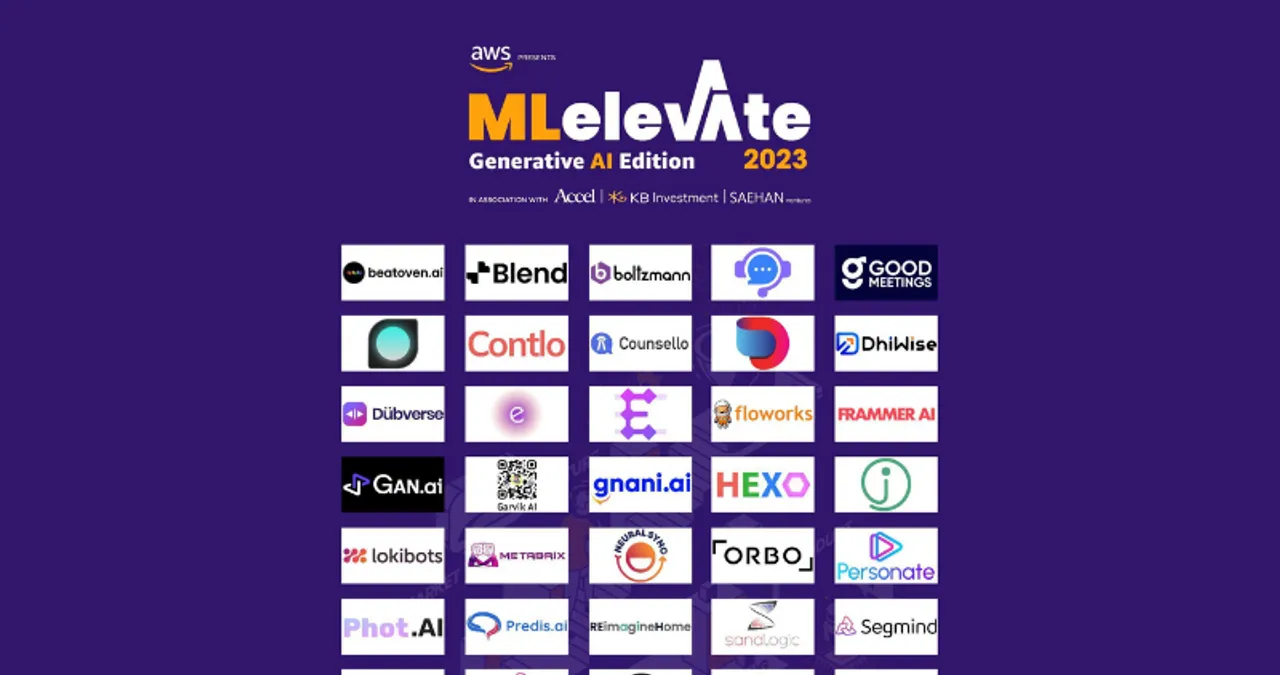 Generative artificial intelligence (AI) is a rapidly advancing technology that has captivated businesses of all sizes and across sectors with its ability to comprehend and generate realistic conversations, stories, images, videos, and music across diverse domains. Indian startups are at the forefront of harnessing generative AI technology to build applications to accelerate innovation and drive transformation. A recent study by NASSCOM highlighted that the count of generative AI startups in India has more than doubled from 2021 to 2023<1>.
To enable generative AI startups to accelerate their journey, AWS, in association with Accel, launched the AWS ML Elevate program in July 2023.
The program received over 400 applications from startups across India, out of which, 35 Indian startups have been selected to be part of the AWS ML Elevate 2023 cohort. The applicant startups were screened across various scoring parameters such as market opportunity, product robustness, underlying tech stack, and business viability. The selected startups offer distinctive and forward-looking generative AI solutions such as drug discovery, content generation (including audio, images, videos, textual), code generation, and others.
The program offers the selected startups technical and business mentorship, and guidance from experts, along with access to a community of industry leaders, entrepreneurs, and VCs. The AWS ML Elevate 2023 cohort participants will also receive access to impactful AI models and tools, the AWS Activate Program, and up to $200,000 in AWS credits. The cohort will also have the opportunity to scale production-ready generative AI applications on Amazon SageMaker JumpStart and get access to curated resources and one-on-one office hours, supplemented with networking with founders, operators, and experts in the AI/ML domain.
As a part of the ML Elevate 2023 programme, these startups will engage in a series of sessions that will help them focus on evolving their product-market fit, set up a strong technical foundation for a scalable product, and develop capabilities to drive fundraising opportunities.
Indian startups selected for AWS ML Elevate 2023 are:
Beatoven.ai enables content creators to craft original, royalty-free soundtracks for various mediums, alleviating issues related to music search, editing, and licensing.
Dashverse Corp's "Dashtoon" offers a rapid digital comic creation tool, linking creators with millions of global readers.
Dubverse transforms video content with its audio-generative AI platform, allowing real-time language translations with natural voices and manual editing options.
MetaBrix aims to simplify 3D content creation with its no-code SaaS platform, reducing time, effort, and cost in games, e-commerce, and immersive applications.
OpeninApp offers a comprehensive suite of AI tools designed to assist content creators in developing, distributing, and monetizing their content more efficiently, affordably, and effectively.
Blend revolutionizes eCommerce with its AI Figma tool, empowering merchants to create stunning product visuals quickly and efficiently.
A deep tech entity in computer vision and AI, it offers solutions for virtual trials of dresses, makeup, and jewelry, enhancing the shopping experience.
Boltzmann is developing an ecosystem of five AI-first, cloud-based platforms interconnected to facilitate various stages of drug discovery, including clinical trial design and synthetic chemistry.
DhiWise streamlines the design-to-code process, thereby enhancing developer productivity twentyfold and saving over five million hours of coding.
Embedchain.ai is an open-source platform for creating ChatGPT-like bots, tailored to custom and constantly updating datasets.
Floworks develops an AI capable of interacting with and operating every existing software, simplifying communications with various work apps.
A product of the IIIT-H Computer Vision lab, NeuralSync delves into AI research, pioneering deep learning models from talking head video generation to digital humans.
Phot.ai specializes in utility and productivity tools, with over 550 million downloads since its inception in 2018.
SandLogic is at the forefront of enterprise AI, streamlining Edge AI adoption with cost-effective solutions. Their intelligent automation accelerator optimizes the handling of cognitive inputs, empowering organizations to turbocharge their operational efficiency.
Brance IT is crafting AI Inside Sales agents to automate sections of Inside sales roles, enhancing efficiency in sales processes.
Goodmeetings offers AI-powered meeting insights and automation, assisting remote sales teams in improving performance through automated notes and key insights.
Contlo is an AI-native platform, Contlo enhances marketing and customer engagement, bringing innovation to the forefront of business strategies.
Enterpret Inc facilitates better product development by aggregating customer feedback in one place and deriving actionable insights for popular product companies.
Frammer is a SaaS solution that transforms videos into short, monetizable, and discoverable content through the power of AI.
Gan.ai enhances brand marketing with video personalization at scale, boosting engagement and conversion through AI-driven technology.
Gnani.ai facilitates efficient enterprise communication, automating customer queries and improving agent efficiency through AI technologies.
Hexo.ai integrates generative AI into marketing workflows to help teams improve ROI on spends, bringing a new dimension to marketing strategies.
LokiBots provides a cloud-native platform combining conversational and generative AI for automation in conversational processes and RPA.
Predis.ai combines the features of ChatGPT, Canva, and Hootsuite to generate branded editable content for companies, enhancing brand presence.
Segmind offers high-performance deployment solutions for generative models, paving the way for advancements in the AI sector.
Simplismart allows businesses to create and manage AI systems effortlessly, reducing deep learning model development time and costs significantly.
Orbo.ai helps brands elevate return on advertising spend and customer engagement with AI-powered personalization tools.
Garvik.ai offers transformative Middleware solutions for Sales in Banking and Manufacturing. Their integrated solutions provide real-time AI support, predictive analytics, and a unified intelligence platform, boosting efficiency, and customer satisfaction, and enabling growth in dynamic markets.
UnScript revolutionizes live-action video creation with its generative AI model, enabling animation through natural language prompts.
Personate.ai synthesizes digital human-based videos for educational and information broadcasting, serving a vast Indian audience.
REimagineHomeAI 2.0 merges design, real estate, and AI to transform visual creation processes in the industry, replacing outdated methods with innovative solutions.
A deep tech startup, VisualDub offers immersive storytelling with visual dubbing, with support for 30+ global languages.
Counsello provides AI-powered tools such as Smart Search and AI Stenographer for efficient research and document summarization. Their user-friendly platform enables professionals to achieve more in less time, upgrading their legal research process to the AI era.
Jhana offers AI research and drafting assistants designed for Indian lawyers, creating a virtual paralegal to enhance research quality while saving time and resources.
Collectiv
Collectiv AI enhances developer productivity by facilitating 10x faster access to siloed knowledge, paving the way for more efficient workflows.