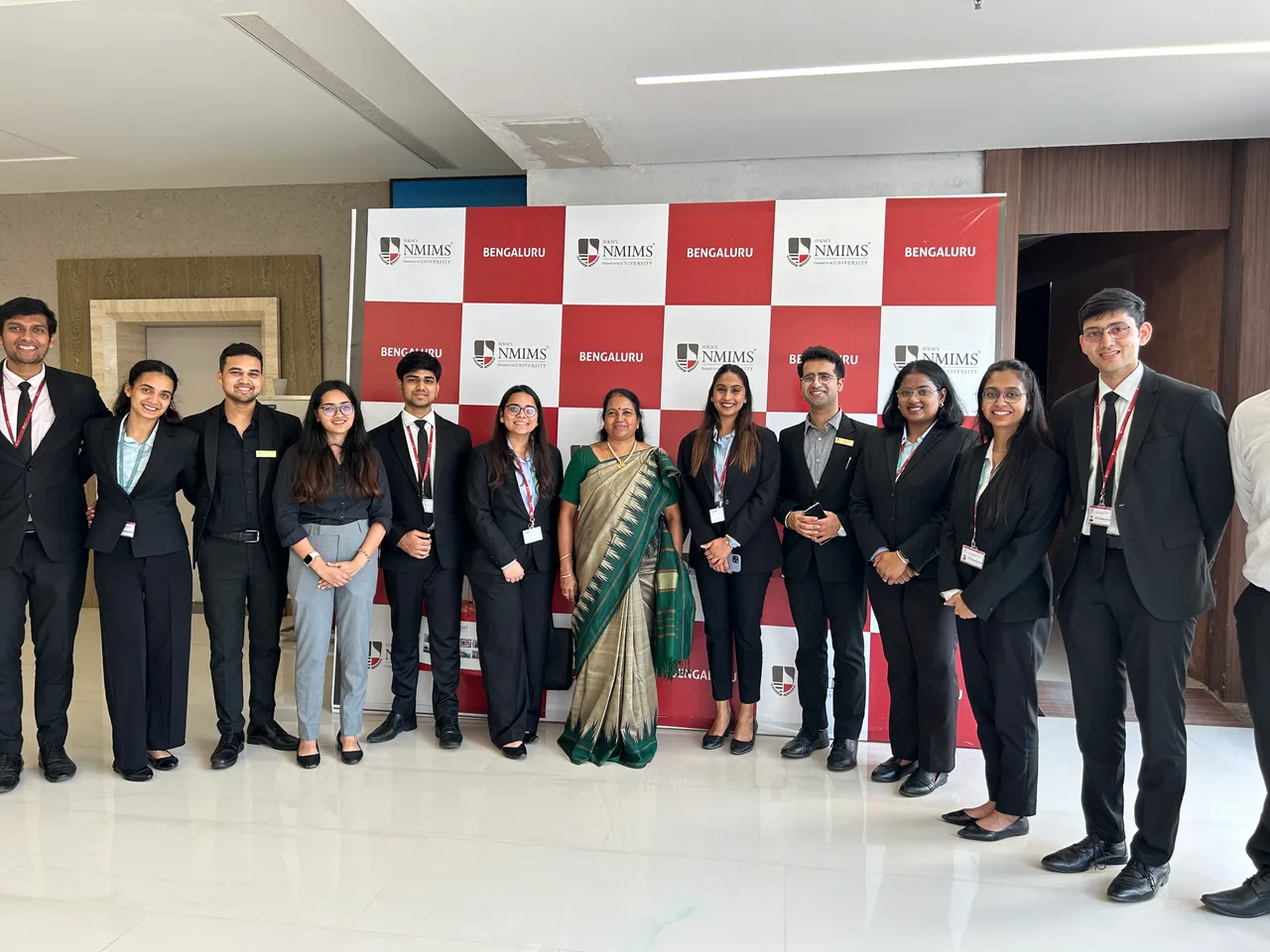 SVKM's NMIMS Bengaluru hosted an engaging and insightful session on 'ISRO's Space Exploration' featuring Mrs. Kalpana Arvind, Associate Director at LEOS-ISRO. During the session, the accomplished guest provided rich insights into ISRO's remarkable achievements and future endeavours in the field of space exploration. 
Mrs. Kalpana Arvind, an Electronics and Communication graduate, has had an illustrious career of over 37 years at ISRO. In her over three-decade-long stint at ISRO, the scientist has served the organization in various capacities and has significantly contributed to several projects of national importance, including successful space exploration projects like Chandrayan-1, 2 and 3 and the very recent Aditya L1. Currently, she is serving as the Associate Director at the Laboratory for Electro-Optics Systems (LEOS), ISRO. 
Mrs. Kalpana Arvind's first assignment at ISRO was to develop Sensor Processing Electronics Packages for the highly successful Indian National Satellite - INSAT-2 series. So far, 40 packages of INSAT-2 have been successfully launched as part of renowned space programs like Chandrayaan-1, 2 & 3; and the Mars Orbiter Mission. The scientist has presented sensor subsystems for pre-launch, launch and post-launch related activities. Among other accomplishments, she has designed and developed advanced Fiber Optics-based Gyroscope and MEMS-based sensors for the Inertial Reference Unit and Accelerometer respectively. 
Mrs. Kalpana Arvind has published over 50 important papers and journals at leading national and international conferences, received one unique patent in her name and has recently applied for one more. A member of prestigious forums such as the Instrument Society of India, the Astronautical Society of India and the Indian Society of Systems for Science and Engineering, she has been conferred with several awards and accolades for her accomplishments in the field of space exploration. 
In the enlightening session, Mrs. Kalpana Arvind delved deep into India's giant strides in the realm of space exploration so far. She highlighted the critical role of the ISRO in India's progress in astronomy and extensively spoke about recent missions and technological advancements. Furthermore, she provided a comprehensive roadmap of ISRO's future missions and endeavours. 
The session was a thorough learning experience, as keen attendees gained first-hand knowledge about ISRO's cutting-edge research and its role in advancing space exploration on a global scale.
Mrs. Kalpana Arvind said, "In the vast realms of space exploration, ISRO has achieved the most remarkable breakthroughs, which include Chandrayan 3's soft landing on the south pole of the lunar surface and the recent Aditya L1 mission exploring the sun. With incredible missions like the Gaganyaan in the pipeline and cutting-edge resources available, the future of space exploration and research in India looks bright."
Thanking Mrs. Kalpana Arvind for gracing the campus, Dr. Narayani, Director, NMIMS Bengaluru, said, "We are privileged to have hosted Mrs. Kalpana Arvind for the enriching session on space exploration. Her rich insights and vast experience in the field of science and the cosmos have deeply inspired the students here at NMIMS. We look forward to more such opportunities to host some of the most brilliant minds who are redefining India."