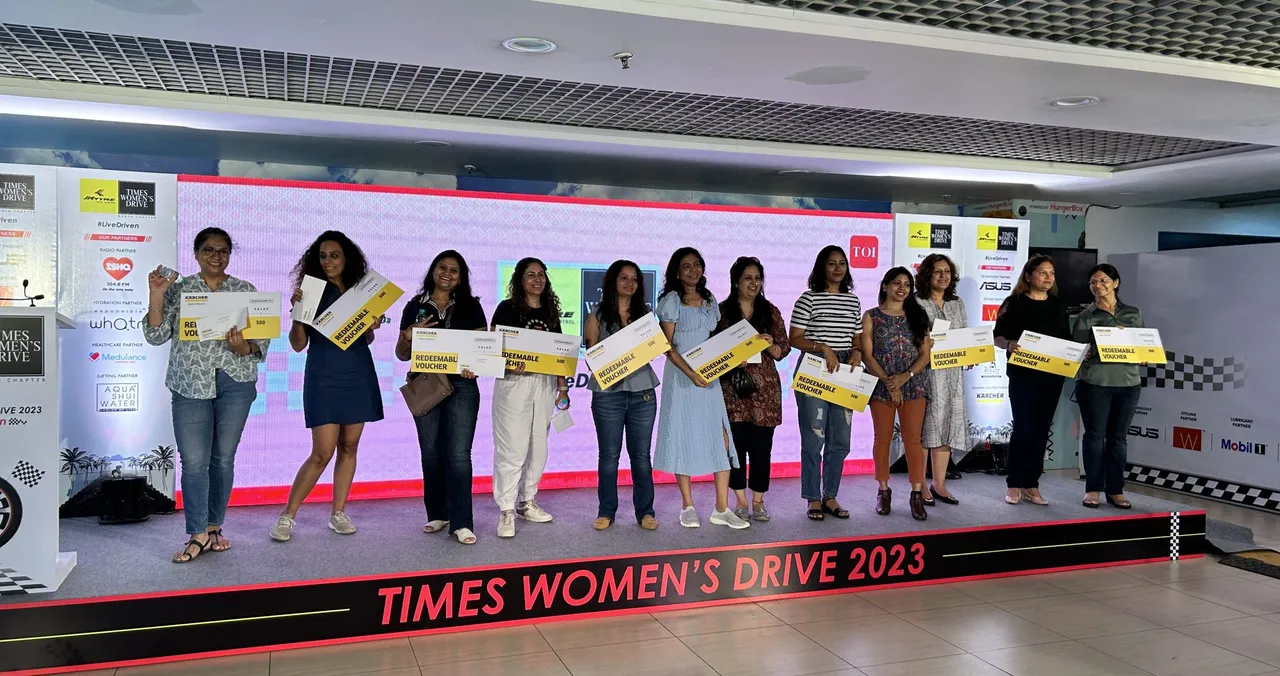 Kärcher India, celebrated for its innovative cleaning solutions and unwavering dedication to the pursuit of excellence, proudly heralds its remarkable entrance into the realm of motorsports event cleaning. The harmonious confluence of Kärcher's steadfast commitment to uncompromising quality and the electrifying ambience inherent in these occasions has birthed enduring, unforgettable experiences that captivate both participants and spectators alike.
Kärcher India is thrilled to announce its triumphant collaboration as the Official Cleaning Solution Partner for the 4th edition of Times Women's Drive – North Chapter. This event, tailored for women distinguished by their indomitable spirit and determination, stood true to its promise of an inspiring challenge, with over 100+ registrations. Kärcher India is honoured to be an integral part of this incredible journey, where the empowerment of women, the thrill of adventure, and the joy of camaraderie converge along the picturesque route from Delhi to Jaipur.
In previous endeavours, Kärcher India's groundbreaking initiative as the Title Sponsor of the Mountain Goat 4x4 Rally played a pivotal role. It flawlessly tackled grime, dirt, and stains, preserving the impeccable appearance of vehicles navigating the rugged terrain. Kärcher India ensured that participants and their vehicles were primed to conquer every challenge, embodying the spirit of adventure and unwavering excellence. Their state-of-the-art pressure washers proved to be game-changers, showcasing unparalleled cleaning power and efficiency in demanding off-road conditions.
This collaborative achievement firmly cements Kärcher's status as a pioneering force in the realm of cleaning solutions tailored for off-road applications. It vividly underscores the company's capacity not only to endure but to flourish amidst the most formidable of conditions, thereby granting aficionados the assurance and empowerment needed to embark upon off-road escapades with unwavering confidence.
The 'Rally of Valley,' presented by Chamba Motorsport, convened an impressive assembly of 35 rally cars competing for glory. As the primary sponsor of this exhilarating five-day event, Kärcher India was thrilled to be part of an adventure that redefined excitement, speed, and automotive excellence while emphasizing the significance of cleanliness. The rally traversed a challenging 550 kilometres across treacherous roads, from Chamba to Srinagar, delivering awe-inspiring experiences amidst breathtaking landscapes.
Four strategically located pit stops along the demanding rally route served as perfect showcases for the power and versatility of Kärcher's cutting-edge pressure washers, vacuum cleaners, and window vacuum cleaners.
Reflecting on Kärcher India's remarkable involvement in the world of motorsports, Jatinder Kaul, Managing Director of Kärcher India, stated with pride, "We take great pride in our partnership with esteemed motorsports events as a prominent sponsor, an association that allows us to exemplify the efficacy of our pressure washers, vacuum cleaners, and window vacuum cleaners. These advanced cleaning solutions have significantly elevated both the performance and aesthetic appeal of the vehicles participating in these events."
Kärcher India remains steadfast in its commitment to enriching experiences across diverse settings and striving to make the world cleaner and better, be it through its cutting-edge cleaning solutions or its unwavering support for thrilling motorsport events. These past sponsorships have not only celebrated the spirit of adventure but have also underscored Kärcher's unwavering commitment to quality and innovation.