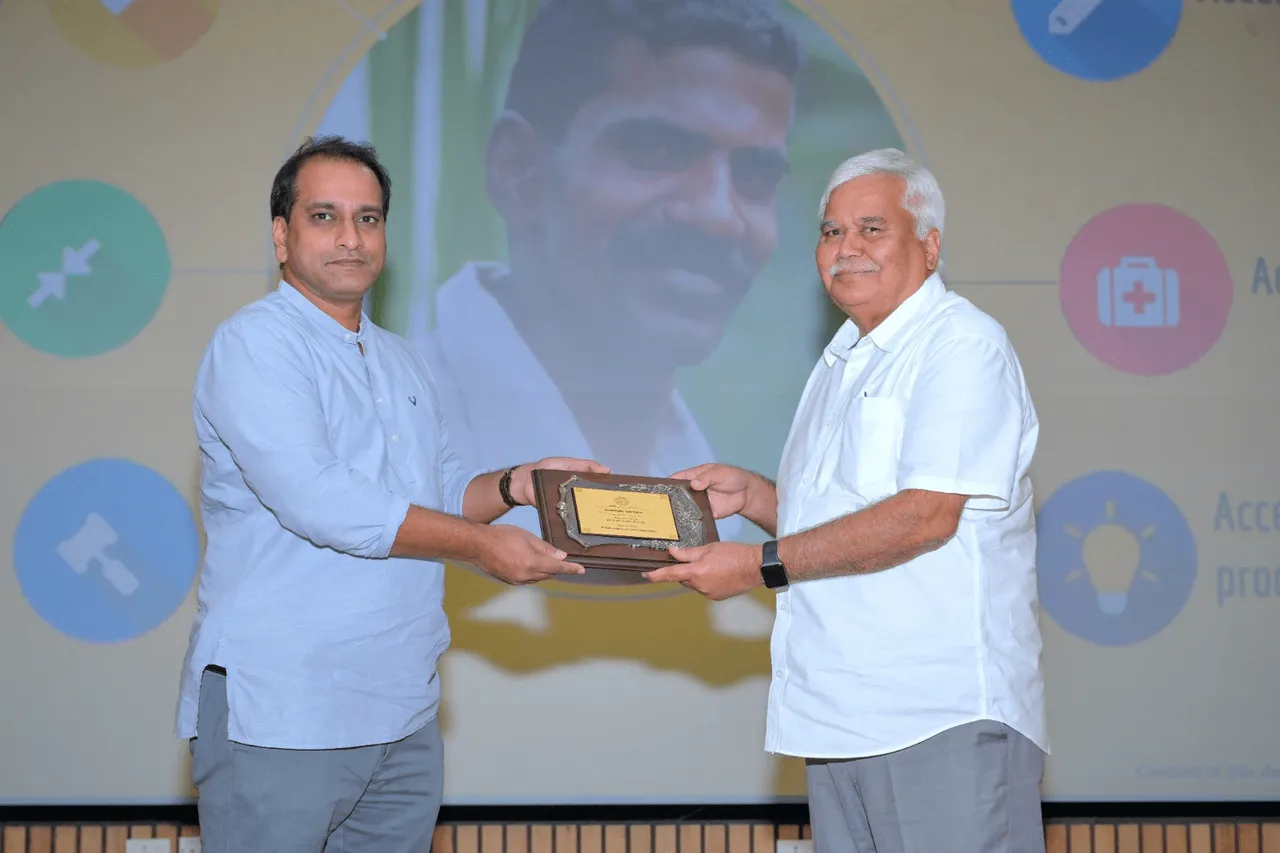 Dr. R. S. Sharma, a renowned figure in India's digital transformation landscape and a Distinguished Visiting Professor at the Indian Institute of Technology Kanpur (IITK), delivered a captivating talk on India's Digital Public Infrastructure (DPI) as part of the "Amrit Kaal -Vimarsh" campus dialogue on 17th October. This initiative aims to inspire students and academics to contribute to a development-centered ecosystem.
Dr. Sharma, an alumnus of IIT Kanpur, is a former civil servant who has held significant public sector positions such as Chief Executive Officer of the National Health Authority and Head of the Telecom Regulatory Authority of India (TRAI). He is also recognized for his pivotal role as the first Director General of Unique Identification Authority of India (UIDAI), where he spearheaded the creation of the Aadhaar system.
In his enlightening talk, Dr. Sharma elucidated how India has made remarkable strides in the digital realm through the DPI approach, highlighting its significance for India's digital future. The G20's Leaders' Declaration recognized DPI as an evolving concept involving shared digital systems, driven by both public and private sectors, founded on secure infrastructure, open standards, and open-source software, ultimately enabling large-scale service delivery.
Dr. Sharma pointed out that although the term DPI may be relatively new, the concept isn't. Examples like the Internet, with its common protocols, and telecom standards like GSM, SMS, CDMA, and IEEE 802.11, demonstrate the foundation of DPI. 
The ground-breaking Aadhaar project commenced in 2009, creating unique identities for Indian residents. Aadhaar, a cloud-based digital ID, allowed identity verification for various services, such as bank account openings, mobile SIM issuance, ration distribution, among others. It gave rise to products like Digital Locker, electronic KYC (eKYC), and digital signature on demand (e-Sign). 
Aadhaar's development highlighted essential lessons in minimalism, federated architecture, authentication's purpose agnosticism, privacy, security, unbundling of functions, open APIs, and a layered approach that laid the foundation for India's DPI philosophy.
Dr. Sharma explained that DPI encompasses three integral layers: market, governance, and technology standards. The market layer involves competitive players designing inclusive products, while the governance layer establishes legal frameworks and public programs to drive adoption. Technology standards, particularly for identity, payments, and data sharing, enable interoperability and shared standards, shaping the DPI's structure and functionality. 
DPI strikes a balance between all-government and all-private systems, avoiding quality and monopoly issues. It creates frameworks for frequently required services, offering open protocols, shared platforms, and enabling policies for an interoperable ecosystem. Registries, like those for healthcare providers, are critical reusable components. Ensuring continuous updates is essential for their functionality.
Several Digital Public Goods (DPGs), such as eKYC, eSign, and Digi-locker, have been built on DPIs. Successful DPIs in India include Aadhaar, Unified Payment Interface (UPI), and CoWin, which managed the world's largest vaccination program. Along with these, Dr. Sharma also highlighted that other initiatives, like the Unified Health Interface (UHI), Ayushman Bharat Digital Mission (ABDM), and Open Network for Digital Commerce, are in progress.
Security is paramount in DPIs, necessitating the creation of secure pipelines for access. Dr. Sharma highlighted the Aadhaar experience with Authentication User Agencies (AUAs) as an exemplary framework. End-user application certification ensures safety, exemplified by CoWin, a secure model with over a hundred connected applications.
This approach minimizes development costs, fosters modular solutions, lowers entry barriers and promotes a diverse ecosystem of applications. Scalability is key, making it easier for private innovators to adapt.
Dr. Sharma portrayed India's DPI approach as a harmonious blend of scalability, interoperability, innovation, and frugality. It represents a vision for a digitally inclusive future, resonating not only within India but also on the global stage, as evidenced by the G20 declaration.