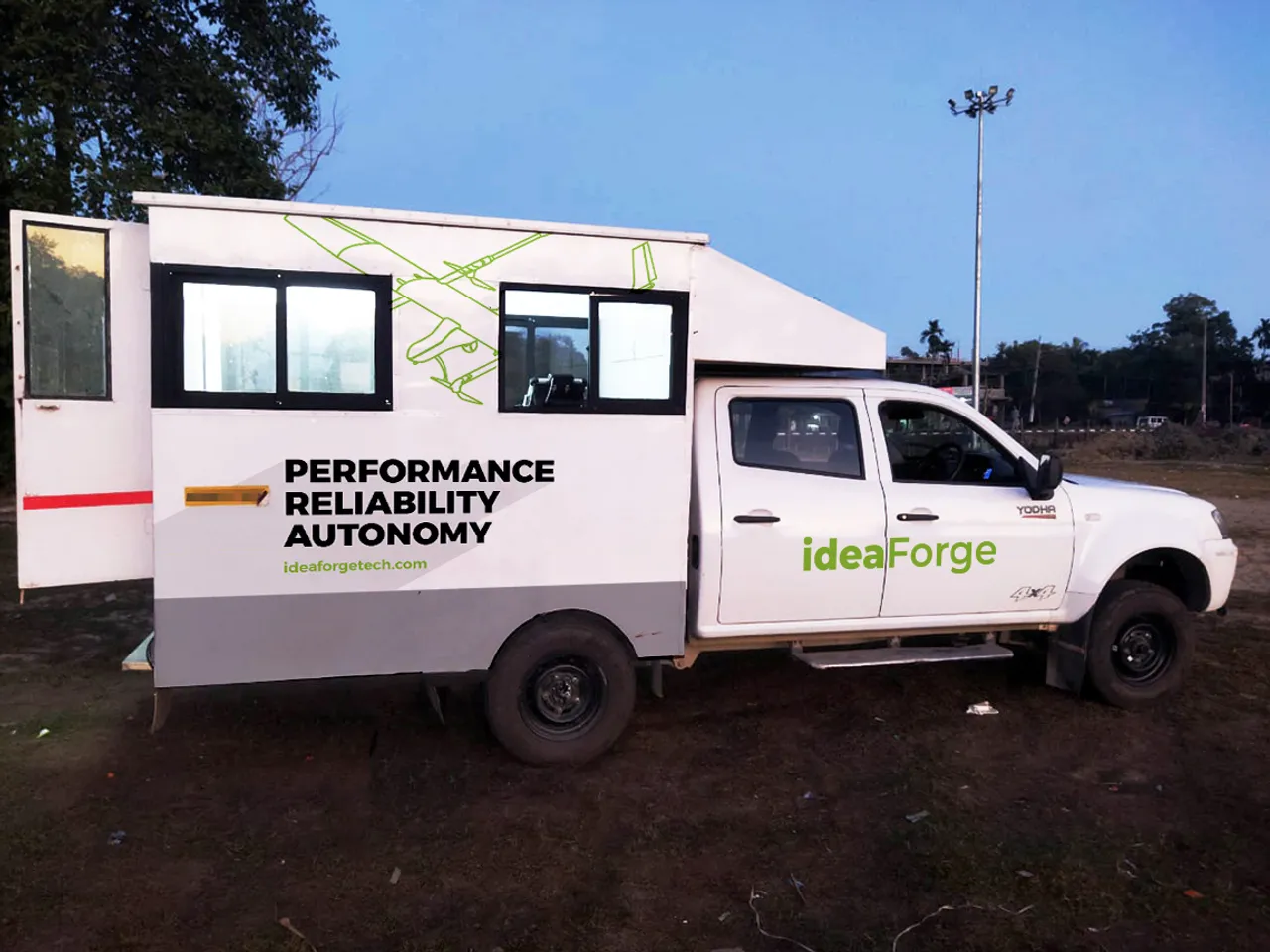 ideaForge Technology Limited, a leading global drone technology and manufacturing company announced the launch of its innovative 'Service on Wheels' program. This program is designed to provide an exceptional door-to-door service experience to its valued customers.
The Service on Wheels' program represents a groundbreaking approach to customer support. This initiative introduces a fleet of service trucks, specially customized to cater to customers in areas where ideaForge's service centers are yet to be established or are geographically distant. Primarily targeting hilly and remote regions, these mobile service centers aim to enhance the service and  timely assistance to ideaForge's customers.
The 'Service on Wheels' program features pickup trucks that have been transformed into mobile service units catering to the specific requirements of ideaForge's Customer Support and Success (CSS) team. These trucks are initially deployed in the Leh Ladakh and North-East regions, where they will be operated for a minimum of three months to assess their performance and will be subsequently expanded to additional locations in India with large installed base or limited access. 
The main challenges/pain point for the customers in remote areas has been Road, Rail, and Air Connectivity. These service trucks can reach areas with poor or limited road, rail, or air connectivity, providing on-the-ground support despite transportation challenges. With the mobile units stationed in the target areas, transit time is significantly reduced, leading to faster response time and quicker issue resolution.The mobile units are also equipped with alternative power sources such as generators to ensure uninterrupted service even in areas with unreliable power supply. They are further designed to withstand harsh weather conditions, ensuring that they can operate in areas prone to extreme weather.
These specialized service trucks are equipped to transport our Unmanned Aerial Vehicles (UAVs) and carry essential tools for on-site servicing. Whether it's traveling to a customer's location for repairs, picking up UAVs for service at ideaForge service centers, or even delivering new UAVs, the 'Service on Wheels' program is designed for maximum convenience.
By reducing the operational and delivery times of ideaForge's CSS team, this initiative will significantly enhance customer service and the overall user experience. With this mobile solution, customers can expect swifter, more efficient servicing, no matter where they are located.
 "We are dedicated to constantly improving our services and ensuring our customers' satisfaction, said Amol Suryawanshi, Senior Director Operations, ideaForge Technology Limited. The 'Service on Wheels' program is a testament to our commitment to address the need of the hour with our offerings. By delivering our services directly to the customer's doorstep, we aim to set new industry standards and redefine the experience of drone ownership."
As ideaForge commences the 'Service on Wheels' program, it reaffirms its position as an industry leader in drone technology, manufacturing, and customer support while driving innovation and excellence in the field.