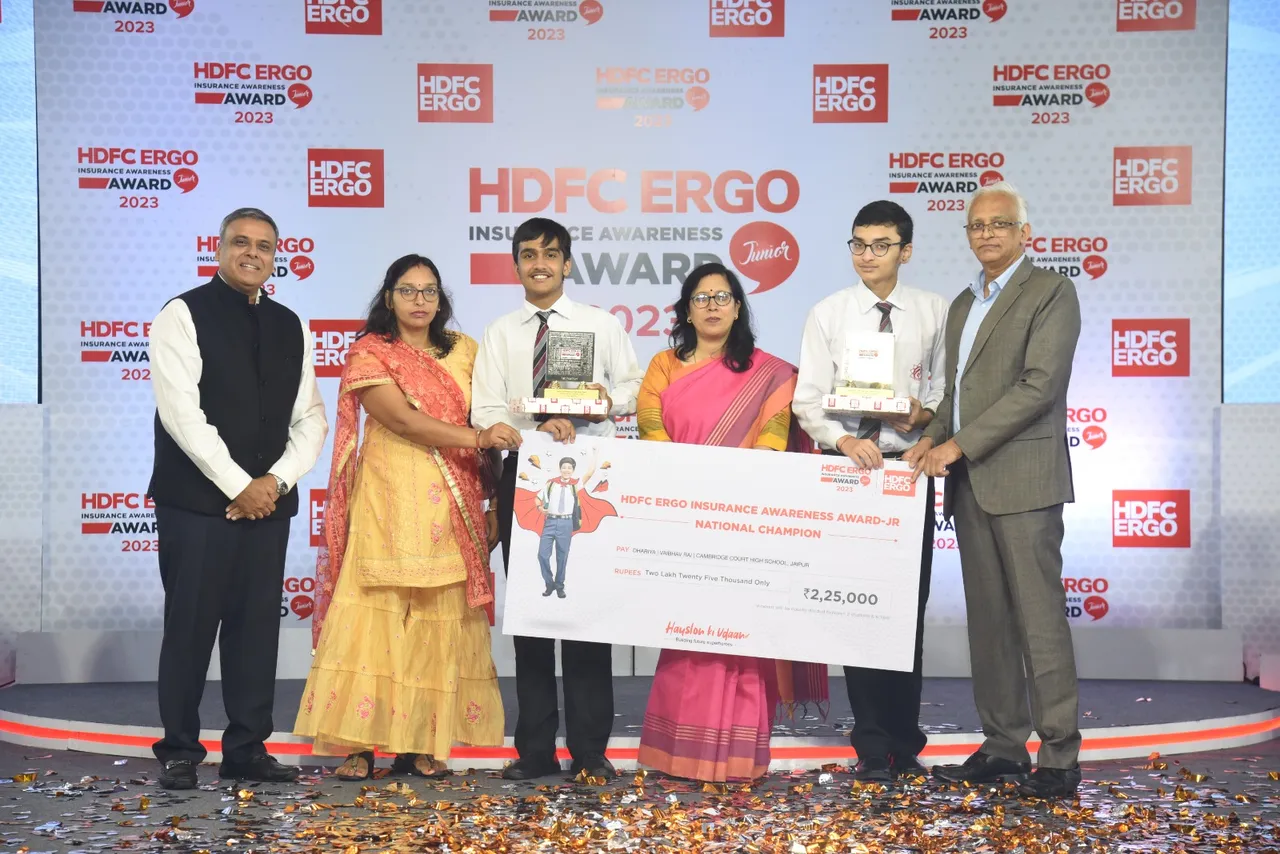 HDFC ERGO General Insurance Company, India's leading private sector general insurer, conducted the grand finale of the 8th edition of the Insurance Awareness Awards Junior Quiz 2023 in Mumbai on the occasion of its 21st Foundation Day.
The finale witnessed a battle of knowledge among six teams, with Cambridge Court High School, Jaipur emerging as the winner from over 2,200+ participating schools across 150 cities in India. Dhariya and Vaibhav Rai from Cambridge Court High School, Jaipur and Akkriti Behuray and Heer Shah from New Era Senior Secondary School, Vadodara secured first and second runner up positions, respectively.
Since 2016, HDFC ERGO has been organising the Insurance Awareness Awards Junior Quiz every year for 8th and 9th grade students to nurture insurance literacy among the younger generation and promote insurance awareness and inclusion. It began as a humble initiative in Mumbai with just 18 schools in 2016, and has, over the past 8 years, transitioned into a nationwide initiative, positively impacting over 16 lakh students since its inception.
The quiz journey commenced with preliminary rounds of 2,200+ teams, followed by the cluster rounds and four zonal rounds. 6 teams emerged as finalists for the Grand Finale. Apart from the regular quiz rounds, this year all the finalists were rewarded with a surprise visit to the ISRO NRSC Outreach Facility at Jeedimetla, Hyderabad to give them a glimpse of India's space programme on earth observation, communication, navigation, Gaganyaan, lunar exploration and solar observation endeavours and inspire their interest in these cutting-edge scientific pursuits. Dr. S. Murlikrishnan, Dy. Director - ISRO National Remote Sensing Centre, Hyderabad graced the finale with his distinguished presence and encouraged the students to pursue knowledge outside their text books across various other aspects.
Speaking on the occasion, Mr. Ritesh Kumar, MD & CEO, HDFC ERGO General Insurance said, "While India is making significant strides towards inclusive development, the insurance awareness remains low, trailing behind advanced economies. As a nation, we have the unique opportunity to harness our robust educational infrastructure and youthful demographics to disseminate insurance awareness. We, at HDFC ERGO, firmly believe that our students are the torchbearers of India's future, and it is imperative to instill insurance knowledge during their formative years, empowering them to lead secure lives as they mature. In alignment with IRDAI's vision of 'Insurance for All by 2047,' this quiz assumes heightened relevance as a driving force behind increasing insurance awareness."
In its eighth year, the Insurance Awareness Awards Junior Quiz reached an impressive scale, engaging over 550,000 students across India.
The winners were of the quiz were awarded a prize money of Rs 2,25,000, followed by the first and second runners-up with Rs 1,50,000 and Rs 75,000 respectively. All finalists were awarded cash prizes and gifts which will aid them to enhance their knowledge on various topics.