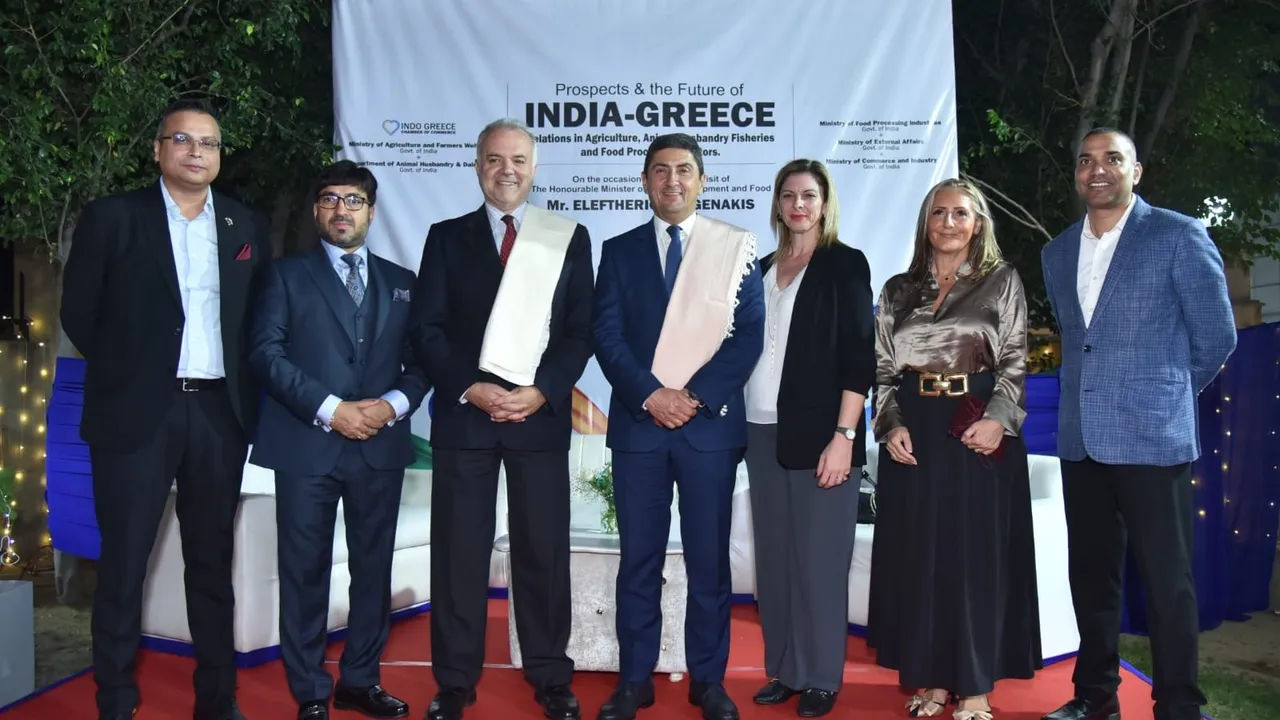 The Government of Greece is in talks with India's leading FMCG company BL Agro to explore strategic partnership in adoption of agriculture technology, exchange of skilled manpower, promote agri trade, animal science, and steps to mitigating climate change. 
Honourable Minister of Rural Development & Food of the Hellenic Republic Eleftherious Avgenakis and Dimitrios Loannou, Ambassador of Greece to India met Ashish Khandelwal, MD, BL Agro FMCG Co. and Navneet Ravikar, Chairman & Managing Director, Leads Connect Services, recently during a reception held at the Embassy of Greece. The reception organised by BL Agro Group was held in the honour of the Minister to highlight India - Greece relations in agriculture, Animal Husbandry Fisheries, and Food Processing Sectors. Manoj Kumar, Director, BL Agro felicitated both, the Minister and Ambassador of Greece, by honouring them with traditional shawl as a sign of respect. This was the first visit by a high ranking Greek official to the country after Prime Minister Narendra Modi's visit to Athens in August 2023 with an aim to strengthen bilateral ties. 
"We want to deepen trade ties with India. We also want to have deeper interactions with India in the field of agriculture and animal sciences. The entire value chain of farmers in India and Greece should benefit from this strategic partnership," said Eleftherious Avgenakis, Minister of Rural Development & Food of the Hellenic Republic.
On the sidelines of the event, Navneet Ravikar, Chairman & Managing Director, Leads Connect Services (a group company of BL Agro) said that they had fruitful talks with the Greek Minister and explored opportunities of collaboration in different sectors of agriculture.
"The discussion that we had today was essentially on using our technology in Greece. The Honourable Minister is very keen on understanding how we can provide better skilled manpower to Greece, better agriculture technology and methods in mitigating climate change. Secondly, it was also about how India can help Greece build better agriculture and veterinary institutions," said Ravikar. 
Ravikar also added that they are exploring options to import feta cheese, olive oil, and wine from Greece and export high quality millets, basmati rice, spices and other agriculture products from 
India. Recently, BL Agro has formed a JV with Greece-based Salas International Group, one of the largest aid providing firms in Europe, to provide food kits in disaster-struck areas.
Ravikar also said Leads Connect has tied up with JOIST Innovation Park, a Greek start-up incubator firm, to bring funds into India for tech startups. 
"We want to bring them to India and specifically use their expertise in the field of agri-tech. We are soon signing an agreement on this," he said.