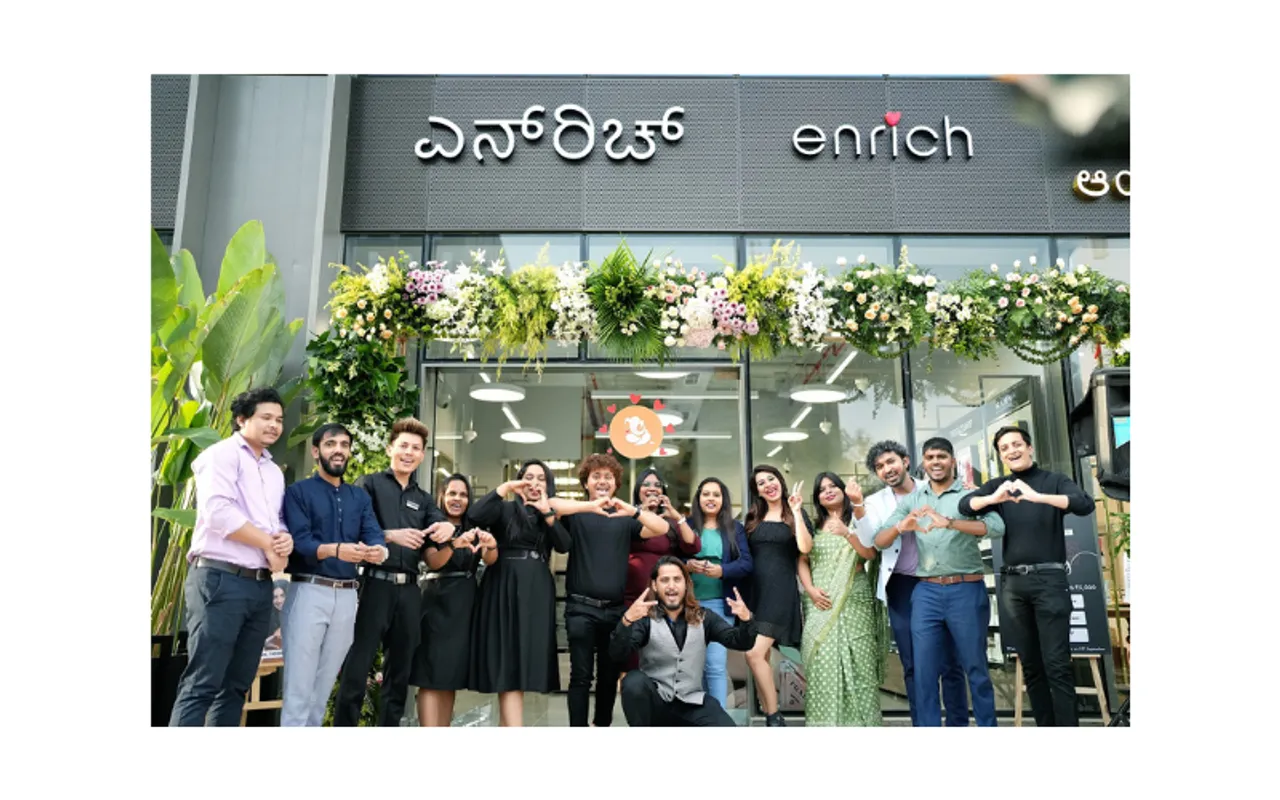 Enrich Beauty is excited to announce the opening of its brand-new store at RMZ Ecoworld in Bengaluru. The store, which officially opened its doors in September, offers a unique combination of world-class beauty services and a curated selection of top-tier beauty products.
Patrons can indulge in a wide variety of beauty treatments, including hair color services, Hair botox and facials, manicures, pedicures, and luxurious spa experiences. The store's team of expert beauty professionals ensures that every customer leaves feeling rejuvenated and refreshed.
One of the standout features of the new store is its impressive selection of fragrances. Enrich RMZ Ecoworld proudly showcases fragrances from prestigious brands such as Prada, Ferragamo, Hugo Boss, Armani & more. These exquisite scents are sure to captivate the senses and elevate your personal style.
For those looking to take their hair and skincare routines to the next level, the store offers a premium assortment of products. Haircare enthusiasts will find top-of-the-line solutions from Kerastase and Olaplex, while skincare aficionados can explore the rejuvenating offerings from Thalgo and Born Ethical.
To mark the grand opening, Enrich RMZ Ecoworld hosted an unforgettable launch event. Attendees were treated to live music that filled the air with excitement, and a state-of-the-art 360-degree photobooth provided memorable moments to capture the occasion. Enrich Beauty plans to continue hosting engaging activities and events in the future, promising even more reasons for customers to visit and celebrate beauty.
The inauguration of the store was graced by the presence of esteemed investors and members of the Enrich team, who were all thrilled to witness the expansion of this beloved beauty brand.
Vikram Bhatt, Director at Enrich, expressed his enthusiasm for the new store, saying, "Enrich is dedicated to offering the best beauty services and products to our customers. Our new RMZ Ecoworld store is a testament to our commitment to beauty excellence. We look forward to serving the Bengaluru community and providing them with exceptional beauty experiences."
This expansion is just the beginning of Enrich's journey to redefine beauty services and products in Bengaluru. The company is delighted to announce that a new store in Jayanagar will be opening soon, continuing the trend of bringing together outstanding beauty services and premium beauty products under one roof.