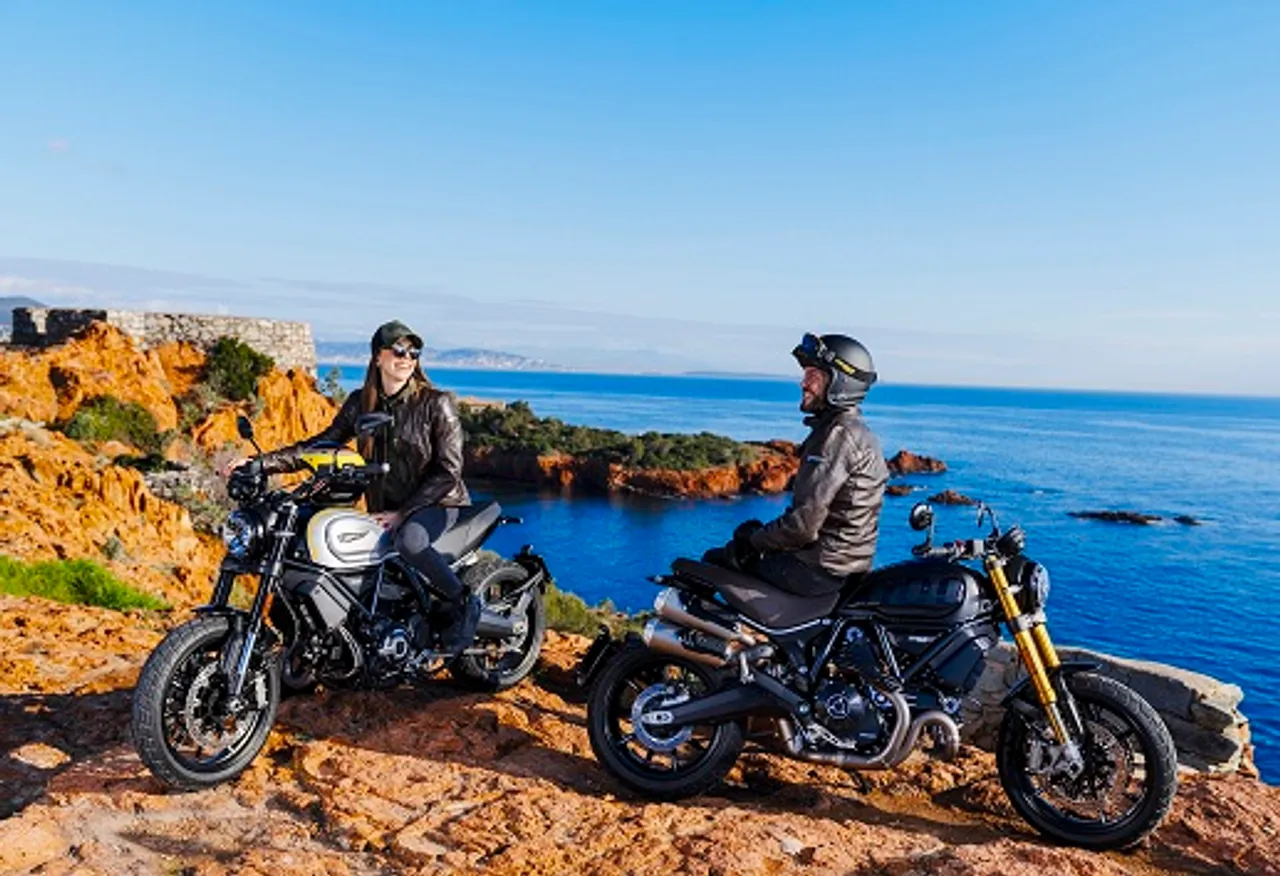 Luxury motorcycle brand, Ducati today announced the launch of the all-new Scrambler 1100 Pro and the 1100 SportPro, priced at INR 11.95 lacs and INR 13.74 lacs respectively (Ex-Showroom Pan India). Born from the spirit of Iconic style and sense of freedom– the new Scrambler 1100 Pro and 1100 Sport Pro further enriches and completes the Scrambler 'Land of Joy'.
Created for those who love to ride motorcycles even outside the city, perhaps also with a passenger, these new models are a further evolution of the bike that identifies with the Ducati Scrambler "Land of Joy". Just like every other Ducati Scrambler portfolio bike, the 1100 Pro is designed for boundless freedom of expression. With a complete range of accessories available, the bike comes in two distinct versions – 1100 Pro and 1100 Sport Pro.
Offering even more fun and performance, featuring an original design, the new Ducati Scrambler 1100 Pro and 1100 Sport PRO are the ideal choice for those who want to ride a motorcycle with an 1100 CCL-twin two-valve engine with generous torque available right from the bottom of the rev range. The Scrambler 1100 Pro also features a 15-litre steel tank that, combined with an all-new comfortable seat, ensures that even the longest rides are enjoyed in comfort.
The motorcycle puts out a maximum power of 86hp at 7,500 rpm and a maximum torque of 88.4Nm at 4,750 rpm and is tuned for smooth delivery of power across the rev range. It is equipped with a 6-speed gearbox and the clutch is a wet multi-plate type with hydraulic control and a servo-assisted slipper function that limits rear-wheel destabilization during down-shifts. In perfect Scrambler style, this engine has a 98 mm bore and a 71.5mm stroke, prioritizing fluid acceleration across the rev range and great handling. Designed to be simple and accessible, this twin-cylinder engine features competitive 12,000 km maintenance intervals.
Mr. Bipul Chandra, Managing Director of Ducati India said, "Scrambler is one of the most characterful, free-spirited and powerful entry level Ducati in our portfolio. The new Scrambler 1100 Pro range takes those qualities a notch higher allowing riders to explore endless possibilities on their rides. It's a mix of style, comfort and performance that makes Scrambler 1100 Pro versatile and adaptive to everyone's individual and demanding riding style. The meticulously thought Scrambler 1100 Pro and Sport Pro are designed to Provide complete Scrambler experience as soon as you swing a leg over it. Both experienced and new riders will be able to extract the maximum out of this motorcycle considering its friendly nature and we expect them to have a lot of fun!"
The Ducati Scrambler 1100 PRO stands out for its new two-tone "Ocean Drive" colour scheme, combined with a steel Trellis frame and rear aluminium subframe, which are both black. A new right-side dual tailpipe and low-slung number plate holder ensure distinctive rear-end styling and, together with the new livery, give the bike a coiled, compact look. Another hallmark is the framed headlight; inspired by the Protective adhesive tape used back in the '70s, a black metal 'X' has been incorporated inside the headlight: a detail that makes the bike instantly identifiable, even with the lights off.
At the rear, instead, a full-LED taillight assembly emits a soft light, making use of technology unique within the motorcycling world. LED indicators positioned alongside the headlight assembly and the rear mudguard, complete the Ducati Scrambler 1100 Pro-style to perfection. The Scrambler 1100 Pro mounts Marzocchi suspension system at the front and Kayaba at the rear. The 1100 Pro is equipped with a Brembo Braking System with ABS Cornering as standard. At the front, a 320 mm double disc has been fitted with two Brembo monobloc four-piston calipers and at the rear, there is a 245 mm disc on which a 34 mm single piston caliper works.
The Ducati Scrambler 1100 Sport Pro is the beefiest version in the Scrambler family. It features all the styling details of the Pro, and also a unique equipment set with Öhlins suspension, specifically a 45 mm diameter upside-down fork and a rear shock absorber with adjustable spring preload and rebound damping. Both allow 150 mm wheel travel to cover all types of terrain, from City obstacles to those that can be encountered on soft off-road tracks. Also on offer are Café Racer rear-view mirrors anda flat handlebar which makes weaving through the urban obstacle course a child's play while the 1,514 mm wheelbase maximizes stability, even at high speeds. The 1100 Sport Pro also features a Matt Black paint scheme, complemented by side panels sporting a painted 1100 logo.
The Ducati Scrambler 1100 PROtwins are also at the forefront of electronics. They are equipped with Ducati Traction Control (DTC), regulated specifically for these models, and Cornering ABS, which ensures safety on every bend. The three standard Riding Modes (Active, Journey and City) help even less experienced riders to find the right balance in the use of electronic components by choosing their riding style. Also, both the models mount a Pirelli MT60 RS 120/80 ZR 18 tyre at the front and the 180/55 ZR17tyre at the rear, which have been specially developed for the Scrambler.
The Ducati Scrambler 1100 Pro instrument panel has two elements. Like the other bikes in the range, the main one has a round design. Positioned above and to the right of the headlight, this unit is fully digital. It features new multi-function switchgears that lets riders select Riding Modes and modify them. A Ride by Wire throttle is accompanied by hydraulically operated brake pumps and clutch, making the controls modern yet faithful to the classic Scrambler style.
In perfect Scrambler style, the 1100 Pro comes with the new two-tone "Ocean Drive" livery and 1100 Sport PRO in its sporty attitude comes in a "Matt Black" paint scheme. Bookings are now open across all Ducati dealerships in Delhi – NCR, Mumbai, Pune, Ahmedabad, Hyderabad, Bengaluru, Kochi, Kolkata & Chennai and deliveries will begin immediately. To download the complete set of images, please use this link.