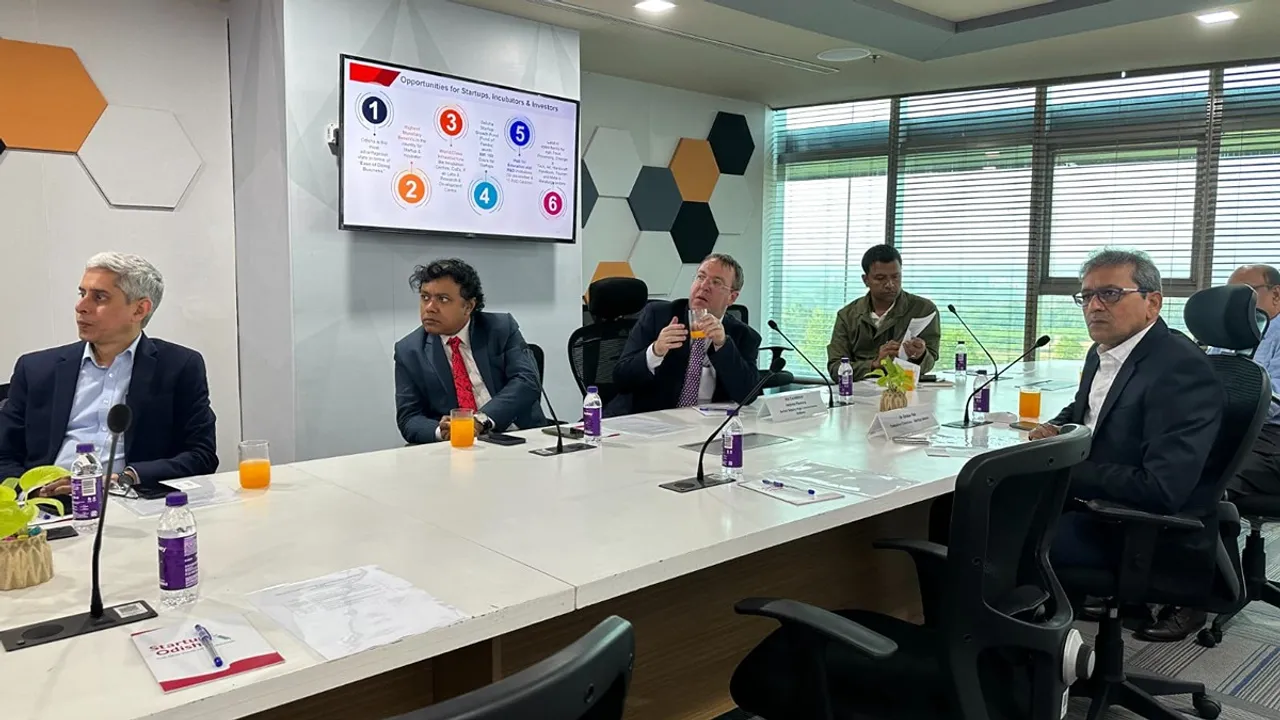 O-hub, a vibrant hub for innovation and entrepreneurship, was honored to host Dr. Andrew Fleming, the British Deputy High Commissioner to Kolkata. Dr. Fleming's visit was marked by a deep dive into the dynamic ecosystem fostered by Startup Odisha, showcasing the collaborative spirit and innovative initiatives driving the region's startup landscape.
The visit was a significant opportunity for Startup Odisha to demonstrate its commitment to fostering innovation, collaboration, and technological advancement. Dr. Omkar Rai, Executive Chairman of Startup Odisha, welcomed Dr. Andrew Fleming and presented an overview of the distinctive programs, initiatives, and achievements that have positioned Startup Odisha as a key player in the national startup ecosystem. Dr. Rai highlighted the commitment of Startup Odisha towards promoting diversity, with a special emphasis on empowering women entrepreneurs.
During Dr. Andrew Fleming's visit to O-hub, pivotal discussions centered around fostering collaboration with the UK Government. Both parties explored avenues for bilateral initiatives, including exchange programs for startups that would facilitate knowledge transfer, skill enhancement, and cross-cultural learning. The conversation extended to the establishment of collaboration frameworks between startups and incubators from Odisha and the UK, aiming to create a robust network that transcends geographical boundaries. Notably, there were deliberations on the prospect of setting up a corporate accelerator at O-hub, further amplifying the potential for innovative partnerships between businesses in Odisha and the UK. These discussions underscore the commitment of both regions to nurturing a global ecosystem that thrives on shared expertise and mutual growth.
Dr. Andrew Fleming got the firsthand experience of the cutting-edge projects and initiatives being undertaken within the O-HUB campus. A brief on the interior design and furnishing of the expansive 4 lakh square feet across two towers was also shared, highlighting O-hub's commitment to creating an inspiring environment for collaboration and innovation. Dr. Rai expressed his happiness for Dr. Fleming's visit, stating, "It's an honor for us to host Dr. Andrew Fleming at O-hub. His visit serves as a testament to the global recognition of our efforts in building a robust startup ecosystem. We look forward to exploring collaborative opportunities that can further enhance the impact of Startup Odisha on the global level."
Startup Odisha has been at the forefront of innovation, and the visit by Dr. Andrew Fleming reinforces the hub's commitment to creating a conducive environment for startups to thrive. Odisha has been recognized as a 'top performer' state in the States' Startup Rankings framework by DPIIT GOI and the state has also made a distinctive mark for itself as one of the fastest-growing regions in India.