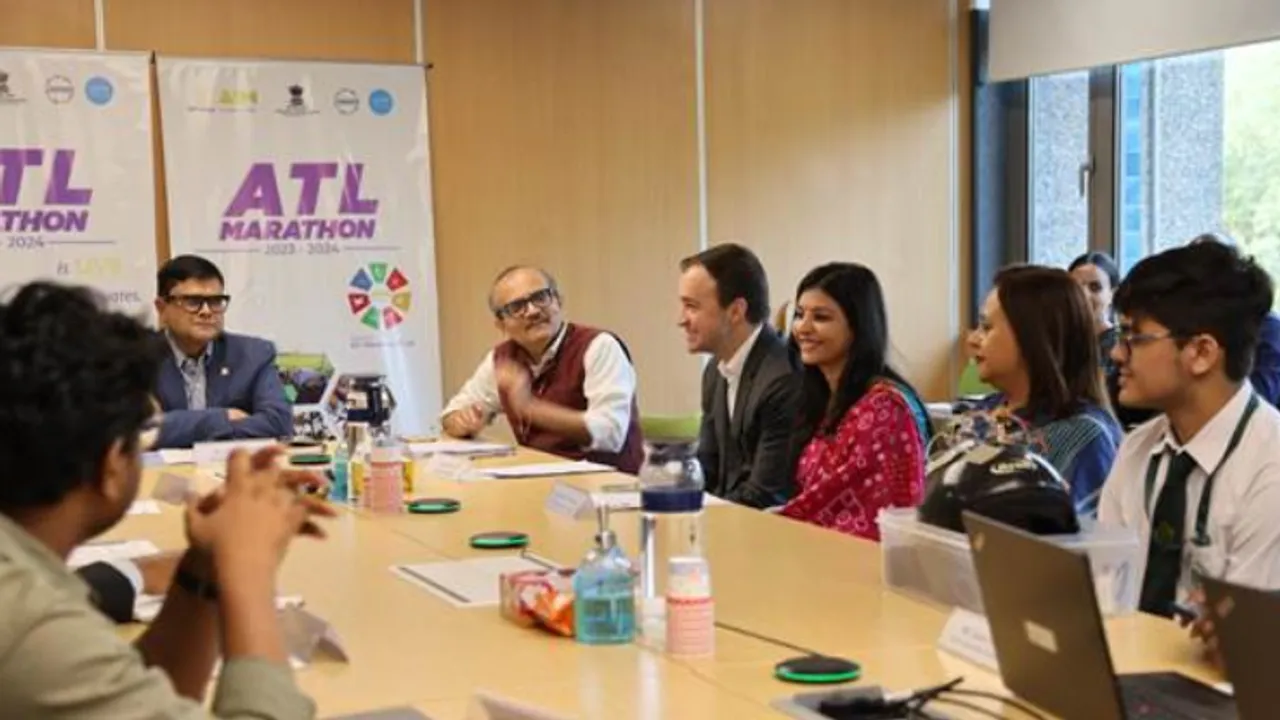 Atal Innovation Mission (AIM), NITI Aayog today opened applications for 'ATL Marathon 2023-24'- a flagship innovation challenge organised this year in collaboration with the Ministry of Education, YuWaah and UNICEF.
ATL Marathon is a national-level innovation challenge for young innovators across India who can solve community problems of their choice, and develop innovative solutions in the form of working prototypes.
The last edition of the Marathon witnessed 12000+ innovations from school students across India. This year's ATL Marathon is themed around "India's 75th Republic Day", with several problem statements on which student teams can build projects like Space, Agriculture, Inclusivity, Disaster management, Mobility, Health, Education & Skill Development.
Top teams will get an Internship opportunity through the Student Innovator Program with leading corporates & Incubation Centres of India, certificates from AIM, NITI Aayog and many more exciting opportunities. Amazon Web Services (AWS) is the hosting partner of this edition of ATL Marathon.
Unveiling the challenge, Mission Director AIM Dr Chintan Vaishnav said "ATL Marathon is a very exciting opportunity for young school students. Students can innovate on any of the given problem statements or work on a problem they find in their everyday lives. ATL Marathon is open for all schools across the country, independent of whether they are connected to an Atal Tinkering Lab or not. We are hoping to have a much larger participation from this year".
Shri Sanjay Kumar, Secretary, Ministry of Education added "I am very excited to be a part of the launch of ATL Marathon and wish all students and teachers the very best for this competition. ATL Marathon will allow teams to come together and work on a project on a collective basis. By being a part of ATL Marathon, children will be exposed to innovation and become innovators. More than 10,000 schools have School Innovation Councils. Coming together of School Innovation Councils and ATL Marathon is very important to create an ecosystem of innovation in schools."
Kevin Frey, CEO, Generation Unlimited, UNICEF said " The mission of YuWaah Generation Unlimited is to to skill the world's 1.8 billion young people and connect them to opportunities for employment, entrepreneurship and social impact. ATL Marathon brings that mission to life. In this competition, the skills these young students will be developing are the skills needed for the future. ATL Marathon is the future of education where these students are taking action and solving real problems of their community. We will be keeping a watch on it for the next few years and depending on the results scale up ATL Marathon globally all across many more countries."
Participation Link of ATL Marathon- https://atl.unisolve.org/