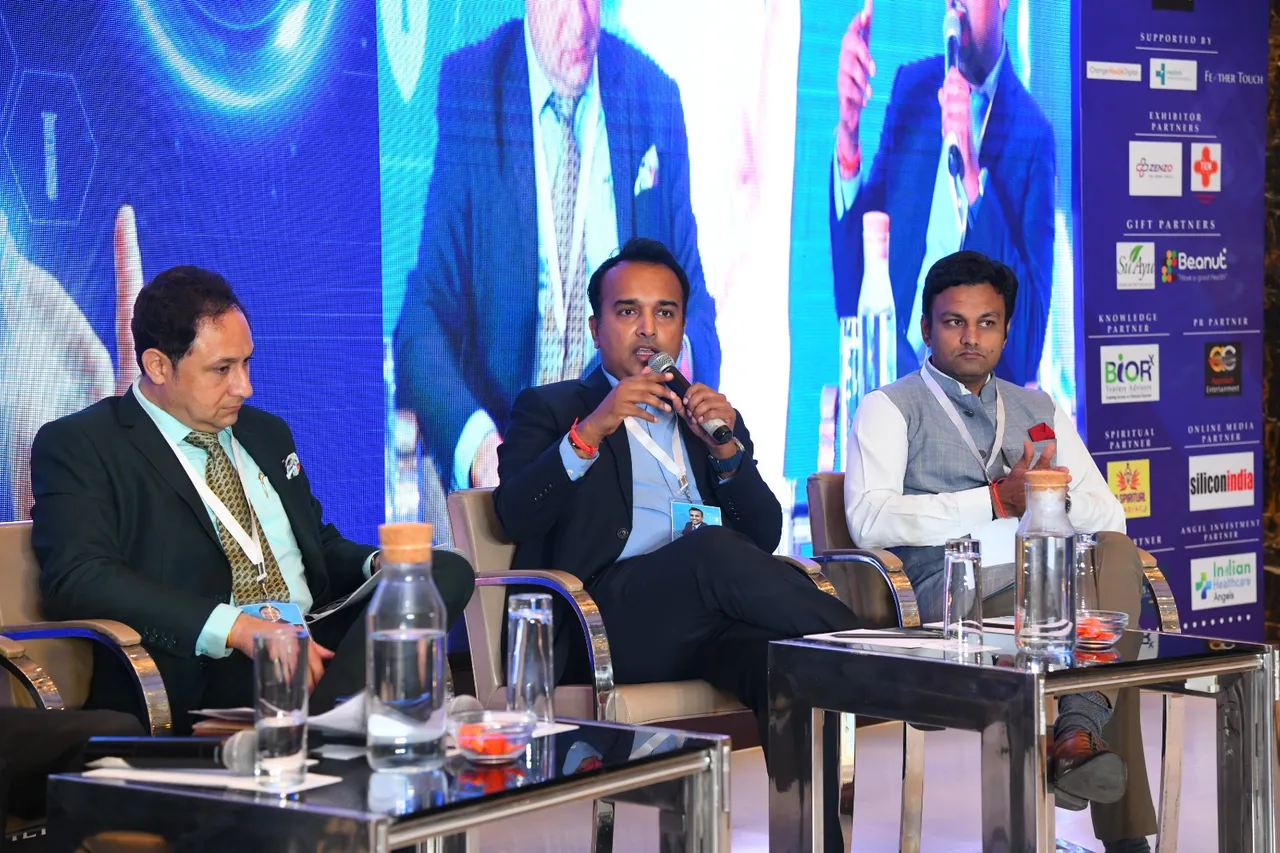 Aristocrat Media, a distinguished name in recognizing and honoring excellence across various industries, celebrated another remarkable milestone today with the successful culmination of the 2nd Edition of the Healthcare Innovation Conclave & Awards. The event, held at the prestigious Radisson Blu Plaza, Delhi Airport, New Delhi, brought together luminaries, thought leaders, and pioneers from the healthcare industry under the theme of "Technology, Innovation, and the Future of Healthcare."

The Healthcare Innovation Conclave & Awards has swiftly become a beacon of hope and inspiration in these transformative times. Aristocrat Media, led by the visionary Founder, Mr. Farooq Shaikh, has played a pivotal role in driving India towards a brighter and healthier future through this innovative platform.

The event commenced with a captivating opening speech by Mr. Farooq Shaikh, setting the tone for a day filled with insightful discussions and groundbreaking insights.

A distinguished panel of speakers shared their expertise, including, Dr. Ashwin Naidu, M-Swastha Solutions, Dr. Vishal Gandhi, Founder & CEO, BIORx Venture Advisors,  Surisolis Ventures Pvt Ltd, Rajasthan, Sayantan Chatterjee, Digital Health Industries Leader | Consulting, Strategy, Health Industries, PWC India,  Sushil K. Meher Medical Informatics, AIIMS, Vas Metupalle, Group CIO, 1Life Healthcare, Singapore, , PHFI-RNE Universal Health Coverage, Public Health Foundation of India, Vikas Ranjan, Business Head, Zenzo, Kishore Manepalli, Founder & CEO, Total Emergency Network (TEN),  Dr. Rajiv Chhiber Vice President - Sahajanand, Rajeev Gautam, President, HORIBA India Medical Technologies,  Ravi Rathod, General Manager- Policy & Strategic Affairs Innvolution Imaging Technologies Pvt. Ltd., Sameer Gupta Group Cardiac Cath Lab Director, Metro Hospital & Heart Institute, Delhi, and many others.
These healthcare leaders explored a wide range of topics, including the Role of Technology and innovation in providing Quality Healthcare, ensuring Patient Safety, and the imperative of Healthcare being future-ready. Additionally, the event delved into the transformative power of AI in reshaping the gig workforce in healthcare.

The highlight of the evening was the prestigious awards ceremony, where exemplary healthcare professionals, innovators, and organizations were felicitated in various categories. These included the Most Innovative CEOs in Healthcare, Most Innovative HR in Healthcare, and the coveted Healthcare Innovation Excellence Award.

Mr. Farooq Shaikh, the dynamic Founder of Aristocrat Media, expressed his excitement for the event and the impact it has on recognizing and celebrating the remarkable contributions of healthcare professionals and innovators. "We aim to inspire them to reach even greater heights in their fields," he stated.


He also emphasized the rigorous selection process, adhering to international norms, which ensures that the most deserving individuals and organizations are honored. This event stands as a testament to Aristocrat Media's commitment to recognizing excellence across industries.

Aristocrat Media's legacy of hosting prestigious awards and conclave events, such as the Business Tycoon Awards, Global Healthcare and Medical Tourism Conclave and Awards, and the Indo Asia Healthcare Leadership Award, has firmly established the organization as a pioneer in honoring outstanding contributions.

The 2nd Edition of Healthcare Innovation Conclave & Awards has undoubtedly set a precedent, bringing together visionaries, innovators, and leaders in healthcare to pave the way for a brighter and healthier future for India.

Aristocrat Media is a leading organization dedicated to recognizing and celebrating excellence in various industries. With a history of hosting prestigious awards and conclave events, Aristocrat Media has become synonymous with honoring outstanding contributions across diverse sectors. Committed to inspiring excellence and innovation, Aristocrat Media continues to lead the way in recognizing the best and brightest talents in India.

Approach Entertainment is an award-winning celebrity Management & film production Company with operations in Mumbai, New Delhi, Gurugram, Goa, Chandigarh, Hyderabad, Kolkata, and Dehradun. Approach Entertainment Group also has a PR and integrated Communications Agency, Approach Communications, apart from a Bollywood Newswire, Approach Bollywood.

In addition to business enterprises, Approach Entertainment Group also has a Charitable Spiritual Organization, Go Spiritual India. Go Spiritual India is working for Philanthropy, Spiritual Awareness, Charity, Organic, Spiritual Tourism, Events, Media, Mental Health, and Social causes.