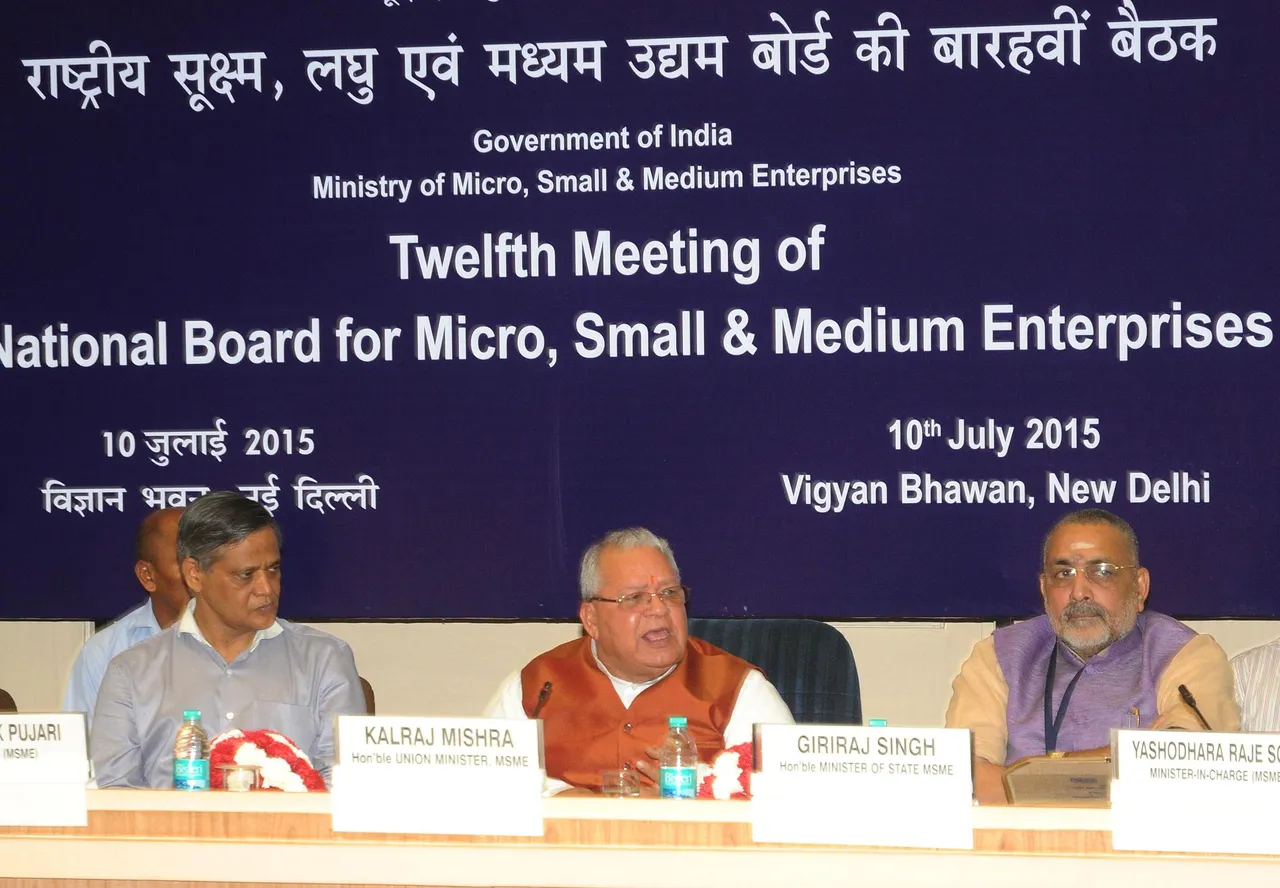 Annual meeting of National Board for Micro, Small & Medium Enterprises (NBMSME) was held under the chairmanship of the Union Minister of MSME, Kalraj Mishra. Mr Giriraj Singh, Union Minister of State for Micro, Small & Medium Enterprises and Vice-Chairman of the National Board was also present.
The special focus of the meeting was on action plan for 'Make in India', revision of the definition of MSMEs, framework for revival and rehabilitation of MSMEs, portal for EM online Filing, Udyog Aadhaar registration, Assessing Prime Minister Employment Generation Programme (PMEGP), Revamping SFURTI, A Scheme for Promotion of Innovation, Rural Industry and Entrepreneurship (ASPIRE), Mudra Bank, etc.
Shri Kalraj Mishra, in his opening remarks, described several initiatives of Ministry of MSME for overall development of the sector and emphasized that the Ministry of MSME is going to be a major plank in the Government's 'Make in India' initiative. The objective of Make in India is to enhance productivity, competitiveness and to support MSMEs and create an eco-system of world class manufacturing.  The Minister said that MUDRA Bank will prevent the small entrepreneurs from the exploitation at the hands of moneylenders and will instill in them new confidence.
The Union Minister of MSME said that The Digital Employment Exchange is in line with the Prime Minister's vision of Digital India. He mentioned that the web portal 'Digital Employment Exchange' for Industry launched recently will go a long way in enabling industrial units to find suitable manpower and job seekers to find suitable jobs.
Regarding modification of SFURTI, the Minister stated that the modified scheme now looks at economic development and job creation as well as allows for multiple products as the basis for clusters. On sickness in MSMEs, non-performing assets and exit policies. The Minister said that these are some of the areas which have been causing difficulties for MSMEs.   Therefore, there is a need for special dispensation for revival and exit of MSMEs.  According to him, the Ministry has notified a framework for revival and rehabilitation of MSMEs under section 9 of MSMED Act.  Under this framework, any enterprise can seek revival and rehabilitation benefit through a Committee constituted by banks with representatives from State Govts, experts and others.
The Minister of State for MSME Shri Giriraj Singh also stressed on the need for developing the MSME Sector to enable the upliftment of the rural masses.
Dr. Anup K. Pujari, Secretary, Ministry of MSME, Shri Amarendra Sinha, Special Secretary & Development Commissioner (MSME), and Member Secretary (NBMSME) also addressed the meeting of the National Board.
Minister for MSME, Madhya Pradesh, Smt. Yashodhara Raje Scindia; Minister of MSME, Odisha Shri Jogendra Behara; Minister In-Charge (MSME) U.P Shri Bhagwat Saran Gangwar; Member of Parliament, Rajya Sabha Shri B.K Hari Prasad; Officials of Ministries/Departments, and the State Governments, representatives of various Associations invited as Special Invitees, representatives from other MSME Associations, Financial Institutions, RBI, SIDBI and Women Entrepreneurs also participated and actively discussed various issues concerning the MSME sector.