The Gandhi Mandela Foundation welcomed Mr Lutfi Hassan, Founder Chairman of the Apex group of companies and a senior member of the Democratic Party in the United States of America. Mr Hassan took the oath as the President, Gandhi Mandela Foundation, American Continent Chapter.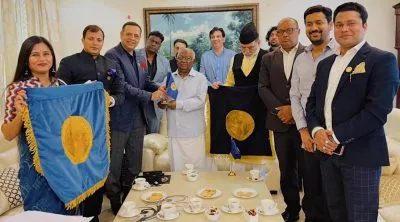 Gandhi Mandela Foundation Delegation At Shri KG Balaklrishnan's (Ex CGI) Residence
Shri Nandan Jha, Secretary-General, Gandhi Mandela Foundation, administered the oath. The ceremony took place at the Gandhi Mandela Foundation headquarters in New Delhi. Syed Yahya Bukhari, President, Jama Masjid United Forum who was also present during the oath-taking ceremony, presented Mr Hassan the Gandhi Mandela Medal as a souvenir and a bouquet of flowers.
Mr Lutfi Hassan, is an established civic leader representing the South Asian community in mainstream American politics. Mr Hassan has served as an advisor on Presidential, Gubernatorial, Senatorial, Congressional, Mayoral and Judicial campaigns in the United States. He has served as a national finance co-chair for the Obama for America campaign in both 2008 and 2012. Over the years, Mr. Hassan has also served on the National Advisory Board (NAB) as a member of the Democratic National Committee. Most recently, Mr. Hassan served on the board of advisory for South Asians for Biden. He was one of the select few who were invited to the Biden-Harris inauguration ceremony.
On his new role, Mr Lutfi Hassan said, "My job would also be to involve the younger generation, my children, my grandchildren and generations to come, I would like them to know what GMF is all about, and get them engaged. I see a lot of young people here, who are very excited to be part of this fabric, so similarly I would like to expand that in the United States and carry this mission through."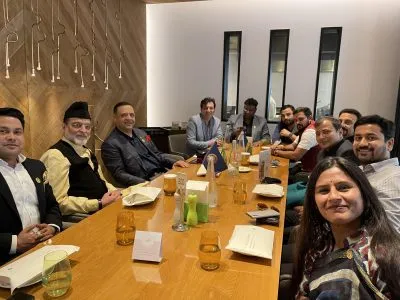 After the oath ceremony, Mr Hassan, Mr Nandan Jha, Shri Adesh Tyagi, Director(GMF), Joint secretary, GMF, Shri Abhinanv Singh, Shri Adarsh Laddha, Shri. Faiz Askari, Director International Affairs at Gandhi Mandela Foundation and Founder of SMEStreet.in , Ms Sharmishtha Sharma (media relations) visited former CJI Justice Shri KG Balakrishnan (Chairman of Jury, Gandhi Mandela Award) at his residence. Justice KG Balakrishnan welcomed Mr Lutfi Hassan as a member of Gandhi Mandela Foundation family and presented him the symbolic flag of Gandhi Mandela Foundation.
Commenting on the development, Shri Adesh Tyagi welcomed Mr. Lutfi by saying, "Mr. Lutfi's philanthropic work is well known for the people of the United States. His inclination towards Mahatma Gandhi's ideology is also known to all, I firmly believe that his leadership in Gandhi Mandel Foundation will give a strong direction in GMF's operations in the United States."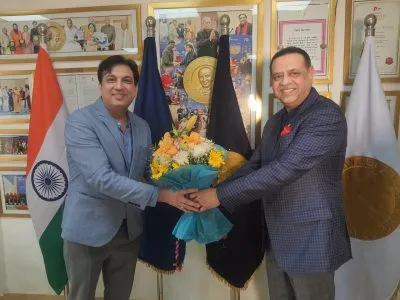 Mr. Faiz Askari With Mr Lutfi Hassan
"The visionary policies of Mahatma Gandhi Ji were relevant 75 years ago as well as they are extremely relevant for today. The message has a strong appeal for not just India but for the entire World. This is the reason why Gandhi Mandela Foundation's vision has a strong value proposition in today's world. With Mr. Lutfi Hassan's experienced leadership for Gandhi Mandela Foundation -American Continent's chapter will develop the great expansion of the foundation's activities in the region," says Mr Faiz Askari while welcoming Mr. Hassan.
This meeting was followed by lunch hosted in honour of Mr Lutfi Hassan at the Shangri La Hotel, New Delhi. The team was joined by several other dignitaries. During this lunch meeting the team discussed further plans for the Gandhi Mandela Foundation.
The Gandhi Mandela Foundation a Govt. of India registered trust which promotes individual freedom, civil liberties, and human rights across the globe.
The headquarter is situated at New Delhi and Global presence include America, Africa, Russia, London, Switzerland, China, Nepal, Bangladesh.
The Foundation instituted the Gandhi Mandela Awards during the 150th birth anniversary of Gandhiji to celebrate those who have carried forward that the legacies of Mahatma Gandhi and Nelson Mandela.
The Chairman of the Foundation is India's Hindu spiritual leader Swami Avdheshanand Giri Ji Maharaj (President of Hindu Dharma Acharya Sabha, a Board Member of World Council of Religious Leaders). Patron Swami Ramdev. The Jury committee includes former Chief justices of three countries (India, Nepal & Bangladesh).