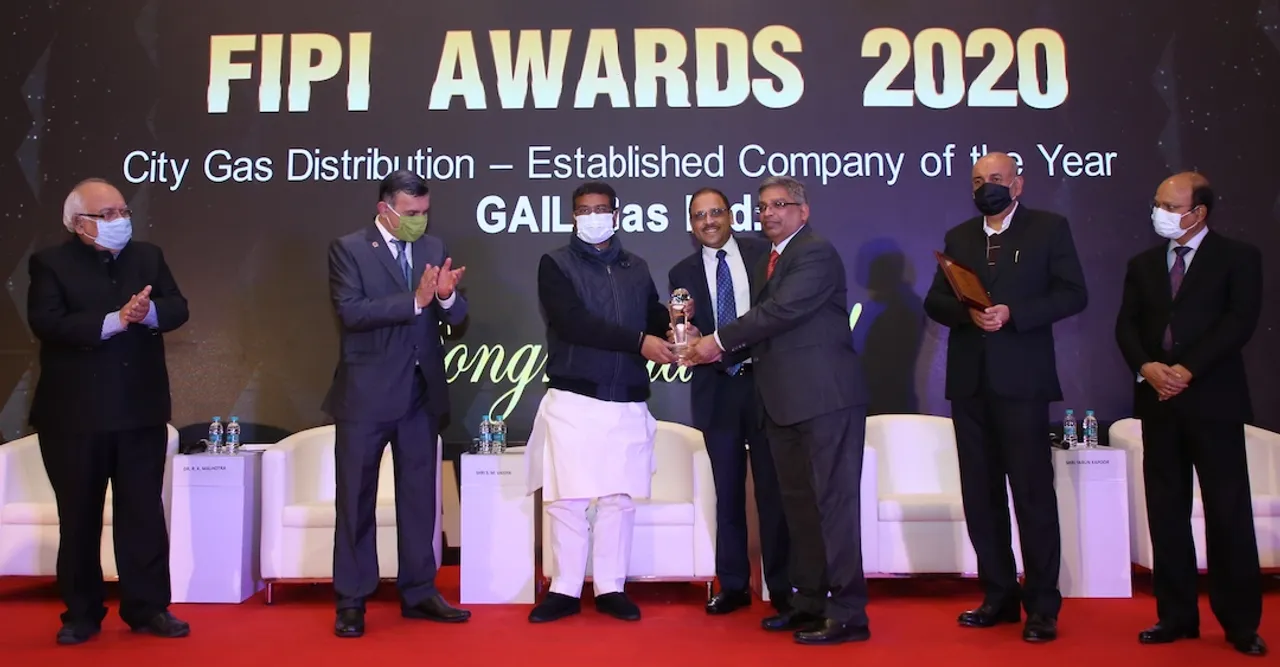 GAIL Gas Limited has been awarded the 'City Gas Distribution – Established Company of the Year' by Federation of Indian Petroleum Industry (FIPI). The award was given by Hon'ble Union Minister of Petroleum & Natural Gas and Steel, Shri Dharmendra Pradhan to Chairman & Managing Director, GAIL Shri Manoj Jain and Chief Executive Officer, GAIL Gas Shri M.V. Ravi Someswarudu at the FIPI Oil & Gas Industry Annual Awards 2020 ceremony held here.
The award recognises leadership in performance by operating City Gas Distribution (CGD) network for distribution of Natural Gas to consumers in the domestic, industrial, transport and commercial sectors in a Geographical Area (GA) in India during the year of award.
GAIL Gas Limited, a 100 percent subsidiary of GAIL (India) Limited, has been implementing City Gas Distribution network in around 52 cities/towns in 23 geographical areas authorized by PNGRB. Along with its JVCs, it is providing PNG supply to approx. 4.64 Lakhs households and has set-up 166 CNG Stations. It is also promoting fuel cell technology having lesser carbon foot print. GAIL Gas is actively promoting Sustainable Alterative Towards Affordable Transportation (SATAT) scheme of Gol and has issued 33 LoIs till date. GAIL Gas is also setting up LNG/ LCNG Stations along Golden Quadrilateral highway.
GAIL Gas has registered considerable growth in infrastructure, volumes, turnover and profit during 2018-19 and 2019-20. The company added 52 new CNG stations and over 1 Lakh domestic PNG connection recording a growth of 90% and 53% respectively during 2019-20. Company has ensured safety at its work with accident free operations.