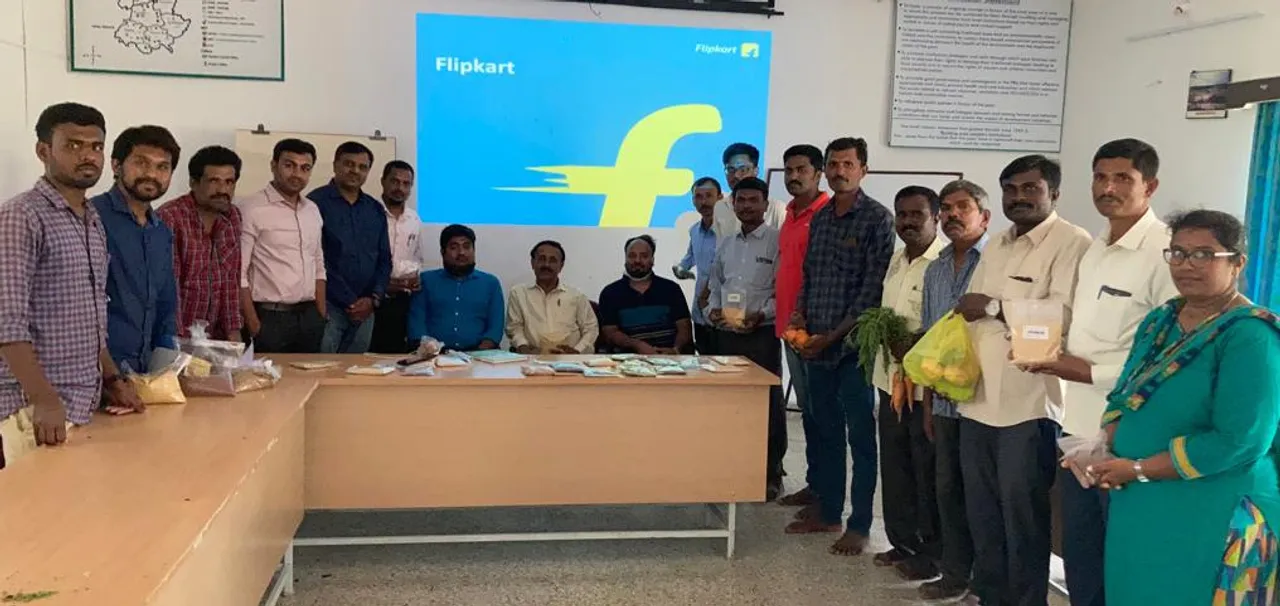 Flipkart, India's homegrown e-commerce marketplace, announced that it has now trained and built capacity with over 10,000 farmers across the country, providing them with national market access and enabling their growth. Flipkart Grocery, as part of its commitment to handhold farmers in their digital journey, has onboarded multiple Farmer Producer Organizations (FPOs) in its ongoing efforts to build an inclusive and sustainable platform for farmer communities and farmer producer organizations across India.
To help FPOs adhere to quality standards on e-commerce platforms, Flipkart has conducted training and capacity-building programs to strengthen the production of FPOs, small and marginal farmers. The training and education cover all aspects of quality produce - raw material supply, repackaging centers, verification of quality produce, buying strategy, purchase order, payment terms and conditions, and logistics. These are done through virtual and on-ground training sessions.
Flipkart has collaborated with FPOs, and small and marginal farmers across states like Karnataka, Andhra Pradesh, Telangana, Madhya Pradesh, Kerala, Maharashtra, Gujarat, and Uttar Pradesh. Through these partnerships, Flipkart has been able to source pulses, millets and whole spices, by bringing them onto its platform, in turn impacting thousands of livelihoods of the farmer community.
Flipkart has on-boarded multiple FPOs across the country that include ABY Farmers, Sri Sathya Sai MAC Fed, Jana Jeevana, Nirala Herbal, Sahyadri Farms Supply Chain and others. The Flipkart marketplace gives them access to over 400 million customers across the country.
Rajneesh Kumar, Chief Corporate Affairs Officer, Flipkart Group, said, "We are continually looking at ways to empower the communities around us. Our association with small farmers and FPOs will further our commitment to create newer avenues of increasing income for local farmers and help scale their offerings at a nationwide level. By harnessing the power  of technology, innovation and e-commerce, we will be able to accelerate socio-economic development and create a positive impact on their livelihood by providing Farmer Produce Organizations with a wide network of customers through the Flipkart marketplace."
Smrithi Ravichandran, Vice President – Grocery, Flipkart, said, "Our engagement with farmers and FPOs will enable easy access to regional staples and pulses for consumers, and augment the growth of MSMEs and the food processing industry considerably. This partnership perfectly aligns with our commitment to serving customers with high-quality and fresh products as well as empowering the farmer community by bringing greater market opportunities for them. To make digital transformation inclusive for farmers from Tier-2 and beyond, we will continue to support  them in their journey."
Flipkart Grocery currently serves more than 1,800 cities and 10,000 PIN code areas across all 28 Indian states. It has ramped up its operations in the past two years by establishing 28 fulfillment centers, which cover over an area of 27 lakh square feet, to meet the fast-growing nationwide demand for online groceries.