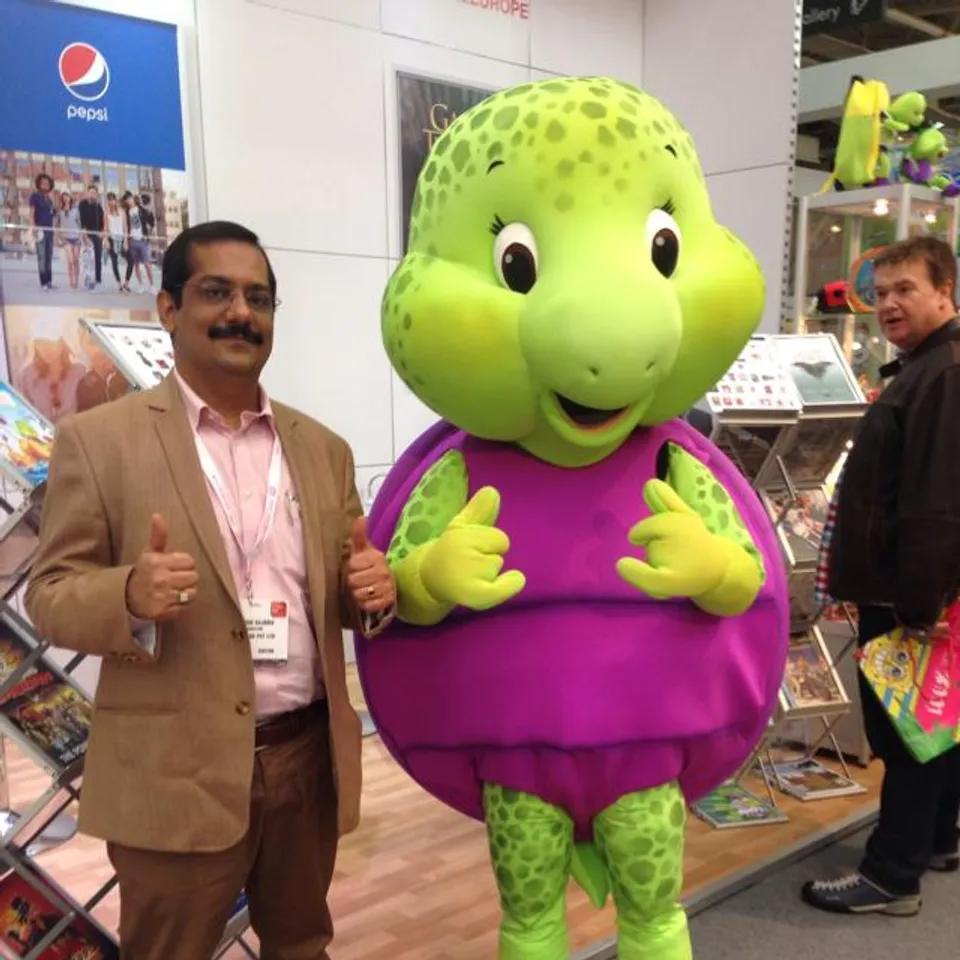 Inspired by the vision of Innovate in India, Aadarsh Pvt Ltd. a media and entertainment company from central India has set the biggest milestone by successfully taking "Purple Turtle" India's first of its kind pre-school character to more than 25 countries.
NEW DELHI: After creating a global appeal for this gender neutral character, Aadarsh Pvt Ltd. has now acquired a stake in Vaw World Animation Studio. Vaw World Animation is an internationally acclaimed production house with clients in the US, UK, Japan and Korea with specialised services in TV Series, DVD features, Game Assets, Feature Films (2D, Full CGI, VFX, Assets, Roto), Youtube channels etc.
Commenting on the acquisition, Manish Rajoria, Director Aadarsh Pvt Ltd said, "This partnership will help us in bringing out the best quality of animated content of our flagship IP Purple Turtle, Colour Fairies, Jack/Chaos and Magic Busterz. We are planning to roll out the First season of the Purple Turtle series by the end of 2017. The second season is also planned in continuation and we are expecting these two seasons to create a new era for Kids education and entertainment. Inspired by the great response  of  Purple Turtle's books from Children worldwide, we adapted the character into an animation series and engaged globally acclaimed and award winning pre-school script writers and show directors."
We wanted full control of the creative part said, Aadarsh's Creative Director Mrs. Swati Rajoria and only when we are working in very close association we can achieve this.
Mr. Kumar Sambhav Founder CEO of Vaw World Studio said, "We are excited to join hands with Aadarsh so as to create a global attention for India's own animated character. We are confident that we will support the company in getting access to the best of Aadarsh's talent and the International network. With this new partnership we will be able to scale up our operations and provide world class content to the children all around the world."
The Purple Turtle writing team has some of the globally renowned names with extensive experience in developing and writing award-winning children's animation.
Carter Crocker has written and edited stories for several animation studios including Disney and Warner Brothers, and has won two Emmys for his work. He has written two Young Adult novels for Penguin-Putnam, and is currently working on a YA historical novel.
Dev Ross, an Emmy and Humanitas winner is a known pre-school writer and her credits includes Winnie the Pooh, Rainbow Ruby, Little People, Jakers!, Chloe's Closet, Clifford the Big Red Dog, and Clifford's Puppy Days. Dev has also written numerous books for the award winning "We Both Read" children's' book series.
Karl Geurs is a two-time Emmy winning writer, story editor, producer and director who has gained immense popularity for Disney's Winnie the Pooh, American Greetings' Strawberry Shortcake, Mattel's Little People and Hasbro's My Little Pony.
Purple Turtle comes from publishing and the books are in more than 25 countries including USA, UK, Russia, China, India and many European, Middle East and South Eastern Countries. Purple Turtle also runs a Pre School Franchising Business.