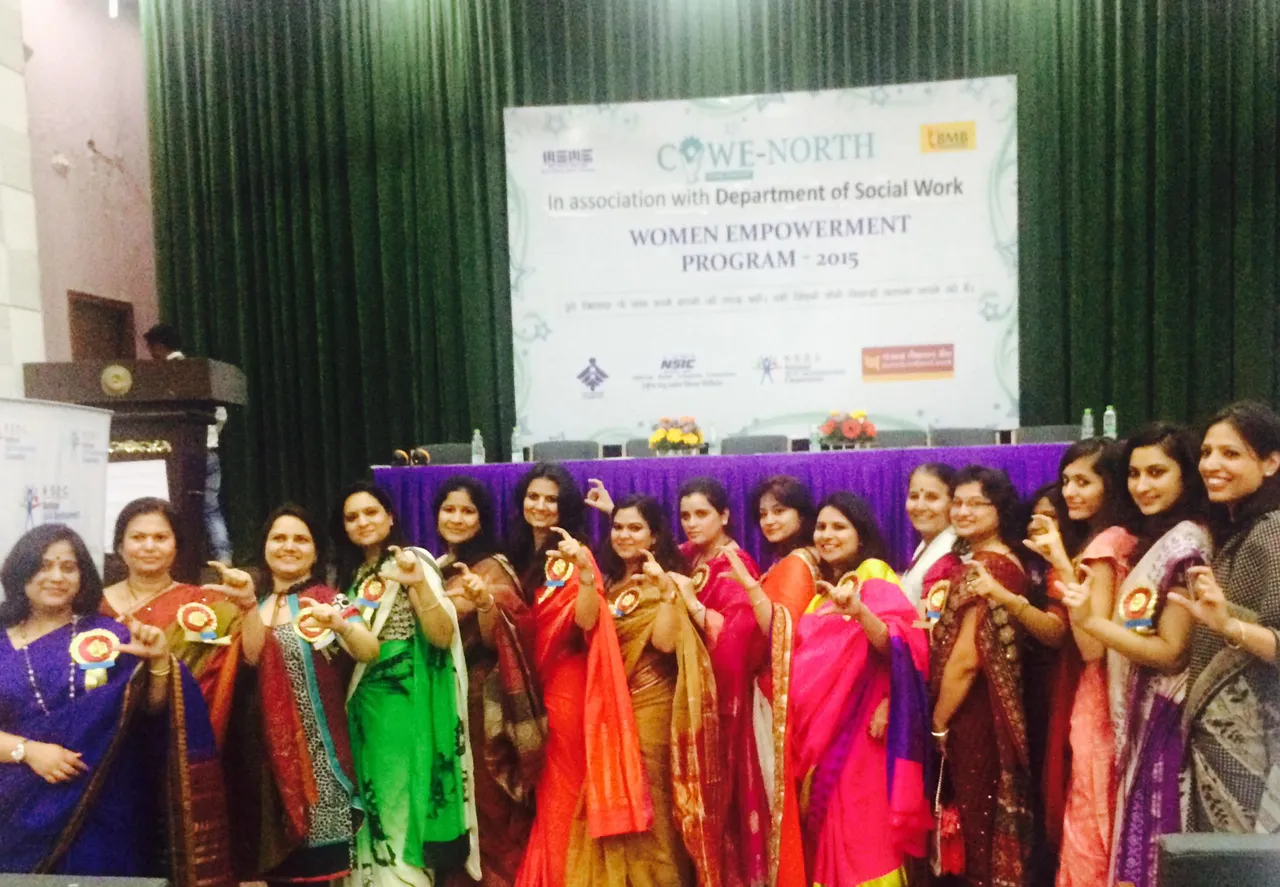 COWE – North organized Women Empowerment Program at Department of   Social Work, Delhi University North Campus, to create awareness for schemes and skill development programs available for women entrepreneurs. About 200 women gathered from all walks of life, EWS, home makers and entrepreneurs.   The members from MSME, MAHILA BANK, NSIC, NSDC, NIESBUD AND Punjab National Bank were present as guest and speakers.
The Chief Guest Shri M P Singh, Additional Development Commissioner in the ministry of MSME said there is a strong need to create a platform where women can harness this unique talent for their development and growth which in turn contributes to the nation's success. Promoting women entrepreneurs is the key concern, MSME provides the foundation for women who want to be an entrepreneurs. Association of MSME with COWE has been beneficial as they share similar objectives of catering to target segment at the ground level.
Inauguration was done with the ceremonial lightning of the lamp by the dignitaries.  Speaking at the inauguration Tripti Somani, chairperson for COWE Delhi chapter shared  COWE's vision is to build a group of women who are economically empowered, valued citizens of the nation by awakening the dormant talent, skills, practical knowledge and resources of women and combining it with dedication and commitment. The first session was focused on turning thoughts into action. Seema Singh, GM from Bhartia Mahila Bank encouraged women through financial support, who intent to start their own venture. The bank also provides loans to women on low interest rates. There is variety of loans available keeping in mind the life style of women e.g. beauty parlor, day care centers etc. Mr Manoj Jha from Department of Social Work with whose cooperation this event was a success also mentioned the importance of training and financial independence for women.
Mridula Tondon, President of Sakshi, a NGO added the existence of the present schemes and skill development programs are of no use if they are not utilized properly and unable reach the target audience. She inspired the gathering by emphasizing on the importance of financial independence. Aruna Oswal who has been honored thrice by the International Presidential Medal, by PIP Lion Clement Kusiak and PIP Lion Mahendra Amarsuriya and PIP Lion Jimmy Ross spoke on women with special capabilities as compared to men, concluded the first session as "women is a gift from God to the mankind". She metaphorically called Tripti Somani as the "candle of Hope" and wished her best of luck.
The second session was about how to develop business by overcoming obstacles through the skill development schemes from NSIC. Mr. Jasbir Singh and Ashvini Jha from NSIC shared the ways of marketing and promoting. He shared the tender and trade information. He encouraged women to live a life by choice than by circumstances. Shashi Kiran from NSDC focused on shared principles of developing entrepreneurial skills and inspired the gathering to become socially responsible entrepreneurs. Mr DK singh from NIESBUD further added about the training and education for women. He emphasized on the need for change in the core belief system and attitudes. It is imperative to have proper training for survival in this competitive world.   He discussed various schemes available at NIESBUD such as ATI.
The guests at the event  Lipika Sud leading interior designer, Mehnaz Anzari the Country Representative-India for United States Trade and Development Agency USTDA,  Mary Jo Raising from US embassy, Sushmita Das from Delhi University women association and Rekha Shrivastav Magazine editor at Hi Writer were honored  by the dignitaries.
The final session was held by Sameer Bajpai and P.K Jain from Punjab National Bank iN providing information on schemes to finance individuals from non- farm sector for entrepreneurial activities of maximum 10 lakhs. Extending loan facility under Trade Related Entrepreneurship Assistance and Development (TREAD) Scheme operated by Govt. Of India, MoMSME, to NGOs for on-lending to women, either through Self-Help Groups (SHGs) or individually for setting up small and micro enterprises in the non-farm sector.  Sumedha Juneja, representative from Cue Learn gave an on the spot entrepreneurship opportunity to the audience which was to conduct Match and English trainings for school going students.
The participants seemed very enthused and inspired by the words and schemes shared and discussed. A lot can happen when a woman takes success in her own hands. In the end the word of thanks was given by Ruchi Maheshwari, Chair Person for COWE Uttar Pradesh Chapter.