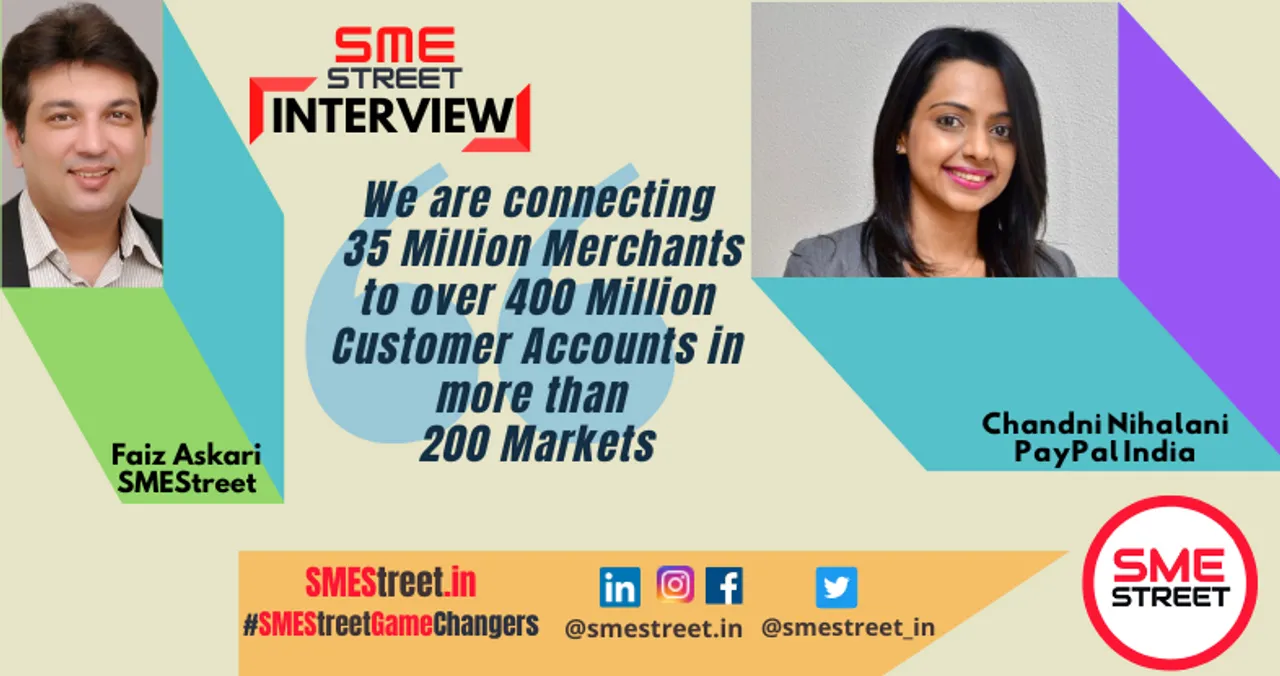 Digital payments and online banking have become a benchmark of progress. However, this phenomenon has even made global business opportunities approachable for small business owners, whom we also call MSMEs. To discuss the trend of digital payments we at SMEStreet had the good fortune of interacting with Ms Chandni Nihalani, Director and Board Member at PayPal India, just to understand where are we heading and how MSMEs are graduating towards contemporary tools for digital payments, fast and safe payment mechanism. Here are some edited excerpts of this quality interaction between Ms Chandni Nilhani of PayPal India and Faiz Askari, Founder Editor of SMEStreet: 
Faiz Askari: What importance do MSMEs carry for PayPal 's business in India? What is the current focus for PayPal with MSMEs?
As one of the key drivers of the Indian economy, MSMEs constitute a very important part of PayPal's partner ecosystem. Having built a platform that can safely and securely connect businesses and consumers, PayPal has emerged as one of the most trusted brands, globally. We are entirely focused on empowering Indian MSMEs to go global by democratizing access to financial services. Aligned with the Make in India and Digital India initiatives, PayPal's seamless customer interface and checkout experience is allowing Indian MSMEs to build value and trust with their end consumers. 
Faiz Askari: What is PayPal's role in the international payments space in India?
Chandni Nilhani: The pandemic unlatched multiple opportunities for small businesses in cross-border trade. In 2020, India was among the top 10 countries for cross-border e-commerce growth, and we are honoured to be a part of the journey towards taking Indian small businesses global. With PayPal's unique two-sided network, we are connecting 35 million merchants to over 400 million customer accounts in more than 200 markets. 
By providing small business owners with the right tools and helping them successfully adapt to the markets, we continue to empower Indian businesses to leverage global opportunities as we have been for over a decade.
Faiz Askari: Can you share some trends observed in your industry and how PayPal is leveraging them to help small businesses?
Chandni Nilhani: Firstly, there is the growth of the Indian e-commerce sector assisted by the increase in internet users and smartphone penetration. One of the key reasons for shopping online stated by consumers is the ease of shopping as it is more convenient rather than going to the store. Currently, nearly eight out of ten social media users in India shop through social media. Driven majorly by GenZ and millennials, shopping on social media is likely to reach $1.2 trillion globally by 2025. Given this, complicated processes are a big no for consumers of the fast-paced world. Therefore, PayPal is leveraging technology & innovation to enable comfort with cross-border shopping through seamless and hassle-free checkout experiences. 
Secondly, flexibility in the payments process (including paying in buyer's local currency, offering Buy Now, Pay Later solutions) is becoming just as important as comfort. Providing various payment options for the consumers and letting them choose their preference will help cater to a wider customer base and drive confidence in the buyer.
Thirdly, considering the upward trajectory of eCommerce and increasing cyber frauds, secure cross-border payments and monetary transactions are crucial. With increasing concerns over data privacy, establishing transparency and trust with customers is now more important than ever. To retain customers and develop confidence, it is important for a merchant to work with a trusted global payments partner with well-established credibility such as PayPal. 
Faiz Askari: Given lower discretionary spending during Covid, what role has PayPal played in helping fashion merchants like Aza Fashions and Pernia's Pop-Up Shop accelerate their global growth story? Can you help us understand the kind of impact driven by PayPal for small businesses you have worked with?
Chandni Nilhani: Last couple years were challenging for many industries including fashion, due to stringent lockdowns and no large scale weddings.  Despite the challenges, our merchants have been resilient. Both Pernia's Pop-Up Shop and Aza Fashions are in the luxury fashion space, and we've supported their vision to take Indian luxury fashion to the world by accelerating growth across new verticals and international corridors. Since onboarding PayPal as their payments partner, each of the brands expanded its business twice since pre-pandemic. As the sole checkout partner for both of these brands, we ensure customers' trust is unmoved as they engage on these platforms, ensuring end-to-end security and safety of customer data and funds. With this approach and our strive to continuously improve customer experience, we aim to support these companies as they expand further across borders. 
For a lot of businesses like these, they are still at initial stages of dealing with global audiences. How does PayPal help ease and enable this growth? 
Chandni Nilhani: Traditionally, cross-border trade was something that solely large businesses could delve into which had the capacity to take on the capital costs, establish regional contacts, and comply with regulatory requirements associated with cross-border trade. However, with digitalization, even small businesses and D2C brands have started thinking "Global first". This democratization of trade is reflected in PayPal too with about 25% of our total payment volume being cross border trade. 
One of the biggest factors for tapping into a global audience is building trust with the buyer. This is where having the PayPal logo on a small seller's website adds a lot of credibility and increases safety of the transaction.
When it comes to cross-border trade, ensuring a seamless experience to cater to customers from varying geographies with their own needs is crucial. Providing a flexible payments process that makes for a hassle-free checkout, keeping in mind different currencies and local payments preferences, is also where PayPal comes in.

Ref:
 2. Shopping on social media to hit $1.2 trillion by 2025, India key market