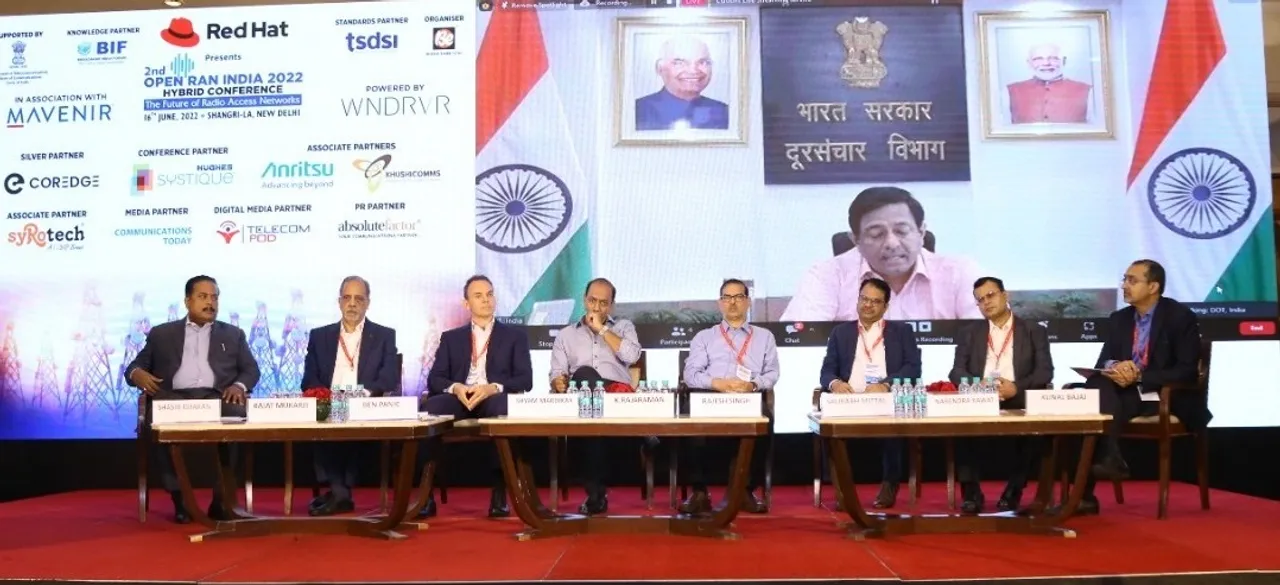 While speaking at the inaugural session of the 2nd edition of the Open RAN India 2022 Hybrid Conferencein New Delhi, Shri K. Rajaraman, IAS, Chairman (DCC) & Secretary (T), Department of Telecom (DoT), Govt. of India who joined as the Chief Guest said, "I am very glad to be a part of such a timely conference, as the Government of India is gearing up for the 5G spectrums in August this year. Open RAN is primary to Digital India and Make in India initiatives. We aim at delivering new products for the customers, and for that innovation is a must. Open RAN brings in greater flexibility for all spectrums, which enables us to act in a highly competitive market. Our aim is to achieve that soon."
Shri K. Rajaram further stated, "Every sector has an opportunity to drive new services, new products, and new experiences with 5G. For all this to happen, innovation on the edge has to be supported. Operators will have to evolve and transform to meet this increasing demand by evolving from closed and proprietary legacy architecture to open radio access networks that offer interoperability and network flexibility at a lower cost".
During his welcome address, Mr Rajat Mukarji, Director General, Broadband India Forum said, "It's the time to break down water-tight networks. With the 5G spectrums soon to be auctioned, Open RAN can be very instrumental. We all need to capitalize at this crucial juncture in the history of telecom innovation and move ahead".
MrShyamMardikar, Group Chief Technology Officer - Mobility, Reliance Jio said, "India is one of the highest data-consuming geographies in the world. Today, the cloud is getting integrated and this very paradigm shift will pave the way for the next innovation of Open RAN primarily, for customers, service providers and networks."
Mr Saurabh Mittal, Head- Network Infra Products R&D, Bharti Airteltalked about the automation aspect of Open RAN and reiterated that "It's a long journey where the union of competence, innovation and interoperability will play an important role in making Open RAN highly successful in India."
"Mavenir is building the future of networks as the industry's only end-to-end, cloud-native network software provider - a key enabler for the success of 5G in India.  We are on the vision of a single, software-based automated network that runs on any cloud and is working together with communication service providers (CSPs) to create the right foundations for innovation and flexibility in radio access networks (RAN). Disaggregation of hardware and software and cloudification in the RAN part of the network with open interfaces would provide a choice to CSPs to deploy best-in-class solutions from different vendors to reduce TCO, protect their investment and enhance the user experience by using machine learning and advanced analytics-based applications for radio network optimization", said Mr Narendra Rawat, Vice President-Technology, India & South Asia region, Mavenir.
Mr Paul Miller, Chief Technology Officer, Wind River, who joined the panel discussion virtually stated, "Drawing from real-world experience, Wind River understands how to address the service provider's complex challenges around deploying and managing a physically distributed, cloud-native infrastructure. Wind River Studio, which is a commercially deployed version of the open-sourceStarlingX project, is a proven solution as it forms the foundation of virtual and Open RAN deployments at Verizon, Vodafone, Elisa, KDDI, NTT Docomo and more on the way."
Mr. Aayush Bhatnagar, Senior Vice President, Reliance Jio in his remarks said, "The crucial parts of Open RAN are RU, DU and CU functions. They are the carriers for innovation and at the same time they highlight the picture for Open RAN with all its challenges and competencies."
Mr. Charles Santhosam, Associate Vice President-RAN System Engineering, Mavenir said, "We should leverage open interfaces, virtualization and web-scale containerization to support various deployment scenarios – including private, hybrid cloud, and public cloud, which are the key components of Open RAN. It comes with a lot of challenges but that doesn't mean we do not try. The time is perfect to take a plunge".
"Skill deployment is highly crucial in Open RAN. The Indian market is highly reliable in Wind River systems and we have been here since 2G. The O-RAN Alliance is committed to further innovating radio access networks (RAN) built on virtualized network elements, white box hardware, and standardized interfaces with the core principles of openness and intelligence in mind. With greater standardization and as interfaces become more open, this can accelerate RAN innovation and lower network costs to ultimately make virtual RAN easier to accomplish," said Mr Gil Hellmann, VP-Telco Solutions Engineering & Architecture, Wind River reiterated.
During the discussion, MrArif Khan, CEO & Founder, Coredge.io highlighted that "Open RAN has captured the telecom industry's attention with benefits at the global level. But simply disaggregating RAN software from purpose-built hardware is not going to help. There are considerations related to cloud-native RAN workload and lifecycle management. Automation or the SMO part is the key."
Mr. Chitwan Arora, System Design Engineer, Hughes Systique Corporation said, "OpenRAN introduces many advantages to the enterprise telecom market, including infrastructure reconfigurability & flexibility, scalability, frequent and early deployments, higher network sustainability, and CAPEX/OPEX efficiency."