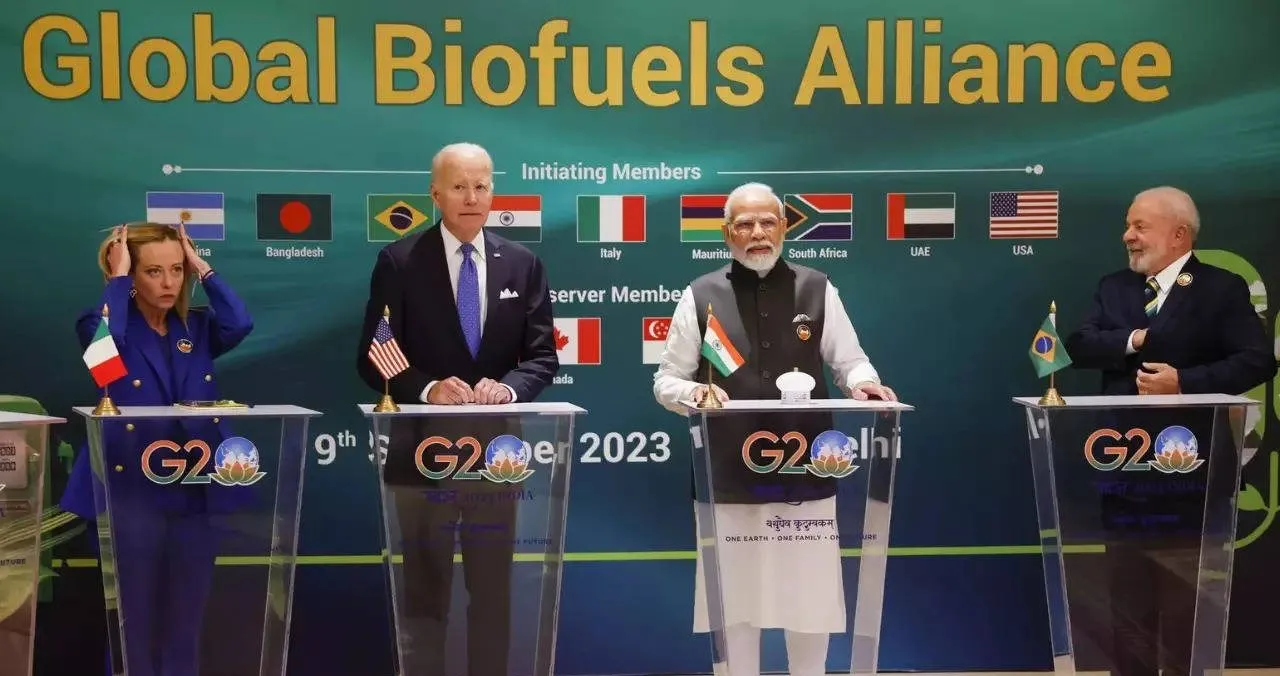 The Bureau of Indian Standards (BIS), the National Standards Body of India commits to complement the green initiatives of the country through development of relevant standards. Through an official release, BIS also announced that the Indian Standards will significantly complement the objectives of Global Biofuel Alliance (GBA), the multilateral forum announced by Prime Minister Narendra Modi during G20 leaders' summit held recently in New Delhi.
The BIS release also quoted the Director General, BIS, Shri Pramod Kumar Tiwari wherein he said, "the announcement of Global Biofuel Alliance (GBA) by the Prime Minister Shri Narendra Modi during the G20 summit is a historic development in global efforts towards achieving clean energy goals. We, at the Bureau of Indian Standards (BIS), being the National Standards Body of India, are committed to support this path breaking initiative of the Government of India through development of relevant Indian Standards and necessary quality parameters/performance specifications."
The release also highlighted the key standards that would aid stakeholders including manufacturers, traders, and other entities dealing with biofuel or related matters. The release stated that espousing the ethanol blending program and the objectives of the GBA, BIS has developed the following nine Indian standards on biofuels:
IS 15464 : 2022 Anhydrous Ethanol for Use as Blending Component in Motor Gasoline - Specification
IS 15607 : 2022 Biodiesel B-100 - Fatty Acid Methyl Esters FAME – Specification
IS 16087 : 2016 Biogas (Biomethane) - Specification (First Revision)
IS 16531 : 2022 Biodiesel Diesel Fuel Blend B8 to B20 Specification
IS 16629 : 2017 Hydrous ethanol for use in ED95 automotive fuel – Specification
IS 16634 : 2017 E85 fuel (Blend Of Anhydrous Ethanol And Gasoline) – Specification
IS 17021 : 2018 E 20 fuel - Admixture of anhydrous ethanol and gasoline - As fuel for spark ignited engine powered vehicles – Specification
IS 17081 : 2019 Aviation turbine fuel (Kerosene Type, Jet A - 1) containing synthesized hydrocarbons - Specification
IS 17821 : 2022 Ethanol as a Fuel for Use in Positive Ignition Engine Powered Vehicles - Specification
It is also informed by BIS that additionally, development of standard on paraffinic (green) diesel, that is derived from 2G feedstock, is also under progress. With the help of these set of standards, BIS believed, increased capacity of biofuel production can be achieved and will provide multipronged benefits. It was also added that 'it will not only help in meeting the target of net zero by 2070 and 50% energy through renewable sources, but will also contribute in achieving several other objectives such as Make in India, Atmanirbhar Bharat, Waste to Wealth, and increasing farmers' income to name a few.
Notably, during the 18th G20 Summit under the presidency of India at New Delhi, the G20 leaders launched the Global Biofuel Alliance (GBA) – a forum of 30 countries and international institutions to facilitate the adoption of biofuels.  GBA is an India-led initiative towards the goal of sustainability and clean energy. It aims at achieving worldwide development and deployment of sustainable biofuels through formulation of national policy, development of marketplace, evolution of technological competency, and adoption and implementation of internationally recognized standards and codes of practice.
Reportedly, USA, Brazil, and India are the major producers and consumers of biofuels. These three countries collectively contribute to 85% production and 81% consumption of ethanol globally. The global ethanol market was valued at 99 billion USD in 2022 and is expected to grow at a compounded annual growth rate of 5% by 2032, creating a huge opportunity for Indian industries and contributing to farmers' income, job creation and overall development of the Indian ecosystem.
It was estimated that currently, about 98% of the fuel requirement in India for transportation sector is met by fossil fuels and the remaining 2% by biofuels. India's import of petroleum in 2020-2021 costed about 55 billion dollars to the exchequer. More recently, the Russia-Ukraine war has spiked global oil prices and import of oil and gas with inflated prices has further burdened the Indian economy. Blending of ethanol up to 20% with gasoline will lead to savings of around 4 billion dollars.
Hence, Indian Oil Manufacturing Companies (OMCs) are working towards provisioning new distilleries for production of 1G and 2G ethanol and Indian vehicle manufacturers are developing engines compliant with ethanol blended fuel. Government has also started an interest subvention scheme for molasses and grain based distilleries to promote ethanol production. It is also foreseen that flex fuel vehicles, which are capable of utilising ethanol blended gasoline up to 85%, and are already operational in the USA and Brazil, are soon to make an entry in India.