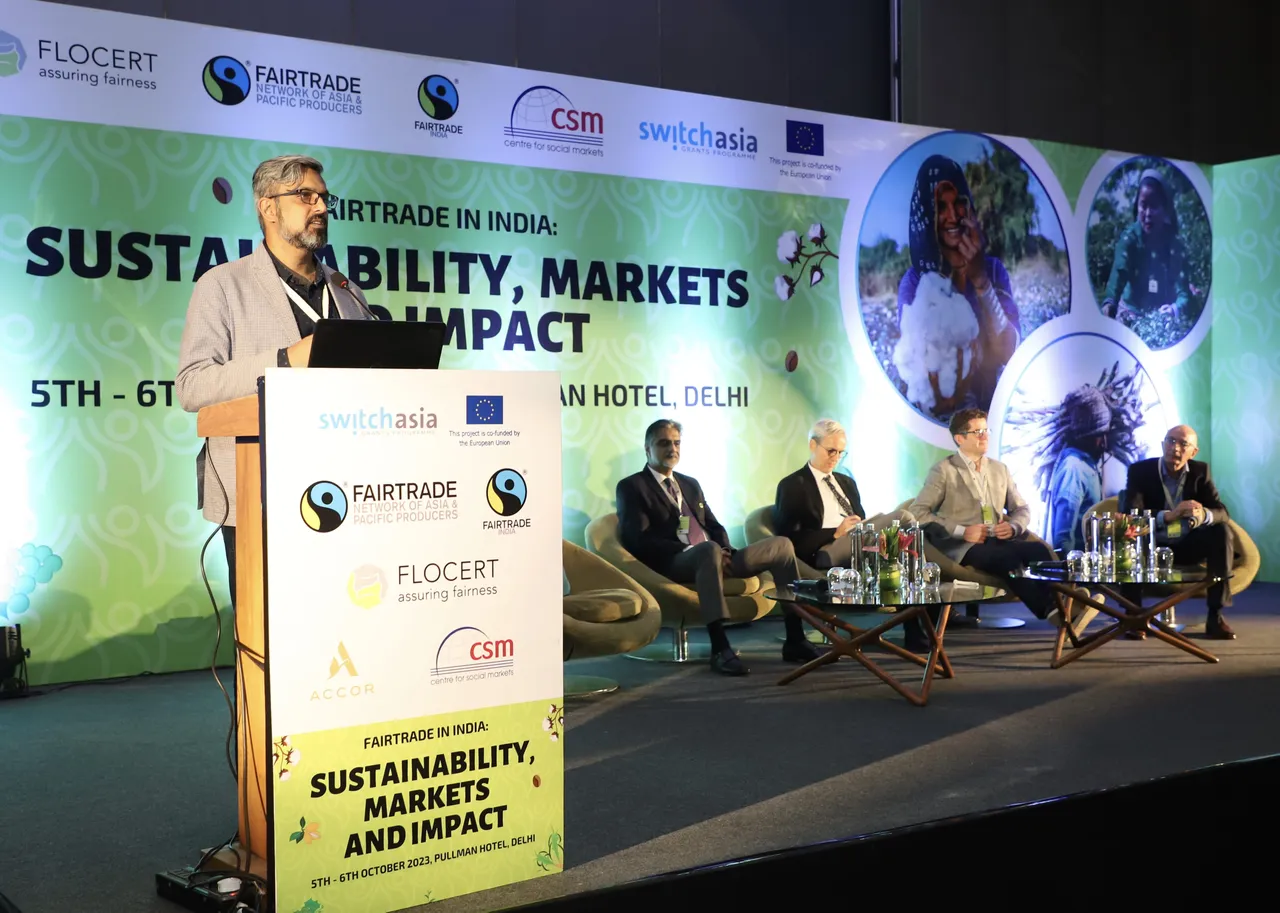 Fairtrade India, in partnership with Fairtrade Network of Asia Pacific Producers, successfully concluded the First National Fairtrade Conference in India, showcasing a significant leap in sustainable and ethical commerce in India. The conference highlighted growing awareness and engagement of the Fairtrade Label across sectors. Independent research commissioned by the organisation revealed a significant rise in awareness of the Fairtrade Label in the SEC A consumers in Metros from 10 per cent in 2019 to 25 per cent in 2022.
The conference spanning over two days brought together over 150 delegates from the Fairtrade ecosystem, including businesses, producers, partner organizations, industry experts, educational institutions, and consumers.
Mr. Abhishek Jani, CEO of Fairtrade India, said, "In 2022, Fairtrade Labelled product sales in India touched an impressive INR 23.93 Crores in Gross Merchandise Value, signalling a substantial growth in demand for ethically and sustainably sourced products. Sustainable avenues are helping producers and businesses - gain a competitive edge, innovate, and improve the value proposition for consumers while also improving their ESG performance. Businesses across FMCG, Fashion, Cosmetics and HORECA sectors in India are recognising that they can do business more responsibly and provide a better value proposition to their customers. It appears that in line with the Government's Mission LiFE, there is growing traction for Sustainable Consumption and Production in India."
"Our growing partnerships with renowned brands like Indian Terrain, Being Human, Myntra- Here and Now, LOREAL, Kimirica, Tea Culture of the World and Makaibari Tea, exemplify a shared commitment to promoting better livelihoods, sustainable sourcing, and responsible production, highlighting a new era where ethical values are driving industry standards and consumer choices," he said.
Mr. Sanjeet Singh Khurana, Executive Director, Fairtrade NAPP (Asia Pacific) said,  "We operate in 18 countries with 289 Fairtrade-certified producer organizations across Asia- Pacific, including 112 in India, where we benefit close to 1, 42, 202 farmers and workers. A total of INR 80 crore Fairtrade Premium was generated between 2017-2021, funding Sustainable Development Goals, aligned community projects. Fairtrade India's 2022 successes and this conference which has brought together our diverse stakeholders exhibit a growing dedication to ethical practices in India's markets."
Fairtrade Recognition in India
In another big announcement, Jindal Global Business School was recognised as the first Fairtrade Business School in India. Several notable Fairtrade business and education sector partners and producers were also honoured during the conference, as a mark of encouragement for diverse institutions to embrace fair trade practices. 
Aligned with SDG-12 (sustainable consumption and production pattern) and Mission LiFE (India led global movement to promote sustainable lifestyles,) the event shed light on adopting sustainable practices in businesses and lifestyle, focusing on their impact on our society and environment.
Supported by the SWITCH Asia Programme of the European Union-for promoting SDG12- Fairtrade India's mission revolves around empowering producers and guiding them toward responsible production practices while also ensuring market access which is more remunerative for them. The National Fairtrade Conference serves as a testament to the establishment of a secure ecosystem that integrates economic, environmental, and social pillars, fostering a responsible consumer and business movement in the country.