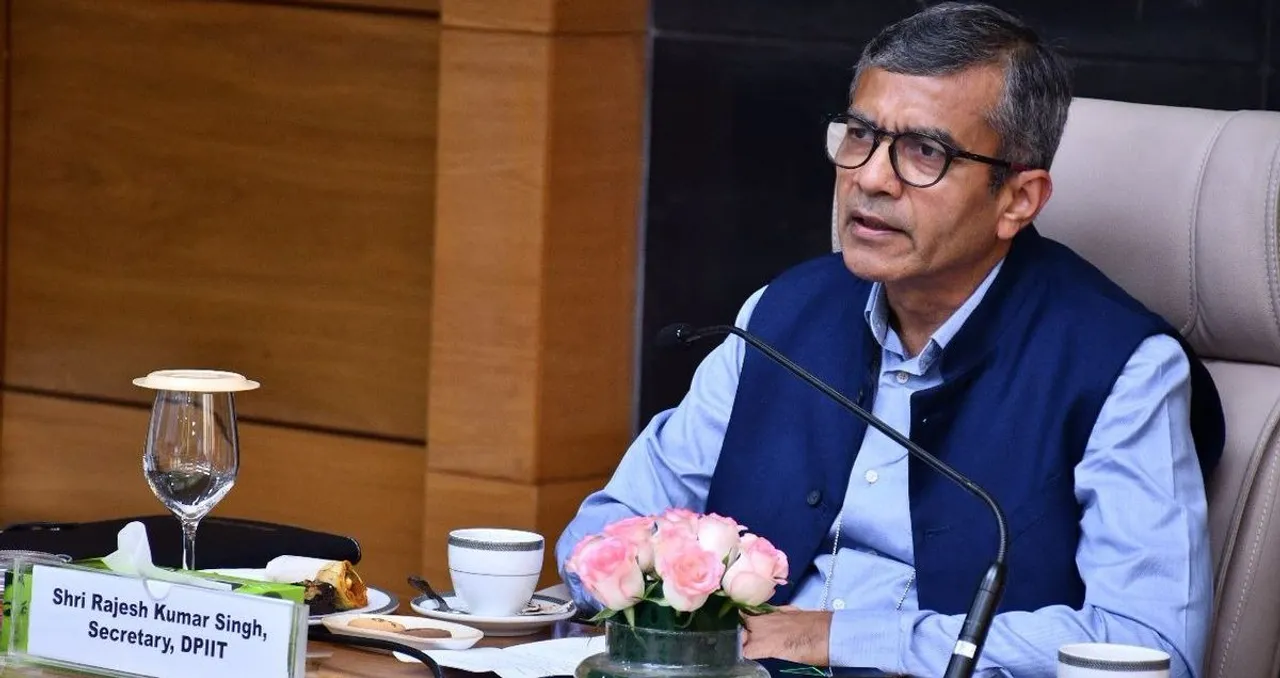 To review the status of PM GatiShakti adoption and discuss the way forward for District/Local level adoption of PM GatiShakti principles for infrastructure planning, a webinar with the Senior Officials from States/UTs and Ministries was held today by the Department for Promotion of Industry and Internal Trade (DPIIT), Ministry of Commerce and Industry. The agenda of the Webinar included the following: Demonstration of the PM GatiShakti National Master Plan (NMP), by DPIIT & BISAG-N; Interaction with the States / UTs for adoption of PM GatiShakti NMP at district/local level in urban and rural areas; and Sharing of experiences by select infrastructure line Ministries with objective of promoting cross-learnings and synergizing with State level infrastructure networks.
 
In his opening remarks, Secretary DPIIT, Shri Rajesh Kumar Singh remarked on the unique GIS-based platform and potential of PM GatiShakti as a universal planning tool across Ministries/Department and States/UTs. He emphasized on percolating the visionary PM GatiShakti program at District/Urban local bodies/Block level as the next phase, with a focus on the Area Development principles.

Special Secretary (Logistics), DPIIT, Smt. Sumita Dawra highlighted the revolutionary digital infrastructure planning that has led to evaluation of more than 300 projects of Central Ministries and States/ UTs worth Rs. 11.98 Lakh Crores (USD 143.92 Bn). Further, over 200 projects of States worth Rs. 5496 Crores (USD 660 Mn) have been recommended for improving logistics infrastructure. She emphasized on encouraging cross-learning on the development of tools and use cases by the Ministries/Departments and States/UTs; District outreach programs to adopt PM GatiShakti principles to bring its benefits upto the grass-root level i.e. District/Urban local bodies/Block level; and Capacity building through institutionalizing regular courses on PM GatiShakti in State Administrative Training Institutes.

To promote wider usage of PM GatiShakti, the Special Secretary (Logistics) asserted that States/UTs should leverage local remote sensing agePM ncies/space agencies for the development of geo-tagged data and conduct regular meetings of the institutional mechanisms under PM GatiShakti, and integrate Area-Development principles with infrastructure planning for holistic development.

States and UTs highlighted their progress in mapping infrastructure projects and developing implementation plans for social welfare schemes using the PM GatiShakti.  They also highlighted the need for training of State officials to which BiSAG-N agreed to provide continuous support.

Over 650 officials from State/UTs, Central Ministries/Departments and Resident Commissioners of States attended the Webinar, covering all 36 States/UTs, infrastructure and social sector Deptts/Ministries and BISAG-N.