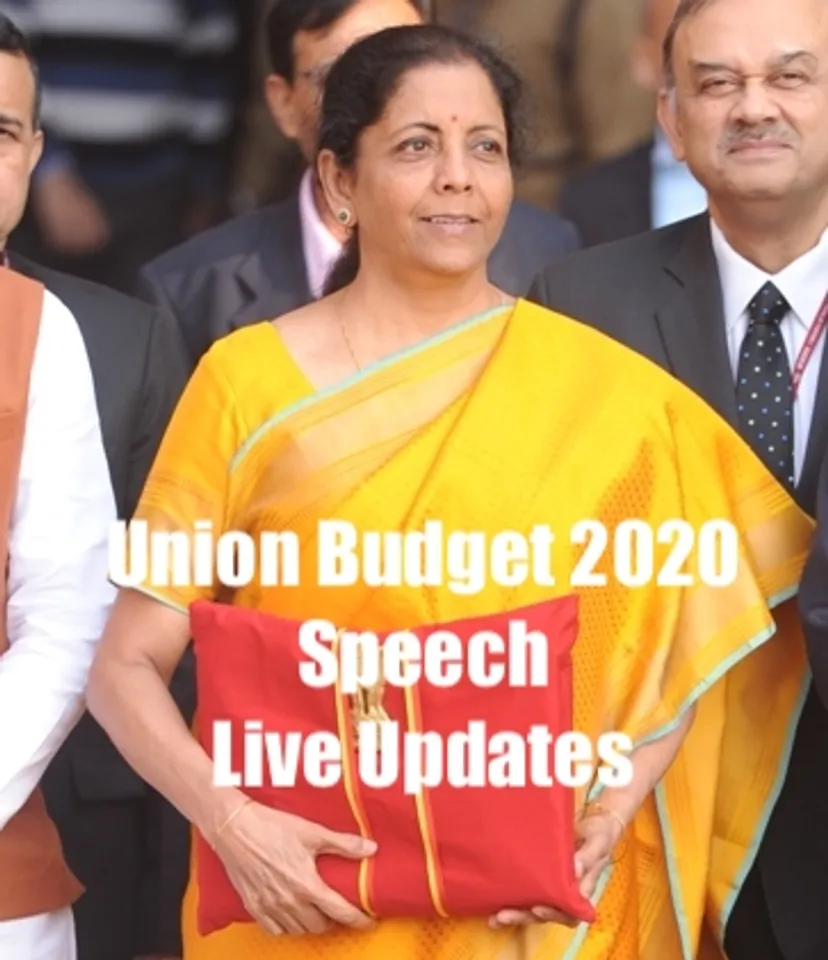 Kindly Refresh your Page for Realtime Updates
Finance Minister Nirmala Sitharaman concludes her second Union Budget Presentation. This budget is highlighted as the budget of the new decade for new India.
A detailed analysis will be developed and shared on SMEStreet. However as key highlights, from MSMEs' perspective is still needed to budget more clarity but at the first look, "Special subordinate debt for entrepreneurs of MSMEs" remained a major annoucement from this budget.
Live Updates:
FM says GST reforms will continue including a simplified return-filling form. Refund has been simplified and has been fully automated, says Nirmala Sitharaman. Aadhaar-based taxpayer verification will be done.
At 1:29 pm: FM Nirmala Sitharaman informed that a total of 4.83 direct tax cases pending in various forums. So a new direct tax dispute settlement under 'Vivad se Vishwaas Scheme'. No penalty will be charged if taxpayers pay by March 31, 2020.Here, only disputed tax amount has to be paid.
At 1:24 pm: FM Nirmala Sitharaman says that it will amend I-T Act to enable faceless appeals on the lines of faceless assessments.
At 1:22 pm: FM Nirmala Sitharaman expressed her thoughts and planning for affordable housing she mentioned that deduction of Rs 1,50,000 will be extended to loan sanction by one year. Tax holiday on profits of developers involved in affordable housing projects will be extended by one year to March 2021.
At 1:19 pm: FM Nirmala Sitharaman says the concessional 5% withholding tax has been extended to municipal bonds. Cooperatives are taxed at 30 percent now.
At 1:17 pm: Corporate tax cut will be available for power generation companies as well. The government will grant exemptions for sovereign wealth funds in infrastructure and other notified sector with a minimum lock-in of three years. The rate of withholding tax has been extended to 2023 for FPIs.
At 1:14 pm FM Nirmala Sitharaman says currently more than 100 exemptions provided in I-T Act. Now around 70 of them have been removed in the simplified regime. Remaining will be reviewed over the coming years to simplify the system, says FM.
Major Revision on Tax Structure
At 1:12 pm: FM pointed out that there will be a significant reduction in tax paid even by those having Rs 15 lakh. But the new tax regime will be optional. A total of Rs 40,000 crore a year will be revenue foregone per year, says FM.
At 1:10 pm: FM says that the tax proposals would bring ease of compliance and reduce litigation. Nirmala Sitharaman says a new personal income tax regime would be reduced who forego deductions and exemptions. Tax of only 10 per cent will be charged to Rs 5 lakh-7.5 lakh income as against prevailing 20 percent rate. From Rs 7.5 lakh-10 lakh income, a tax rate of 15 per cent against 20 percent prevailing rate. For income Rs 10-12.5 lakh, a rate of 20 percent will be charged as against 30 percent earlier. For income between Rs 12.5 lakh-15 lakh will be taxed at 25 percent as against 30 percent. For those at Rs 15 lakh plus income, tax will be 30 percent.
At 1:08 pm: The FY21 total expenditure at Rs 30.42 lakh crore, says FM. Net Market Borrowing for FY20 at Rs 4.99 lakh crore and net market borrowing for FY21 at Rs 5.36 lakh crore, says FM.
Fiscal Deficit in 2020 at 3.8 %
At 1:00 Pm: FM Sitharaman said that the issue of fiscal deficit has to be addressed in every budget. Government has undertaken tax reforms for this. "We estimate fiscal deficit on 3.8 percent of GDP in FY20 and 3.5 percent for BEFY21," says Finance Minister, Nirmala Sitharaman.
At 11:53 pm: Government to list LIC on the stock exchanges. Big news on Life Insurance Corporation of India which is the largest institutional investor. This is likely to be the biggest IPO in the country.
MSME Specific Announcement:
At 11:49 pm: Special subordinate debt for entrepreneurs of MSMEs will be provided informs FM. More than 5 lakh MSME benefited from debt restructuring last year. Government has asked RBI to consider extending the window of debt structuring by one year to March 2021 for this purpose.
At 11:45 pm: Working Capital is a major issue hence I proposed a scheme for the subordinate scheme. CGTMSE scheme is further strengthened. FM Acknowledge role of TrEDS in the direction of bringing efficiency working capital issue. FM also recognized that MSMEs are struggling with the issue of delayed payments and informed that govt is working on resolutions for this issue.
At 11:43 pm Major Announcement BUDGET 2020: FM Sitharaman says deposit insurance cover will be hiked to Rs 5 lakh from Rs 1 lakh. She reiterated that all deposits are safe
At 12:35 pm: FM says will businesses will need to be confident. She added that a  tax-payer charter will be institutionalised in the budget. This will be building trust, says FM. The government will ensure that citizens need not worry about tax harassment, says FM. There is a debate on building criminal liabilities for civil acts. Companies Act will be amended to correct this, says Sitharaman.
At 12:33 pm: Taking on the subject of governance and financial inclusion, FM says Governance should be clean and corruption-free. Trusting every citizen including aspirational youth, farmers, senior citizens and hard-working women is key, added FM.
At 12:30 Pm: Ayushman Bharat, wealth creators being respected, PM Kisan doubling income, ease of living, national security being top priority are the main reforms of the country under PM Modi, says Nirmala Sitharaman.
At 12:28 pm: FM Nirmala Sitharaman quotes poet Thiruvalluvar. She says there are five jewels for a country, which is one without illness, one with wealth, it will have good crops, it should have happiness as well as safety/security, quoting the poet.
At 12:27 pm: Talking about the environment and Climate change, FM said that Govt is looking closely at environment protection. India's commitment under the Paris Agreement action will kick-in from January 1,2021. Power plants with higher emissions will have to be closed. This land will be used for other purposes. The government will encourage plans to have clean air by the state governments with an allocation of Rs 4,400 crore.
At 12:24 pm : For promoting tourism, FM Sitharaman informed that five archaeological sites will be set up with museums on site in Rakhi Gadi in Haryana, Hastinapur in UP, Dholavira in Gujarat, Shivsagar in Assam and Adichanallur in Tamil Nadu. In order to give boost to regional and native societies, a tribal museum will be set up in Ranchi, Jharkhand. Maritime site will be set up in Lothal. A total of Rs 3,100 crore has been set aside for Culture Ministry in FY21. A 100 more airports will be developed under UDAN by 2024. A total of Rs 2,500 crore will be allocated for tourism promotion in FY21
At 12:16 pm: Finance Minister acknowledged the role and contribution of women and girls in nation-building. FM Sitharaman informed gross enrollment of girls under Beti Bachao Beti Padhao is higher than boys. Here, she says that gross enrollment of girls is 94.32 percent in elementary levels, 81.32 percent in secondary level and 59.7 prercent in higher secondary level. She adds that women are a priority especially pregnant women and lactating women. More than 6 lakh anganwadi workers are equipped to upload status of more than 10 crore households This scale is unprecedented. Overall, FM says there are imperatives to lower maternal mortality rates. FM proposes task-force on six months on this matter. An allocation of Rs 35,600 crore for nutrion-related programmes in FY21. Further, Rs 28,600 crore will be allocated in FY21 by government for women-linked programmes.
At 12:13 pm: Rs 8,000 crore are allocated to set up for the National Mission on Quantum Computing and Technology.
At 12:12 pm: Mapping of the genetic landscape is critical for India, says FM. Two national-level science schemes to be set up for getting a comprehensive national-level database.
At 12:10 pm: Whle highlighting new-age technology tools, in her speech, FM pointed out India has embraced sharing economy with aggregators displacing regular businesses. Analytics, IoT and AI are changing the world. A policy will be set up to build data centre parks throughout the country. All public institutions at Gram Panchayat levels will be provided with digital connectivity. Fibre to home through BharatNet will link 100,000 Gram Panchayats in FY21 itself. An allocation of Rs 6,000 crore will be provided for BharatNet.
At 12:02 pm:  On the front of infrastructure development, she mentioned that a total of 12 lots of highway bundles will be monetised by 2024.
At 12:00 pm: FM Nirmala Sitharaman proposes the allocation of Rs 27,300 crore for industry and commerce In FY21
At 11:58 am: in order to motivate exporters, a new scheme Nirvik will be offered for exporters. This will have lower premiums and a faster claims settlement. Refund to exporters the duties levied including electricity and VAT which have been not refunded. This will be launched this year itself, says FM. Each district will have to be developed as an export hub. The government's e-marketplace has a lot of opportunities for SMEs. A total allocation of Rs 27,300 crore for development of industry and commerce in FY21, says FM.
At 11:55 am: Finance Minister emphasized the importance of cost advantage for electronics manufacturing in India. She even says that this needs more investment. Hence FM proposed a scheme on encouraging the manufacturing of mobile phones, semiconductor packaging and electronic equipment, She said that this can be used for the manufacture of medical devices as well. A detailed scheme with details will be released soon.
11:53 am: Finance Minister acknowledged the importance of entrepreneurship as a spirit of India and has been its strength. Indians have given up greener pastures to come back to India and look at local challenges, she added. Will create more opportunities for startup owners. an efficient investment clearance cell will be set up for entrepreneurs, FM  added. These individuals will be offered assistance in funding as well and a portal will be set up for this purpose.
At 11:52 am: Nirmala Sitharaman proposed an allocation of Rs 99,300 crore for Education. She says the government will work to promote 'Study in India'.
At 11:48 am: There is a huge demand for teachers, nurses, paramedical staff and caregivers abroad. However, their skill-sets do not match standards and need to be improved, says FM.
At 11:45 am: New Education Policy (NEP) is soon going to get implemented, FM informed that dialogues have been with states about education policy of NEP. The education sector needs greater finance to attract good teachers, she said. ECBs and FDI will look for the education sector. A total of 150 higher education institutes will have apprenticeship programmes by March 2021. Urban local bodies will provide fresh engineers a job opportunity for one year, says FM.
At 11:44 am: Rs 3.6 lakh crore for Jal Jeevan Mission has been approved in the Budget 2020. This mission will augment local water resources, desalination, water harvesting and renewing older sources in FY21.
At 11: 43 am: Finance Minister gave slogan of  TB Harega, Desh Jeetega as a nationwide campaign. This campaign will strengthen to end TB by 2025 in the country. A total of Rs 69.000 crore has been provided for the healthcare sector of which PM Jan Arogya Yojana will get Rs 6,400 crore.
At 11:40 FM: Unleashed a holistic vision of healthcare. She informed Mission Indradhanush has been extended to cover new diseases and new vaccines. Fit India is part of it, she said. There are 20,000 empanelled hospitals in Ayushman Bharat and need more in Tier 2 and 3 cities to benefit poor in these areas. PPP mode hospitals will be set up under viability gap funding to look at areas where there are no hospitals. This will be 112 aspirational districts where first priority will be given.
At 11:37 AM: Govt is committed towards agri and allied activities and with this an allocation of Rs 2.83 lakh crore has been made for FY21. This includes agriculture, irrigation, rural development, Panchayati Raj.
At 11:33 am: FM informed, that govt is taking major focus will be one product in one district as far as the horticulture sector is concerned. Zero budget natural farming will be operationalised and thrust will be on the organic farmer.
At 11:32 am: Kisan Rail will be set up by Indian Railways on PPP goods for the transport of perishable goods. Added to this is Krishi Udan by civil aviation that will help value realization in North-East India and tribal areas, informs FM Sitharaman.
At 11:27 Am: PM Kusum Scheme reduced dependence on diesel and kerosene and relied on social energy. Total of 20 lakh farmers can set up standalone solar pumps, she says. Further, she said that government can help 15 lakh solarise grid-connected pump sets, says finance minister Nirmala Sitharaman. Farmers can also use barren land for solar energy and have a livelihood out of it, says FM.
At 11:25 AM: Govt through its policies will double farmer income by 2022. A total of 6.11 crore farmers insured under Fasal Bima, says finance minister. She says hand-holding of farm-based activities needs to be done. This, she said, can be done in cooperation with states. Presents a 16-point action plan for this purpose.
At 11:20: FM Sitharaman presented Kashmiri Poem Pyara Vatan to motivate the audience and highlight Sabka Saath Sabka Vikas vision.
At 11:18 am: Sitharaman said, digital revolution will see the next wave and moving forward we will achieve seamless delivery of services through digital..
11:10 Am: FM Sitharaman recognized GST as most historic development Indian history of finance. GST has introduced reforms, and GST has integrated economically and has consolidated multiple taxes, says Nirmala Sitharaman. GST has led to inspector raj vanishing, says FM. The average household now saves 4 per cent of monthly spend due to reduced GST rates, she added.
11:08 Am: Praised GST. Average households are saving over 4% of household spending due to GST.
At 11:06 AM: Nirmala Sitharaman paid homage to Late Finance Minister, Shri Arun Jaitley.
At 11:05 Am: The Budget 2020 Speech Started.