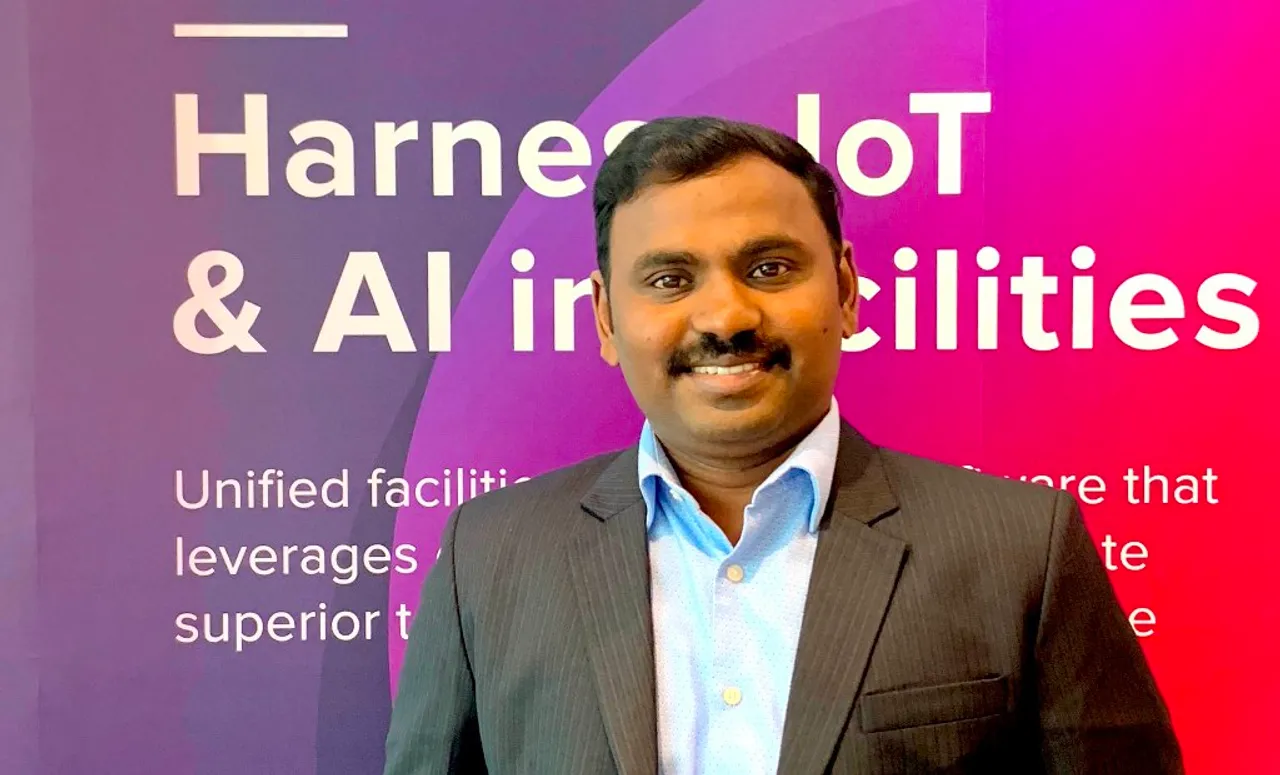 In a candid interview with Mr. Prabhu Ramachandran, CEO & Co-Founder, Facilio, Faiz Askari of SMEStreet unearthed an interesting, elevated and new business model of facilities management business.
Faiz Askari of SMEStreet: Can you give us an idea on the market you target and the pain points which exist?
Facilio: Facilio's solutions are for anyone who owns a large portfolio of buildings. Currently, we predominantly target commercial building owners; however, our product can also be applied on residential premises. Our customers own a minimum of 10-15 buildings.
The problem statements that we address:
• Decades of complex automation and legacy systems. The traditional approach to facilities management steered by hardware is bogging down commercial real estate (CRE) owners with inflexibility and rigidity.
• Managing Multiple Vendor: This includes elevators, security cameras, centralised air conditioners, fire safety measures, etc., all these products are purchased from different vendors such as Honeywell and Seimens. Even in air conditioners, one floor might have Voltas and the other floors might have Daikin.
• Facility operations are in a black box – teams are not equipped with the right problem data to identify and resolve faults, making them less productive.
• Breakdowns seem out of the blue – no central way to spot and analyse asset anomalies in real-time.
• Massive revenue leaks in buildings from wasted energy and inefficiencies.
The complete maitainace of buildings is usually outsourced from companies for manforce who help in managing different parts of the building. The technology is very limited in this segment and is restricted to managing the workforce through organising their calendars. For instance every asset will have a 52 week maintainence period and these technology will help the staff keep track of it including the warranty, insurance etc., Usually building owners go for huge companies who are in the 100-300 million range. But you have to keep in mind that these players do not create a product for buildings. They were perhaps built for other industries and end up selling 4 different softwares to a building owner. This software has to be maintained by 3 different people and do not communcate with each other.
SMEStreet: So Facilio integrates these functions?
Facilio: Yes. Facilio offers an unified platform to solve day to day operational challenges, backed by data and high end technology. In the case I had mentioned above, maintence is still manually driven. In a large building, if you see, a minimum of 4-5 staff members work towards maintaining a floor. Everthing is a mere data entry system were in case of an issue, one will log in, create a ticket, and assign the work to a technician. The technician then goes to the floor and tries to understand the cause of the issue. This is how buildings mostly work today and the data entry is going to no use. Facilio helps building owners increase the efficiency of the managing staff by optimising data. Even if you look at parallel markets, company like Uber, didn't build any cars but they connected drivers into a cloud platform through which they started acquiring data. This is the revolution that Facilio aims to bring into buildings.
SMEStreet: How do you differentiate yourself in this market?
Facilio: Traditionally, IoT in buildings is the number of vendors who usually come up with a patented sensor which can help in conserving energy, etc., However, the problem is usually building owners already spend millions of dollars on automation technologies and the new patented software demands them to completely rip off the existing system and replace it with ours. However, Facilio's IoT edge software can communicate with existing automation in the buildings such as elevators, air conditioners, camera system, fire safety equipment etc., Our solution adds more value to the business and does not replace anything that has already been invested. Then Facilio takes all the dumped data and converts it into actionable intelligence through technologies like AI & ML. It is very user-friendly as different stakeholders have access to the data from an app on their phone. For a technician, the app feeds data on the list of maintenance work that he needs to complete, the health of the assets, etc., If you're a building owner who owns 15-20 buildings, you can get access to information on your high performing and low performing buildings.
SMEStreet: Does it include remote management? So does that mean that a real estate company in Gurgaon can be your client if they just have two people team and manage ten buildings?
Yes, that's correct. They can have buildings anywhere in India and control them remotely with a control and command center as and the data is stored on the cloud.
SMEStreet: How do you help old buildings? For example a building which does not use that many automation technologies?
Facilio: We also have a solution called the digitization suite, which does not connect with any automation. It simply connects with the buildings and helps them go completely paperless. It even takes reviews from the tenants on the performance of the staff. When it is all paperless, you get access to a pile of data that can be used for learning. In a building with 10 blocks, if something had gone wrong in Block A few months back and the same issue has arisen in Block B, with Facilio, you can immediately get access to historical data and understand the solution. Real Estate is also a market with a high attrition rate and hence a paperless system helps the building owner ensure that there is consistency in the quality of service.
SMEStreet: What percentage of operational budgets can be reduced?
Facilio: Roughly 20%
SMEStreet: You are catering to an unstructured market. Buildings lack proper maintainence and care but still people prefer doing things their own way. How do you convince decision making?
Facilio: We are disrupting this segment and building a new category. These customers as you rightly pointed out are used to doing things their own way through ERP systems. However, predictive maintenance through a mobile app is something they have not done yet but are interested. We are also changing their operational style completely as we work with the existing systems. THEREFORE, although this might be a challenge, the opportunity in the market is huge for us. They say global energy spend alone for commercial buildings alone across the world is approximately 1 trillion dollars the facilities management the people salary for these people that is around like 1.3-1.4 trillion dollars
SME Street: Can you tell us about Facilio's funding and the journey of the founders so far?
Facilio: All four of us worked in ZOHO for 17 years and then we started this company in May 2017. From Day 1, we have had funding from Accel Partners. Last December, we also brought Tiger Global on board. We work with 70 customers across the globe right now and our significant markets include Dubai, USA and India. We are also working with customers from Brazil, Australia and Singapore.
In India, we have customers in Chennai, Bangalore and Mumbai. We are running pilots in Gurgaon and Delhi. The highest percentage of our customers are based out of UAE and Qatar. We even have offices there.
SMEStreet: What is your vision for Facilio and where do you see yourself in the next 2 years?
Facilio: The traction has been great for the last 2 years even though this category of business is fairly new. Our focus for the next two years is going to be to have a strong grip on the Middle East market and expand more in India. I see that happening soon as we have already been seeing a positive response from pilots. We want to eventually emerge as a leader of this category.