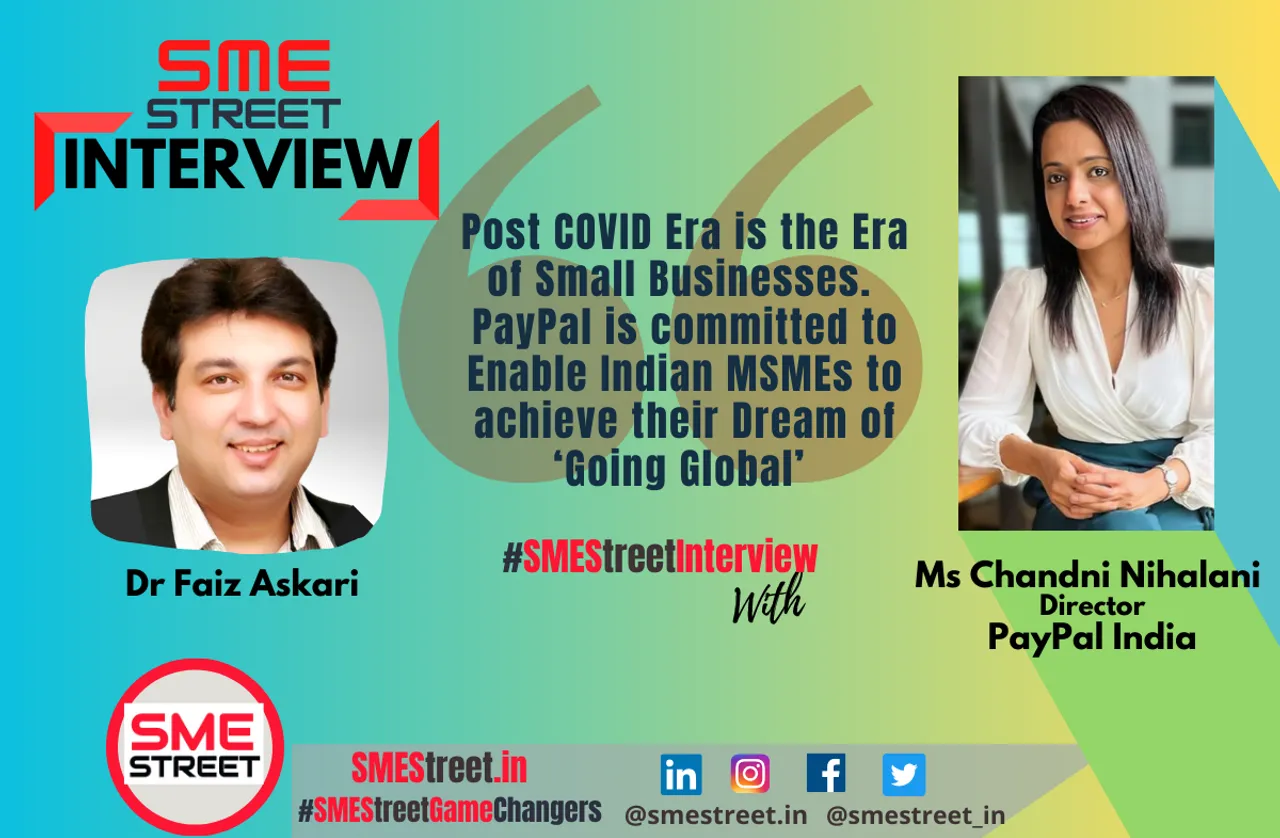 PayPal in India is letting Indian small business owners achieve the dream of going global. In an interview with Ms Chandni Nihalani, Director, PayPal India, Dr Faiz Askari of SMEStreet revealed some insightful and interesting trends.
Discussing the Indian SME/MSME landscape for PayPal India and the digital payment scenario, we were fortunate to speak to Ms Chandni Nihalani, Director, PayPal India.
Here are some insightful and interesting excerpts from the conversation between Dr Faiz Askari, Founder of SMEStreet and Ms Chandni Nihalani.
Faiz Askari: How is PayPal India looking at enabling the small business ecosystem of India specially in the post-COVID era?
Chandni Nihalani: Considering the trend of today's time, the focus is shifted towards MSMEs and we are noticing that after COVID, the whole digitization adoption has accelerated by a good five to seven years. For example, a lot of buying behaviours that were originally offline have moved to online. During the phase of COVID led lockdown people have tasted online and found it useful. After a point, this whole phenomenon has become the new normal.
 So what COVID did in a way was that it allowed Indian sellers to shine on the world stage and as a result we suddenly saw all the different system enablers coming together to support this journey and this growth.
FA: What are the key attractions for PayPal among Indian Small business owners or MSMEs? 
Chandni Nihalani: So when you think about an Indian seller who is typically an MSME, either he is a freelancer or a small business, they might be operating from a Tier 2, Tier 3 city of India but they have a strong aspiration to go global. With the advent of digital penetration, like social media etc, they have developed their capabilities to attract and reach out to potential buyers. All this is a very exciting story for us as we at PayPal can help such ambitious entrepreneurs live up to their dream of serving global customers or clients. At PayPal, we find this as a major driver for us and we also find such ambition of a small business entrepreneur a great attraction.
FA: In such a global journey of a typical Indian Tier 2 city-based SME, what are the commonly faced challenges and how can PayPal address those challenges? 
Chandni Nihalani: Several challenges come to mind when they have to scale. Firstly, understanding the market demand. Sometimes small business entrepreneurs also find it challenging to create the demand in International or global markets. They have to think of pricing, strategy, operations, people and a bunch of other things and payments are key aspects of international growth.
Then the safety and security of payment modes is a challenge. Thirdly, building credibility through business processes is also a challenge. One of the most influential ways to add credibility element into any small business is to build trust through the payment process. So when the MSMEs are thinking about payments, they need to partner with a very strong payment player that can remove the friction out of the whole payment piece. Building trust is the mantra of success for any business.
At PayPal, we have the privilege of serving 400 million customers and 35 million merchants in around 200 markets globally. We are known worldwide as a trusted partner in the area of digital payments, and this gives a consumer or customer confidence and builds trust in the seller. 
FA: Going Global is a great dream for almost every entrepreneur in India, but they often work on thin margins. Having said this, these entrepreneurs often seek affordable solutions to execute their business sales, so how do you look at the affordability part for the MSMEs in the area of digital payment?
Chandni Nihalani: As the small business grows and as we help them grow to multiple different corridors-, their volumes with PayPal also start growing. So as the SME starts graduating to become a more enterprise client, we automatically do volume-based pricing and then they start getting some benefits there as well.
But for very small sellers who are on the standard rack rates that are present on our website, even for them, PayPal becomes a natural choice mainly because of the trust and the buyer and the seller protection that we provide.
So if a buyer sees the PayPal logo, that's the reason they're going ahead and making a payment.
We have multiple studies which have statistics proving that because of the value props we have, even products like our buy now pay later which improve affordability for the buyer, small sellers start with PayPal because the integration is so simple. And in one  shot, we've opened up 200 markets and 100+ currencies for  sellers. 
FA: In terms of the MSME footprint in India, how big is the base for PayPal India?
Chandni Nihalani: Most of our business comes from the MSME segment, as an estimated close to 80% of our sellers are from the SME/MSME segment. Moreover, as a corporate policy, we don't share market-wise statistics. Usually, we share global numbers, but India is an SME-driven market and SMEs are the backbone of our economy.
PayPal has become a natural choice even for a lot of women entrepreneurs, so we feel a lot of pride in that because diversity and inclusion are core values for PayPal. Either within the company or outside, we're constantly seeing how we promote the women workforce in PayPal and within India.
FA: In India, a substantial number of small business owners comes from diverse background which includes, housewives, students and old-school business owners. Among such diversity, one thing is common which is less awareness of digital payments. How does PayPal India look at this scenario? Women entrepreneurs are also becoming stronger and stronger and in a few market segments women-led businesses hold a majority. How is PayPal India experiencing this trend? 
Chandni Nihalani: As you said, housewives, even a lot of women, are entering the workforce and now they want to sell, not just in their local community, but they also want to sell globally. We at PayPal India are witnessing a lot of change coming in that direction and it's across verticals. 
Whether it is fashion, handicrafts and jewellery or even IT services or travel companies that women are providing for, we are seeing businesses springing up quite a bit post-COVID. A lot of couples who were very passionate about travel and couldn't travel at the time are now becoming active as travellers and travel consultants.
India is so diverse, every state is so different, so these travel consultants provide customized agendas. Many small travel boutique companies came up right after COVID for international travellers coming to India wherein these travel companies would create customized itineraries for them travellers coming in and they will receive money through PayPal because that's a natural choice for the travellers. 
FA: What kind of growth are you experiencing and expecting in the next year from the Indian market?
Chandni Nihalani: Globally, we have about 428 million consumers and over 35 million merchants in 200 markets who use us and leverage our services. And in terms of payment volume that we process, it was approximately USD 387 billion and a total of 6.3 million payment transactions in Q3 alone. So that's the scale.
For India, we are witnessing great growth. Various industry segments are getting onboarded to PayPal services. For example, fashion retail, travel, education and consulting services. We have all the big luxury fashion homes like Aza Fashions, and PSL (Pernia's Pop-up Shop). Fashion startups like Little Muffet also use  PayPal.
Even Kalki Fashion is growing with us. So all of these are seeing tremendous growth and many of them have PayPal predominantly as a way to receive payments. Also, we have recently partnered with a channel partner called RateGain.
Then the second sector that is seeing tremendous growth for the US after COVID normalized is travel. We have Culture Holidays which is a tour operator company that went live with us this year. In addition, we also have EaseMyTrip, that's partnered with us for its global expansion. So that's one very strong sector for us that we see continues to grow and will continue to grow next year.
The third growth sector for us is Edutech, all of the major Edutech companies continue to use us to date and they saw a lot of growth that has been through COVID. Whether it's UpGrad, or Cuemath, they all are our partners. And then in terms of government partnerships, we also have SBI if you've heard of the Government of India app called Suswagatham. 
Latest numbers from the Q3 earnings announcement by PayPal:
$387.7 billion in TPV, growing 15% and 13% FXN 

6.3 billion payment transactions, up 11%

56.6 payment transactions per active account on a trailing twelve-month basis, up 13%

428 million total active accounts, compared to 432 million in Q3'22

CBT TPV was $47B, growing 9% on a spot basis and 4% FXN, driven by intra-European corridors, partly offset by softness in EU-UK activity

CBT TPV represented 12% of TPV, compared to 13% in Q3-22

Cross-border trade primarily comprises e-commerce goods-related activity and has limited exposure to the recovery of travel