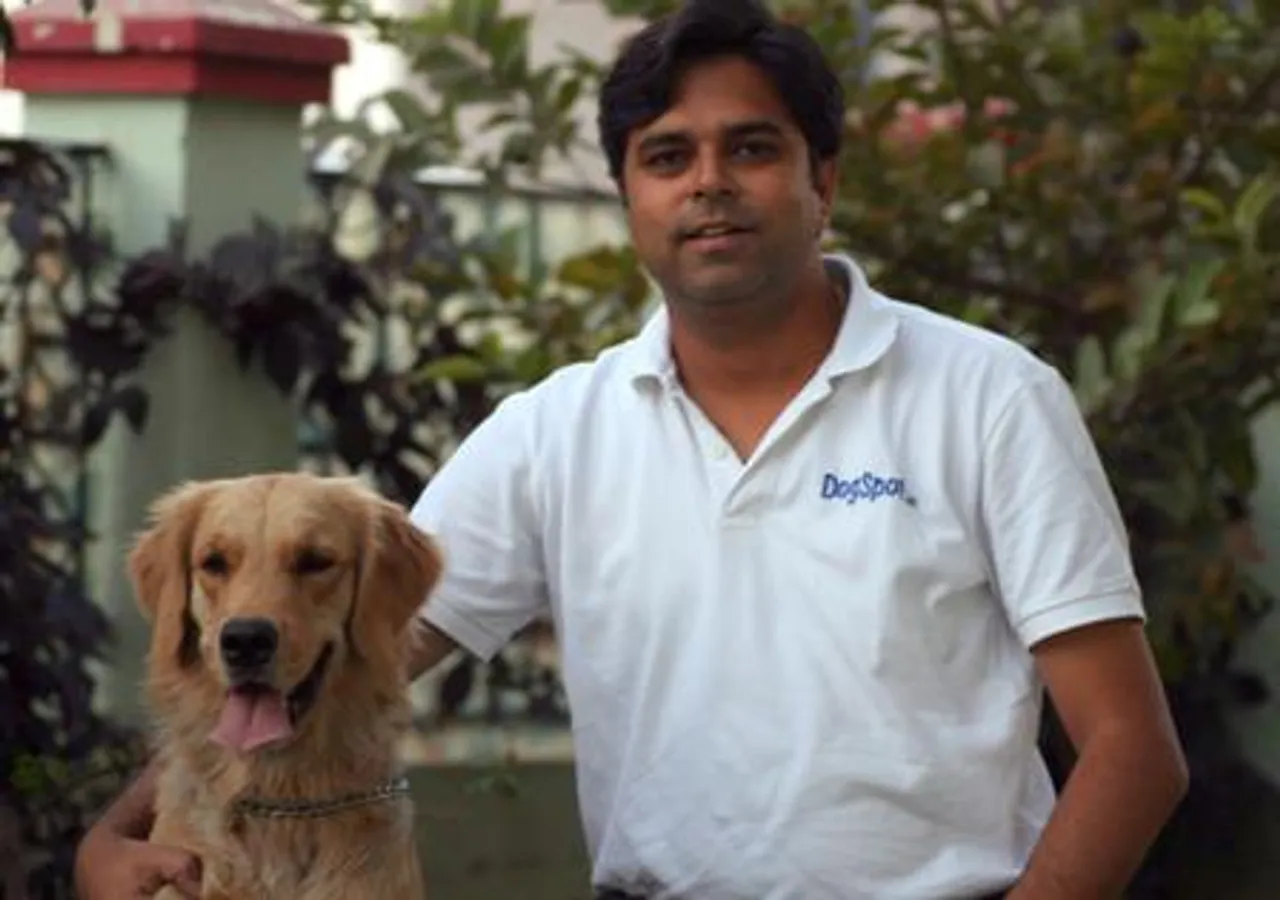 While the young generation in India is evolving and their spending powers is also growing, for entrepreneurs its an opportunity to look beyond the conventional. Among such entrepreneurs, Rana Atheya, CEO of DogSpot.in came forward with an innovative idea of catering to the needs of dogs and pets through online platform. Started in 2007, DogSpot.in is India's most visited online portal for dogs and pets lovers. According to ComScore, DogSpot.in is No. 1 portal in India under pet Category. Everyone behind DogSpot.in is first a dog lover and then entrepreneur. DogSpot aspires to solve problems in the dog world, by aggregating and organizing information, bridging gaps and hence bringing the community closer. In an exclusive interaction with Faiz Askari of SMEStreet, Rana Atheya shares his entrepreneurial journey and his overall experience of being an entrepreneur in this niche segment.
Edited excerpts:
As an entrepreneur, how is your entrepreneurial experience while launching an innovative business model in the Pet care industry?
My entrepreneurial journey continues to be an exciting one. Wearing the entrepreneurial hat takes a lot of courage and support and I have been blessed to have a both;  a supporting family and great friends.  My journey began early. Both my parents are academicians and encouraged me to follow passion for pets and pet keeping.
Being in the petcare industry has been a great learning. As an entrepreneur every day you learn something new. I have had tremendous learning in every field of business management. This type of learning is never possible in a job.  Moreover, the petcare industry holds tremendous growth potential and I am glad to be associated with it early on.
According to you, what is the potential of Indian Pet Care industry?
There are approximately 2 Mn domesticated dogs in the country and the size of the industry is approximately Rs. 1700 cr.  The petcare industry in India is growing at a sustained pace and our estimates show that the pet population in India is expected to grow at a rate 25% YoY. This growth will be supported by an increase in petcare products in the country. In the next 5 years, the market is expected to grow to over 10k Cr.
In addition to the numbers, one can also look at prevalent trends like single-earner staying alone in the city, married couple without kids or nuclear families which are promoting pet keeping.
What are the issues and challenges ahead of your potential market?
The eCommerce industry is evolving and growing as more and more people go online to buy products. Having said so, we face the following few challenges when it comes to our business:
Finding the right talent – People who believe in our line of work and are passionate about pets and petcare
Overall cost of transportation - Pet Products are generally bulky and it becomes important for us to keep a close eye on the shipping costs and economics
Unorganized market – It is a challenge working with unorganized players. Some players have major setbacks and they are not open to learning or evolving. In such cases we try and build those capabilities within our systems
What are the key opportunities do you witness for your market?
Petcare industry in India is estimated to grow at a tremendous pace. However, it is still an organized market and there is immense opportunity to fill the gaps that exists in this segment. I have already shared the growth numbers for the market but from the products and services perspective; we need to focus on more than mere food. Food is biggest piece of this market but  training and grooming products are also coming up in a consistent manner along with treats. In addition, services is becoming a big category in petcare.
What are the key trends you witness in the pet care segment?
A pet is an integral part of person's life and more and more people are adding a pet to their families and lives. In addition, there is trend of splurging on pets. With the concept of 'humanization of pets' becoming a reality, people will start spend a lot of money on their pets in the near future.
I am extremely bullish about this market and firmly believe that there is a lot of untapped potential that exists which needs to be made better use of.
What is your Go-to-Market strategy?
Our biggest advantage has been our unique strategy to influence early adapters in the target segment society. We have a wide community of 7000 registered pets which no other company possesses. Moreover, to further engage with our customers, we have started a special product recommendation section to help them get the perfect product for their pets. All our customers need to do is to tell us the breed and age of their dog and DogSpot.in will show a list of products that are specifically handpicked for them.  Pet shops cannot offer these unique features. In addition, you may not be able to find everything you want at the Pet shops near your house but we have more than 4000 products on our platform and have also started selling products under our own label. The product choices we offer are humongous; in addition, to the fact that we have a content team that is available to dog lovers in case they have any query.
At DogSpot, everyone understands the need of the pet and things that may help them in different phases of their lives. We have been able to get and retain clients because our customers believe in us and that is the route we wish to follow.
What is your next level expansion plan? 
We are a pioneer in this industry and want to lead the growth by being a one-stop destination for pet lovers to fulfill all their needs. We have recently launched out own private label and our immediate focus is to build on it and address new categories. In addition, we will also work on establishing our websites like FishSpot, CatSpot and BirdSpot.