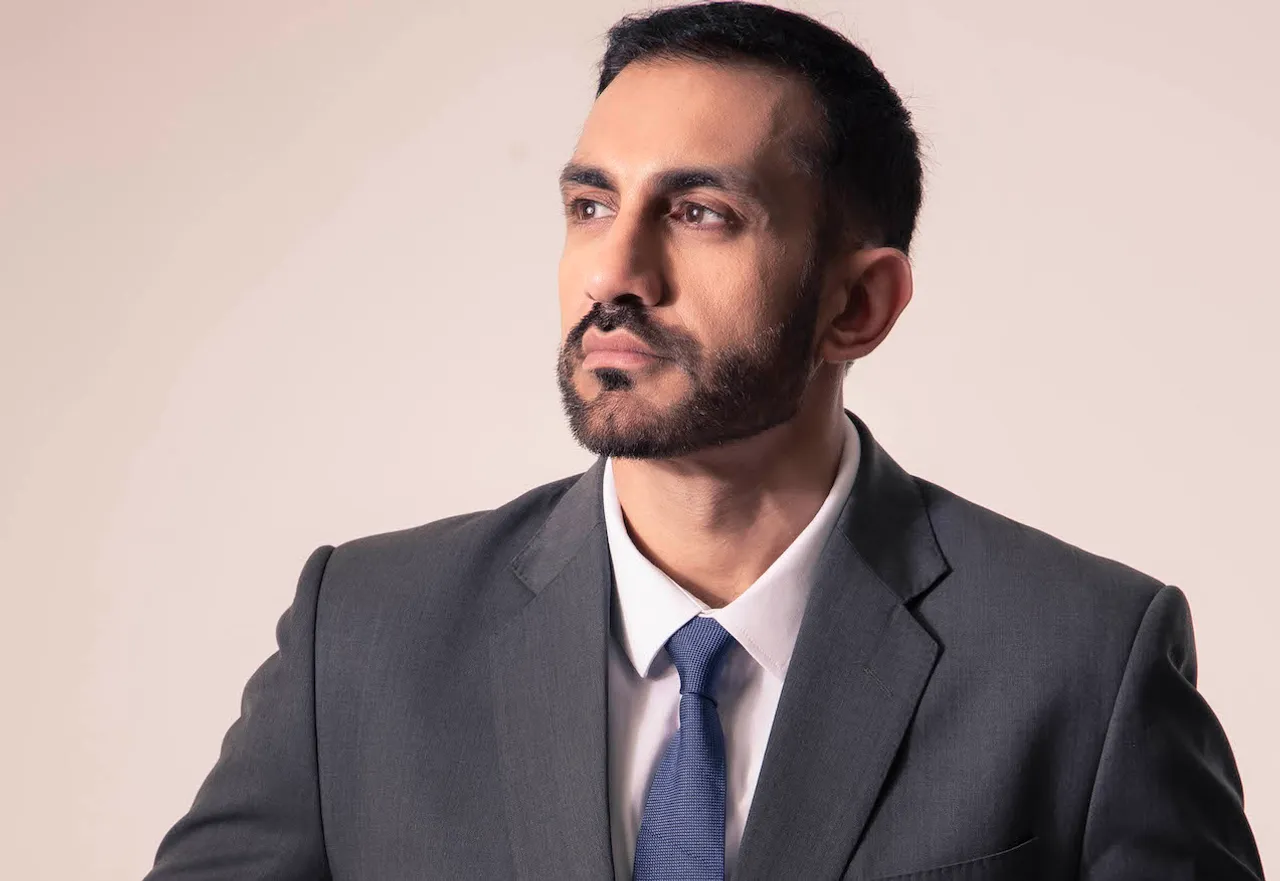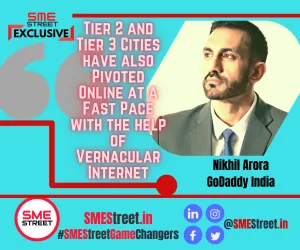 In conversation with Nikhil Arora, Vice President and Managing Director, GoDaddy India, Faiz Askari of SMEStreet explored some insightful priorities of the world's digital major for Indian market.
Here are the edited excerpts of the conversation:
Faiz Askari: How have the past months been for GoDaddy in India? Tell us about your recent product launches and initiatives.
Nikhil Arora: Past few months have been busy for GoDaddy in India. We introduced several new products and pricing initiatives; all aligned to our mission of empowering small businesses and everyday entrepreneurs to thrive and survive online. As the pandemic saw more businesses increasingly pivoting online, we ramped up our security, ecommerce, and other product offerings in India. For instance, we upgraded our new Websites+Marketing solution to offer a wide selection of website designs and social media integration tools to help digital entrepreneurs build, promote and market their business effectively, all in one place. We also announced integrations with WooCommerce, a powerful e-commerce engine allowing users to establish their e-commerce sites with pre-populated, customizable design themes, simplifying the setup process. We also recently introduced GoDaddy Studio, a content creation tool to help Indian customers (who are coming and marketing their business online for the first time) create professional content for online promotions, business announcements, social media posts, among other things. 
In addition to this, in the beginning of this year, we released a TVC with our brand ambassador MS Dhoni, as phase 3 of our successful Bijness Bhai marketing campaign, encouraging people to "Make in India, and sell in full India" – supporting the Aatmanirbhar Bharat mission. Continuing our association with sports, we also sponsored the ICC World Test Championship which was held in June this year in the UK and have helped Tendulkar Middlesex Global Academy (TMGA) set up an official website for their cricket training camps for kids in London. 
This year, we also focused on continuing our efforts towards encouraging market education and digital skilling in the country. For instance, we launched a Web build-a-thon program for young coders to learn how to build successful websites, and hosted thought leadership virtual events including Digitised Bharat eConclave 2021 and EXPAND 2021 bringing together industry experts, Indian ministers and hyper local influencers to share best practices and helpful tips for entrepreneurs to adapt to the new normal digital world. 
Ever since the pandemic hit the world, we realized that wellbeing of individuals and communities is a prerequisite for the economic engine to recover and run successfully. So this year we were invested in furthering philanthropic support and initiatives to continue helping Indians survive, recover, and thrive in these difficult times. GoDaddy partnered with Karma Foundation to help raise money to support people, including underprivileged children and the elderly amidst COVID. Besides this, we have been actively participating and contributing to relief programs by the central and state government and also recently partnered with Public Interest Registry (PIR) for a digital campaign to inspire and encourage people to act and support community development initiatives. 
Faiz Askari: How digital consumption is evolving among Indian MSMEs
Nikhil Arora: India is amongst the biggest and fastest developing markets for digital users. The increasing affordability of smartphones, rise in internet usage, and growing digital medium are shaping the future of MSMEs in India. As Digital India emerges, a paradigm shift in the conventional ways of doing business is seen. 
Coronavirus crisis and the lockdown have proven to be a phase of digital evolution for various small businesses. This has opened the gates for many local businesses to strengthen their operations and cope up with these stressful times. Having their own online store and brand website has helped small businesses cope with social distancing and ensure business continuity. With the rapid scale of adoption of e-commerce, MSMEs are able to get wider reach, ease of doing business and better costing. 
Owning your business website comes with a lot of added advantages, right from owning the content that you put online to solely benefit from the profits earned from your product/service purchase to increased geographic and demographic reach, better price discovery, reduced land, and labor costs. 
During the first wave of the pandemic, most small businesses were fulfilling basic work from home technology requirements like getting portable devices to work, having stable WiFi connections, adapting to using virtual collaboration tools; whereas in the second wave, many MSMEs shifted the focus to enabling seamless online transactions and increase in immersive digital experiences for business as well as customers: NIKHIL ARORA 
Faiz: According to you what is the level of awareness amongst businesses regarding Secured Websites? 
Nikhil: As MSMEs adopt technology and drive digitization as part of their growth and market relevance strategy, a key aspect that remains ignored across the board is cyber security. The root cause for such a gap is a flawed belief that "my business is too small or irrelevant to be attacked". The pandemic has proved to be a golden opportunity for cybercriminals to increase their pace of attacks and achieve greater success as most business owners largely focused on keeping their business running with lesser attention to cyber defense. Business leaders should start investing more in enterprise network security solutions to protect the data and information of their customers and that of their business as well. 
Faiz: How important is it to secure websites in today's time?
Nikhil: For any site owner, their official business website is the primary channel to interact with their customers. Having a secure website not only assures trust but also gives a sense of secure browsing to the customers. Most business owners only want to protect their website and site visitors and not gain expertise in cyber security. Without a proactive security strategy, businesses can make their websites vulnerable to attacks. It not only risks the business but also impacts the customer's data which is available on the website. Once the website gets hacked, the customer loses trust, which can therefore lead to company reputation loss, which for an e-commerce venture can often mean an end of the business. 
At GoDaddy we have introduced Website Security line-up this year, which will provide comprehensive security that not only helps protect sensitive customer and business data, but also prevents malware and viruses from attacking the website. All GoDaddy Website Security plans include an SSL Certificate that comes with Web Application Firewall (WAF) protection, ensuring that sensitive customer data is encrypted during transmission from the website to the server. These security features can be used whether or not the site is hosted on GoDaddy.
Faiz: With the impact of the pandemic, do you observe any maturity in the adoption of digital?
Nikhil: COVID outbreak paved the way for digitization for many Indian small businesses and local entrepreneurs who were reluctant to join the fray earlier. Many businesses and organizations have fast-tracked their digital transformation during the pandemic, many even went online for the very first time. Businesses, especially from tier 2 and tier 3 cities pivoted online at a fast pace with the help of vernacular internet. 
With the current government pressing in for Atamanirbhar bharat (self-reliant India) and e-commerce platforms also  gearing up to take MSME products, reach the masses and accelerate the wheels of economy, adoption of digital is likely to grow manifold. This is where GoDaddy steps in. We want to make it easy for entrepreneurs and small business owners who are struggling with an offline store and want to create a presence online, to sell products, or establish a unique identity.  For small businesses planning to start their own e-commerce journey, we provide integration with WooCommerce, a powerful e-commerce engine available for WordPress. It reduces the set-up process and helps users quickly establish their e-commerce sites with various customizable design themes. 
The pandemic has not only accelerated digital adoption but has also significantly changed workplace dynamics, organization structure and employee competencies. With a rapid change in workplace conditions and re-assessment of talent skill-set, there is a rising need for digital upskilling across industries.  To help Indians continue rising on the digital ladder, we have been providing GoDaddy Academy courses, offering basic to advanced website development and digital marketing courses, in various formats and at multiple platforms across the country.
Faiz: Please share GoDaddy's priorities for Indian Market especially focusing on MSMEs?
Nikhil: GoDaddy is committed toward empowering small businesses and everyday entrepreneurs by helping them build and grow their ventures online. Our strategy in India is built on three primary pillars:-
We aim to be a trusted, long-term partner for our customers across Tier I, Tier II and Tier III cities of the country. For this, we are continually working on building awareness about online adoption, through our national marketing campaigns in over 7 Indic languages and customer care in over 4 local languages. We also use our channel of influencers like web developers, designers and local resellers to drive awareness of the benefits of being online and usability of our products

We aim to provide flexible product plans and pricing to meet the individual life cycle needs of Indian businesses, from ideation to mature businesses. We have a product as low as INR54 a month, called the Online Starter Bundle, which allows people to buy a domain, get a one page website and a professional email, all in one go. It is an easy, cheap and quick tool for somebody who's just starting to get their business online. The other range of spectrum includes more advanced products like Websites+Marketing which combine website builder along with a suite of marketing tools, VPS and dedicated servers for customers who are far advanced in their business life cycle.

We are dedicated to deliver exceptional customer experience to help Indian entrepreneurs and small business owners, at each step of their online business journeys. For this, we have over 700 customer care representatives, talking to a customer every 3 minute, providing support in multiple languages through chat, voice, bot and other mediums 
Approximately 50% of our new customers are coming from Tier 2 and Tier 3 cities, which is why, in the coming year, our mission is to target the next set of 9-10 million small businesses coming from smaller parts of the country. Going forward, we also aim to continue to help boost digital readiness among future entrepreneurs of the nation, and will be focusing on more digital education, training and upskilling initiatives through various government and industry partnerships. We will also try to marry our products and services with the government's vision of an Aatmanirbhar Bharat and Digital India to help promote more local businesses and accelerate digitisation among Indian entrepreneurs and small business owners. Finally, we hope to continue supporting our Indian customers, helping them survive and thrive online and get back at pace with their business goals throughout this year and the next.