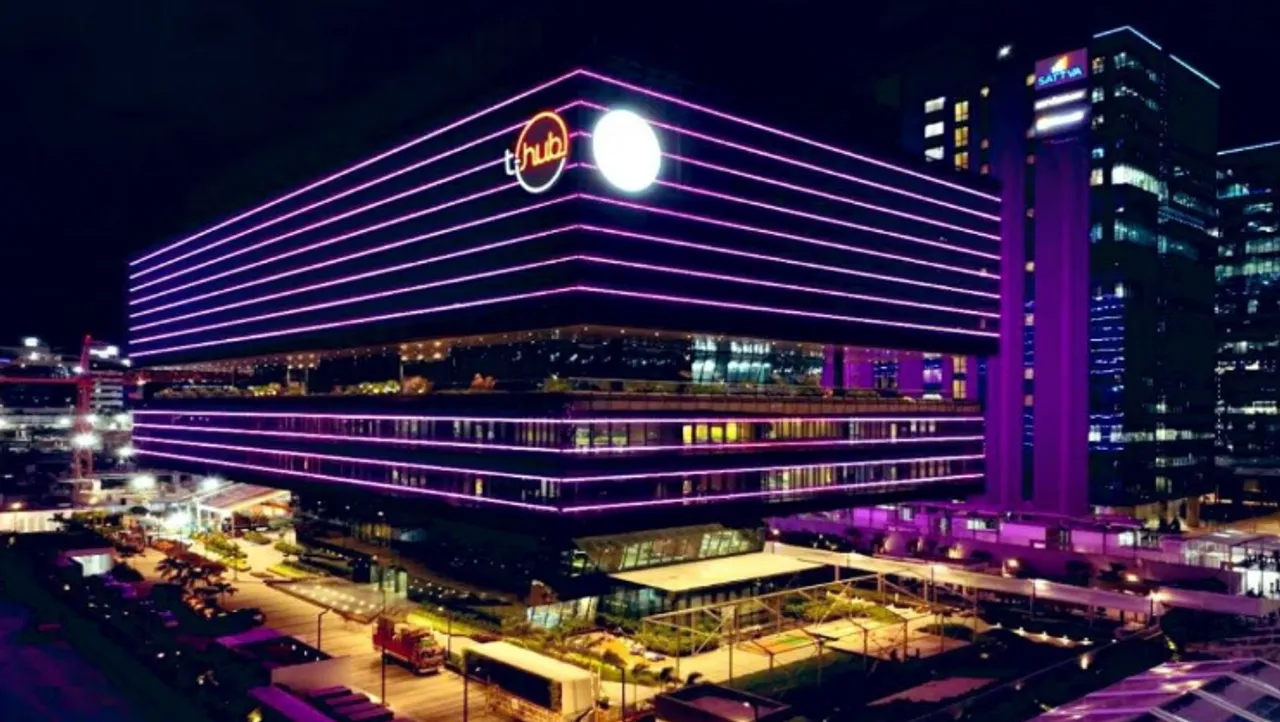 T-Hub, India's leading startup incubator, celebrated its 8th Foundation Day with a resounding display of innovation and strategic collaborations. The event, themed "Infinite Innovation," showcased T-Hub's commitment to shaping the future of entrepreneurship in India.
Over the 8 years, T-Hub has contributed to a total investment of $3.5 billion in the startups it has nurtured, fueled innovation with 600+ corporate partnerships, facilitated 500 mentor connections and engaged over 3000 startups. Distinguished guests including Sri Jayesh Ranjan, IAS Principal Secretary, Information Technology (IT) Government of Telangana; BVR Mohan Reddy, Founding Director, T-Hub; Mahankali Srinivas Rao, CEO of T-Hub; Vamsi Reddy, Partner, Kaalari Capital; Raj P Narayanam, Executive Chairman and Founder, Zaggle, Sujith Jagirdar, CIO, T-Hub and Anish Anthony, CDO, T-Hub.
T-Hub announced groundbreaking partnerships with CARE, Carrier Global, SIDBI, FalconX, KPMG, and Association of Geospatial Industries (AGI). These collaborations span diverse sectors, including social business acceleration, design thinking infusion, cross-border startup support, investment ecosystem fueling, and innovation in geospatial and space-tech sectors.
During the event, T-Hub unveiled two flagship initiatives – T-Bridge and T-Scale. T-Bridge, the International Wing, aims to facilitate global market access for startups. T-Scale, in collaboration with Factoryal, introduces a pioneering growth maturity model, guiding 25 qualifying startups through a 12-month journey to achieve Series-A readiness.
Jayesh Ranjan, IAS Principal Secretary, Principal Secretary for Information Technology, Electronics & Communications (ITE&C) and Industries & Commerce Departments of Government of Telangana, said, "As Telangana's startup ecosystem continues to evolve, T-Hub stands as a pivotal force, contributing significantly to the narrative of innovation and growth. Celebrating the achievements of this vibrant landscape is a reflection of success and a testament to the collective efforts and vision that define Telangana's journey, with T-Hub playing a central role in shaping a robust and globally competitive startup ecosystem".
Mahankali Srinivas Rao (MSR), CEO of T-Hub, expressed, "As we celebrate eight years of innovation, T-Hub remains committed to fostering the spirit of entrepreneurship and driving transformative initiatives.  Over these years, T-Hub has been a catalyst for groundbreaking ideas, forging global partnerships, and cultivating a flourishing ecosystem. As we stand at this juncture, we reaffirm our commitment to catalyze transformative change, weaving a narrative of collaboration, innovation, and an entrepreneurial spirit that defines Telangana's remarkable ascent in the startup landscape."
BVR Mohan Reddy, Founding Director, T-Hub, added, "Today marks a moment of pride and contemplation as we acknowledge the remarkable journey of innovation and collaboration. The success of T-Hub serves as a testament to the collaborative spirit of state government, academia and private sector that defines the Telangana startup ecosystem."
The event featured a vibrant Innovation Showcase where T-Hub startups presented groundbreaking solutions. T-Hub also recognized excellence in eight categories, honoring mentors, startups, corporates, investors, government bodies, international bodies, and ecosystem enablers.