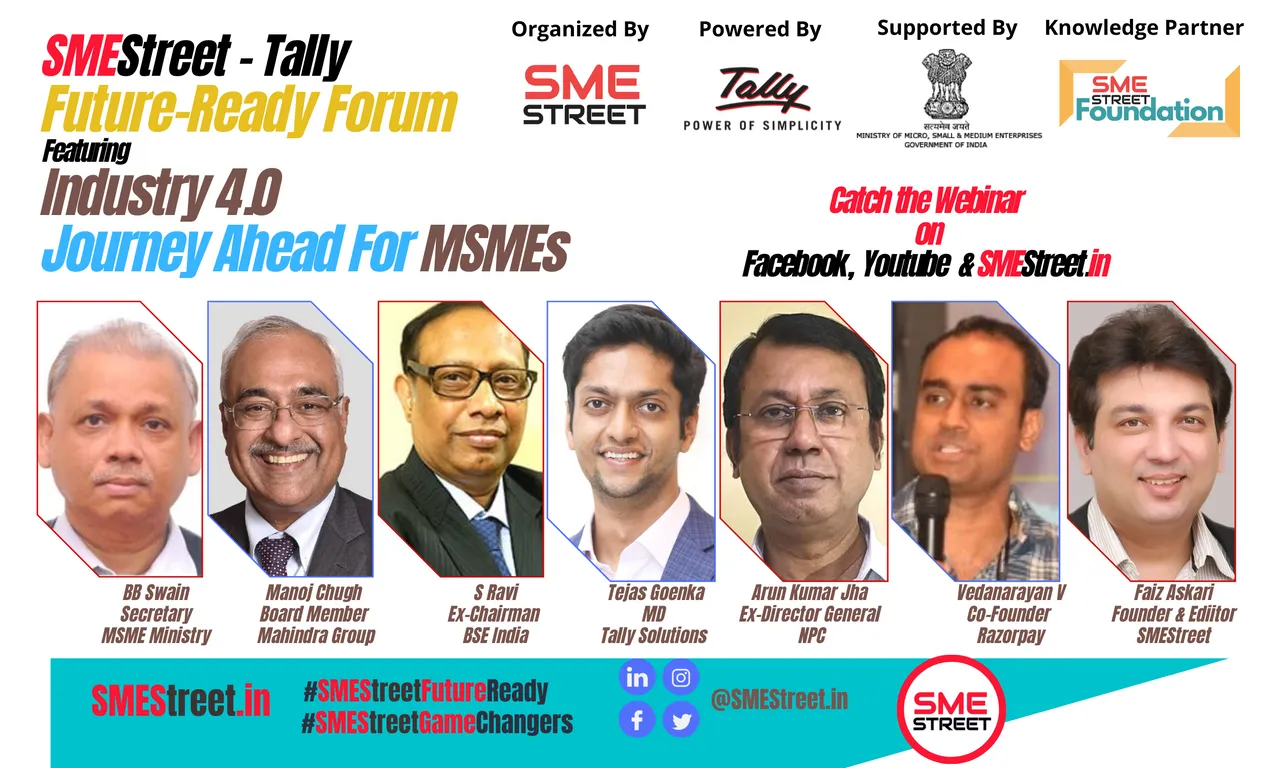 SMEStreet Future-Ready MSMEs Webinar focusing on Industry 4.0 Journey Ahead For MSMEs on 12th Feb 2022 at 4:00 PM.
SMEStreet Future Ready Forum is featuring Industry 4.O in association with Tally Solutions and with the support of Ministry of MSME. Join us for the webinar on 12th Feb 2022 at 4.00 PM.
Register Here for the event:
https://zoom.us/webinar/register/WN__mIfRS74TaKoHFjY1vZEX
About the Event:
National Productivity Week is getting celebrated in order to rejuvenate the economic activities happening around the country specially focusing on the MSME sector. 
SMEStreet Foundation with support from Tally Solutions is excited to bring a nationwide campaign Industry 4.0 Journey Ahead For Future-Ready MSMEs. This initiative is aimed to understand the issues in order to address them and highlight the opportunities that are existing for MSMEs through Industry 4.0 for achieving productivity enhancements in 2022 and beyond.   
Secretary of MSME, Hon'ble Shri BB Swain will be the Chief Guest of the event and Shri Tejas Goenka Managing Director of Tally Solutions will deliver a Special Keynote Address. 
The panel discussion will be participated by Shri S Ravi, Ex-CHairman of BSE India and Managing Partner of Ravi Rajan & Co., Shri Arun Kumar Jha, Ex. Director-General National Productivity Council, Shri Vedanarayanan Vedantham, Head of SME & Startup Business at Razorpay. Shri Faiz Askari, Founder Editor of SMEStreet and Secretary-General of SMEStreet Foundation will be the moderator of the panel discussion.