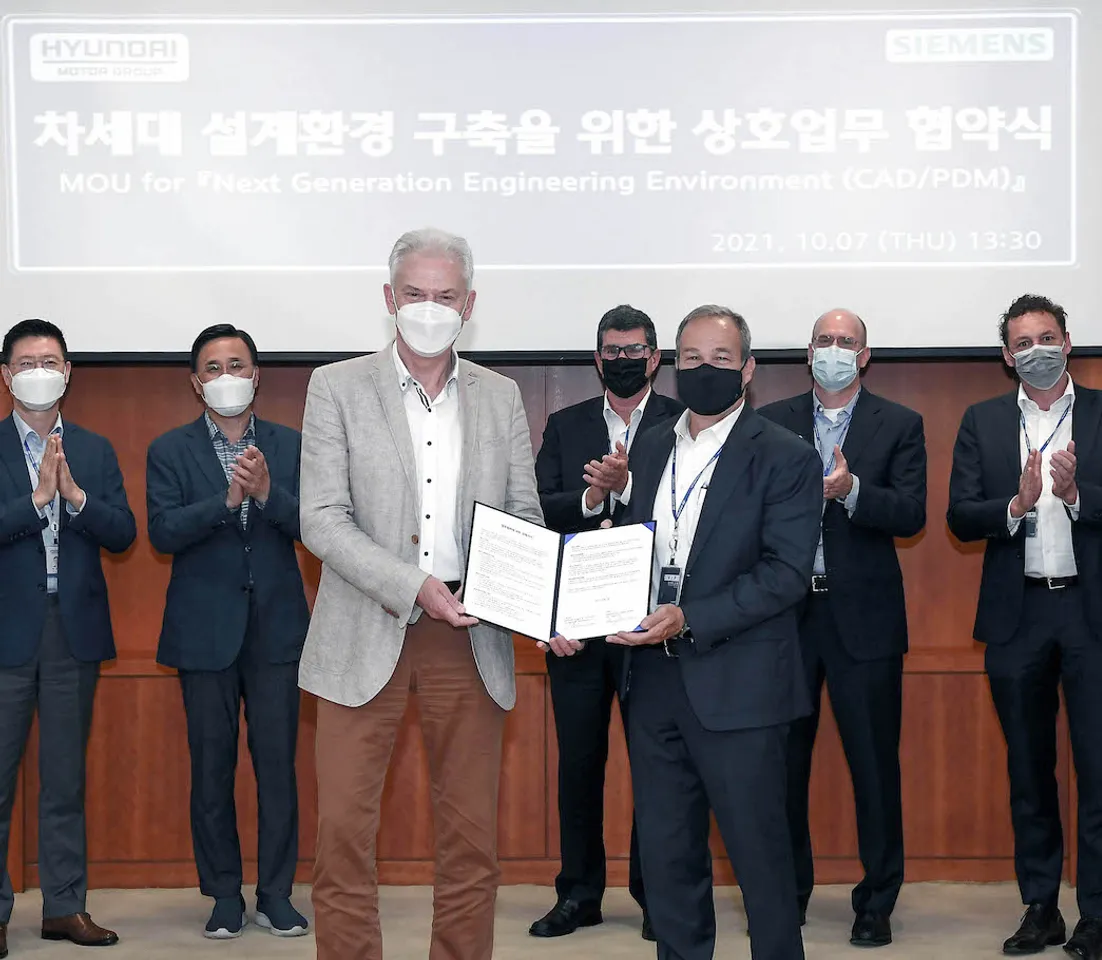 Siemens and Hyundai Motor Company and Kia Corporation (Hyundai and Kia) announced a new technology partnership to accelerate their digital transformation and a new future of mobility Hyundai and Kia has selected Siemens as the preferred bidder and strategic partner to provide next-generation engineering and product data management through NX™ software and the Teamcenter® portfolio from Siemens' Xcelerator portfolio of integrated software, services and development platform. Hyundai and Kia have evaluated and assessed various alternatives including incumbent solutions and selected Siemens' software, embracing the world's most comprehensive digital twin. Hyundai and Kia will cooperate with Siemens as its key trusted partner, to drive the future of mobility. 
"Selecting NX software and the Teamcenter portfolio from Siemens' Xcelerator portfolio for our core design and data management platforms will introduce a new working environment for our teams that will pave the way for a leap forward in future car development," said Albert Bierman, Head of R&D Division, Hyundai Motor Company. "This is the beginning of a huge transformation and an important point of change for Hyundai Motor Company and with Siemens, as our trusted partner we will work together to achieve our goals through mutual cooperation and teamwork." 
Hyundai and Kia and Siemens will collaborate to establish design methods and develop custom solutions that consider the lifecycle of all automobiles and associated processes and activities, such as production, purchasing and partners research and development. In addition to providing software, Siemens will provide professional and specialized training to help Hyundai and Kia ensure efficient use/operation of Siemens' software across its network of suppliers.
"Like so many of our customers, Hyundai and Kia is undergoing major transformations in its business and Siemens is honored to have been selected as a strategic partner to provide support and state of the art technologies that will help revolutionize how it develops its next-generation products," said Tony Hemmelgarn, President and Chief Executive Officer, Siemens Digital Industries Software. "The Xcelerator portfolio is delivering the tools and technologies for digital transformation that the future demands and our customers need today, so we look forward to collaborating with Hyundai and Kia on next-generation Engineering and Product Data Management Systems that will speed digital transformation as we explore the future of mobility, together."
Siemens Digital Industries Software is driving transformation to enable a digital enterprise where engineering, manufacturing and electronics design meet tomorrow. The Xcelerator portfolio helps companies of all sizes create and leverage digital twins that provide organizations with new insights, opportunities and levels of automation to drive innovation. For more information on Siemens Digital Industries Software products and services, visit siemens.com/software or follow us on LinkedIn, Twitter, Facebook and Instagram. Siemens Digital Industries Software – Where today meets tomorrow.