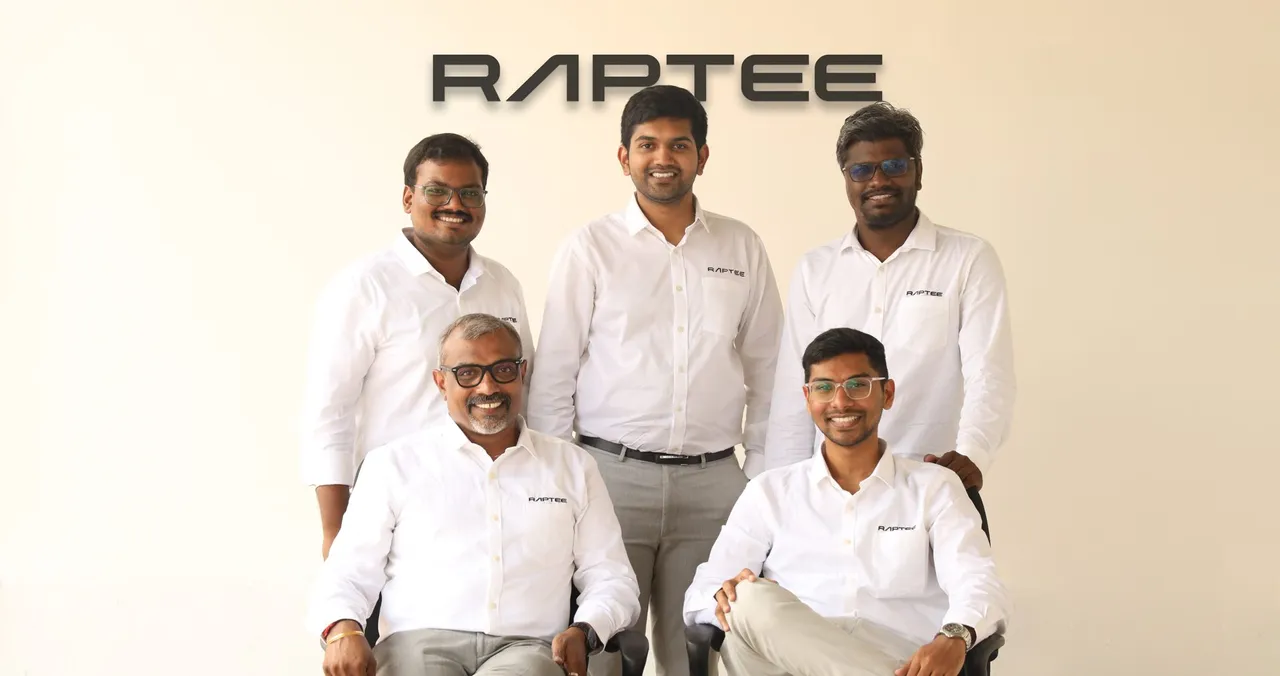 Premium EV Motorcycle Startup, Raptee has raised $3 Million in a Pre Series A round led by deep-tech VC fund Bluehill Capital.
The all-equity funding round saw participation from industry stalwarts including Mr. Eugene Mayne, Founder and CEO of Tristar Global (UAE), Mr. Lakshmi Narayanan, Former CEO Cognizant, Ramesh Kannan, Managing Director, Kaynes Technology, Mr. Chandu Nair, Director, Shankara Building Products and other HNIs from India and the UAE.
The funds will be allocated towards augmenting the manufacturing facility, acquiring machinery, tooling for the soon to be launched motorcycle, and to scale up the team.
Raptee is a full stack electric motorcycle manufacturer with a strong technological moat that has been developed indigenously. The Company has filed for 45+ patents so far. Raptee is the first Indian two-wheeler EV OEM to boldly introduce high-voltage drive train technology, along with an on-board charger, thereby making it compatible with the existing CCS2 public charging network, which is growing fast in India and across the Globe. Currently, India has over 9000 chargers installed which is comparable to the number of fuel pumps.
The high-voltage technology that is a critical part of Raptee motorcycles will also ensure much safer battery pack, with increased battery life and most importantly will address range anxiety.
Earlier in March, Raptee became the only OEM to receive a grant from ARAI (Automotive Research Association of India), the certifying authority for automobiles in India, towards the design and development of the high voltage powertrain. The first motorcycle is expected to debut in early 2024, with two experience centres in Chennai and Bangalore, subsequently expanding to 8 more cities by the end of the first year.
Raptee has initiated R&D for the next line of products and is planning to expand the team size to 150 in line with the business plan. Raptee's progress has also been noticed by the Tamil Nadu Government, which has subsequently allocated a 36 acres property for the company along with other incentives for scaling up manufacturing.
Dinesh Arjun, Co-founder CEO, Raptee, said, "India is the largest motorcycle market in the world, with EV adoption on the rise. At Raptee, we want to launch a motorcycle in a mid-premium segment for consumers who believe that EVs are a true upgrade from ICE vehicles. We are extremely fortunate to be backed by investors from the manufacturing and transportation industries who understand long-term value creation and can add strategic value for us as we gear up for production and scale up. This being our first institutional round, we're also proud to be backed by a DeepTech VC, Bluehill Capital. We've been refining and testing our vehicles, and the results are very promising. We are looking forward to launching it very soon."
Manu Iyer, CEO & Partner, Bluehill Capital, said, "We strongly share the vision of the Raptee team to build world-class core EV technology right here in Chennai, India in a focused and cost-effective manner. Dinesh and his co-founders have diligently built the vehicle platform indigenously with intellectual property on various aspects of the vehicle sub-system. Having evaluated over 30 EV OEMs in India and having invested deeply in the EV and clean-tech ecosystem in India, we are impressed by Raptee's cutting edge tech and excited to partner with them on their journey. We believe Raptee's motorcycles will change the face of EV 2-Wheelers in India,"
Over the last 12 months, Raptee's team size has grown steadily to over 50. The rapid progress and vision displayed by the company has resulted in the on-boarding of the some of the most reputed suppliers for motorcycle components and senior leadership talent from the industry, which could ensure quality delivery and shorter turnaround times when the production scales up.
Recently, the former Head of Business of Royal Enfield, Mr. Jayapradeep V, joined Raptee as Chief Business Officer. Raptee has set up its first factory in Chennai, spread across 3 acres, which will house a majority of Raptee's Research and Development team. It will have an annual capacity of 100,000 units and will serve as the primary production plant for Raptee for the next 24 months. The R&D centre will house state-of-the art development and testing facilities on-site and will aid in future products, while the manufacturing plant will house a dedicated battery pack assembly line. The proposed investment for this factory would be Rs 80 crore. In true Chennai startup fashion, it is noteworthy that Raptee has been frugal yet uncompromising in it's approach and has reached this level (Tooled up Samples) at a fraction of the cost of many of its peers in the EV industry.
Raptee EV motorcycle is expected to be launched early next year. The company plans to expand to 100 cities in India and explore few conducive International markets over the next 3 years.