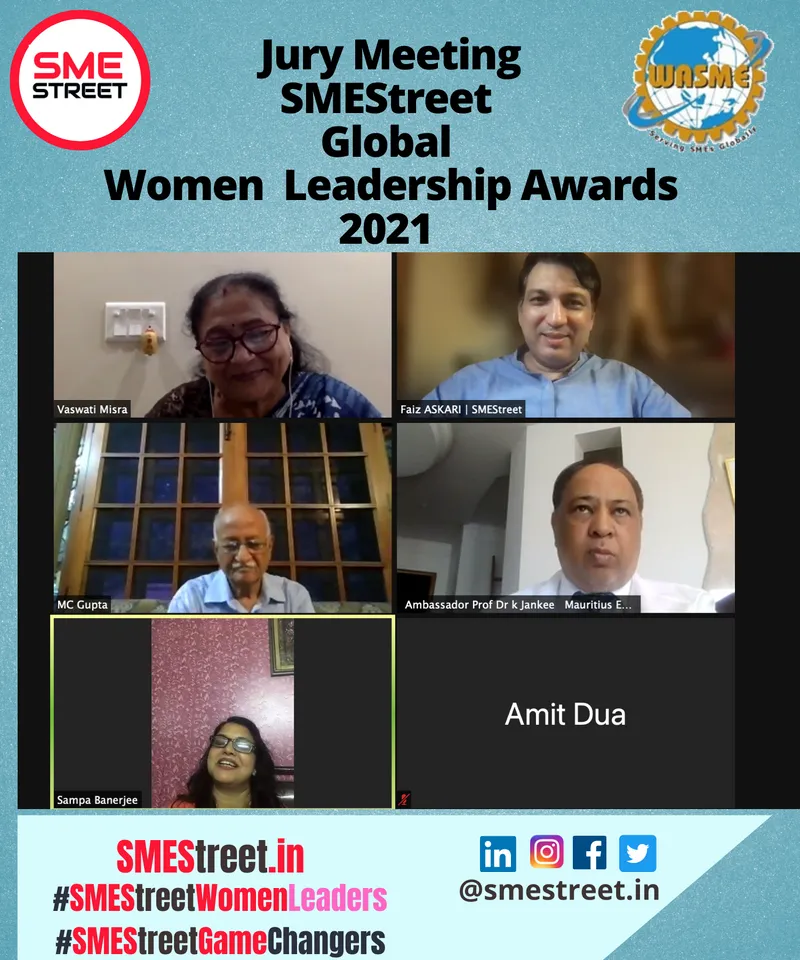 Empowered women are strong parameters of an evolved and mature society. Empowered Women is the real driver of entrepreneurship as well. Believing on these lines, SMEStreet in association with WASME are presenting SMEStreet Global Women Leadership Awards to recognize and acknowledge the role of women in building the entrepreneurship ecosystem. 
On the occasion of World Entrepreneur Day on 21st August 2021, SMEStreet conducted a first Jury Meeting of the awards. 
The jury meeting was attended by Dr. K Janaki, Ambassador of Mauritius to Moscow Russia, Mr. Amit Dua, DVP, AXIS Bank, Smt. Sampa Banerjee, President -WICCI Delhi, Secretary- SAVE and Executive Director -WASME,  Mr. Faiz Askari, Secretary-General SMEStreet Foundation and Ms Vaswati Mishra, Art & Culture Ambassador. The Jury meeting was chaired by Former Chief Secretary of Haryana Mr. MC Gupta. 
Congratulating the participants and entrepreneurs on the occasion of World Entrepreneur Day 2021, Shri MC Gupta mentioned, "The world is evolving and facing a lot of challenges. These challenges can be addressed by entrepreneurship development. And efforts like Global Women Leadership Awards hold great potential as these are the avenues of motivation for women leadership."
Dr. Janaki also congratulated the team of SMEStreet and WASME for taking the initiative of recognising the Women Leadership through these awards.
Ms. Sampa Banerjee stated, "This is a great occasion that in order to promote the role of women in our society we are forming joint forces of SMEStreet and  WASME. The objective of this collaboration is about bringing much-needed recognition at national and international level." 
SMEStreet Global Women Leadership Awards
The awards are aimed to recognize the role and contribution of women in the respective areas of economic development and entrepreneurship.
The nominations for these awards are getting invited through SMEStreet.in and various social media platforms.  
Ms Sampa Banerjee as President of SMEStreet Women Leadership Forum 
In addition to the launch of the Global Women Leadership Award, SMEStreet has also announced the launch of SMEStreet's Women Leadership Forum. In addition to this, Mr. Faiz Askari, Secretary-General SMEStreet Foundation and Founder Editor of SMEStreet said, "Role of Women is critical for any society. Considering their contribution towards entrepreneurship development, we are excited to introduce initiatives that are focused on highlighting the role of women towards entrepreneurship and economic development. In our bid to work on recognizing opportunities and highlighting the role of women in the entrepreneurship and economic development of society, We have formed the Women Leadership Forum with this vision. I am sure that Ms. Sampa Banejee will set great examples of driving this forum to the next level as the President of the Forum."