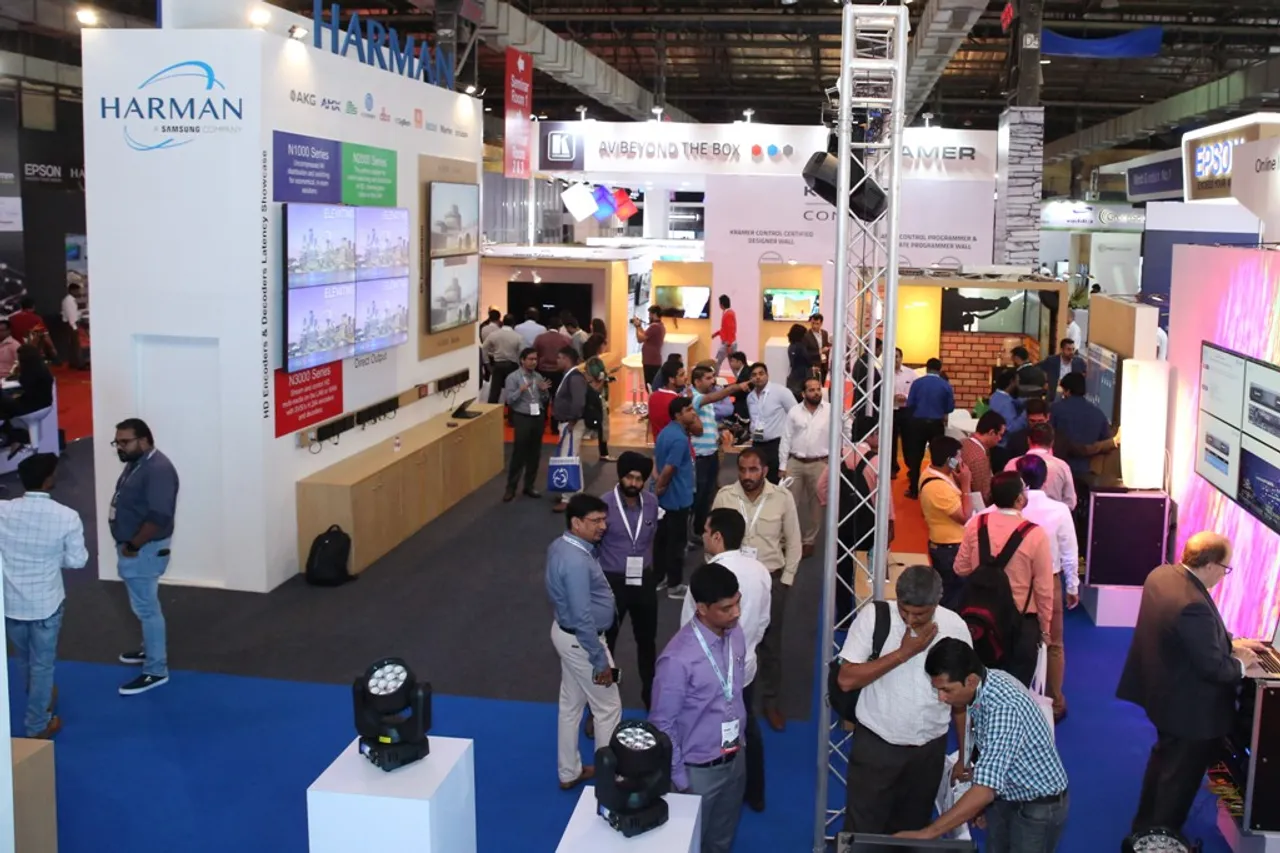 Cementing its reputation as the premier exhibition platform for Professional AudioVisual (Pro-AV) and Experiential Communications technologies in India, the visitors who thronged the annual show reached a five-year high, continuing the upward trend since the show's inception in 2013.
Between 26-28 September 2017, a total of 8,162 unique visitors attended InfoComm India 2017 to check out emerging technologies, network, and get inspired, representing a 16 percent increase over last year's visitor attendance. The show, which was themed "See the Future of Networked Communications" this year, remains the only dedicated trade fair for Pro-AV and Experiential Communications Technologies in India.
More significantly, meaningful engagement was clearly the order of the day as participation in the Summit - the educational component of InfoComm India 2017 where experts share emerging trends and in-depth market insights – registered a 66 percent jump from the previous year. From about 2,100 Summit participants in 2016, over 3,500 people attended this year's program of 66 sessions. Pertinent issues explored in the Summit include the evolution of digital signage, technologies for managing smart cities, and how the delivery of education is being transformed in Digital India.
Birad Yagnik, Trustee and Curator of the Mahatma Gandhi Digital Museum, was one of nearly 100 hosted buyers invited by the organizers to the show. He noted, "I was here a couple of years ago, and I wasn't expecting so many people this time. The huge turnout was a surprise. I think it's a very strong representation and it also shows that we are really moving towards Digital India."
A regular visitor, Lyju Thomas, the Technical Lead at Raymond Ltd, is consistently impressed by the depth and breadth of technologies showcased. He said, "I visited the InfoComm Show last year and this year, where I had an opportunity to see some very interesting and interactive technologies. One of the best parts of InfoComm India is that you are updated with the latest and upcoming technologies in the Pro-AV segment, and you get an opportunity to interact with several OEM's at one platform, with good things to learn and new technologies to adapt."
What the visitors were treated to were booths featuring over 200 exhibitors from more than 20 countries, of whom 52 were first-time exhibitors. Furthermore, over 94 new-to-India products were launched at the show. Big-name exhibitors included Delta, Epson, Extron Electronics, Harman, Kramer Electronics and Panasonic India.
Harman Worldwide has participated in InfoComm India since the inception of the show. Shaun Robinson, the Vice President of Corporate Education and Government Solutions at the company, said, "The show allows us to demonstrate our new solutions that we're bringing across to the markets in the world. I saw a great mix of people, including AV consultants, system integrators, and end customers, so we're able to get a wide variety of feedback from those different perspectives, and we take these feedback straight to our product development team, who are still finishing some of these products."
Apart from the quality of the exhibition and effective management, what the visitors appreciated was that the scale of InfoComm India allowed them to meet and network with all the key stakeholders in the AV market, from global manufacturers to channel partners.
Akhil, Applications Engineer from Godrej India, said, "I have been visiting the show for the last three years. InfoComm India is a great platform which affords us the rare opportunity to meet our OEM partners. This is where we can find out more about new emerging technologies, new products that they have, and discuss marketing, sales and service strategies."
This year's edition was also marked by the strengthening of ties between InfoComm India and local industry and government associations, which value the platform as a means to access technologies that can aid in India's swift transformation, and which allows them to explore partnerships with private businesses. Joining the nine associations which have already been working with InfoComm India, notable first-time collaborators include established industry associations such as the AIILSG (All India Institute of Local Self Government) and FAIITA (Federation of All India Association).
Richard Tan, Executive Director of InfoCommAsia, which produces the InfoComm India show, said: "Over the last five years, the show has grown significantly in size and quality, in tandem with India's growth. Clearly, demand and interest is soaring. Now, more than ever, InfoComm India is playing a crucial role in connecting technology companies, businesses and local industry associations to the right channels and networks, to fuel India's digital transformation journey."
InfoComm India 2018 will return next year from 18-20 September 2018 at the Bombay Convention Centre in Mumbai.