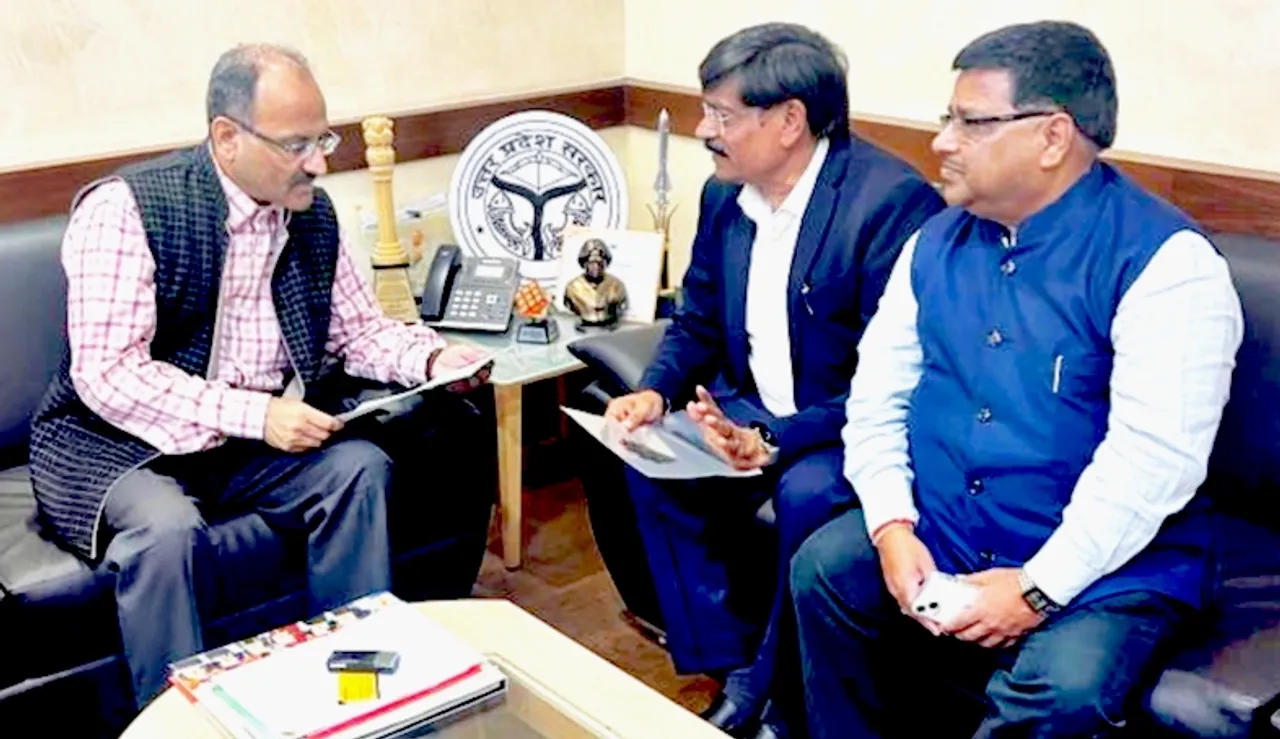 With the aim of creating a One trillion dollar economy, the Indian Industries Association is fully prepared to work closely with the Government of Uttar Pradesh in encouraging more entrepreneurs and attracting investments in the upcoming Global Investor Summit and IIA will support Infrastructure and Industrial Development for the maximum number of entrepreneurs will participate in this summit from every district of Uttar Pradesh, National President of Indian Industries Association Mr. Ashok Agarwal gave this assurance while meeting with Mr. Arvind Kumar, IAS, Infrastructure and Industrial Development Commissioner, Government of Uttar Pradesh. IIA is in direct touch with entrepreneurs from Uttaranchal, Haryana, Punjab, and Delhi whom IIA can encourage to join as investors in this Global Investor Summit.
Honorable Chief Minister of Uttar Pradesh Yogi Adityanath, as the chief guest at the two-day Udyami Mahasammelan organized by IIA on 2-3 November 2022, had requested IIA to join the Global Investor Summit as an important key role, on which Mr. Arvind Kumar, IAS Infrastructure and Industrial Development Commissioner, Government of Uttar Pradesh discussed its implementations with Mr. Ashok Agarwal, President IIA. In the discussion, Mr. Arvind Kumar informed the President IIA about the outline of the Global Investor Summit and said that on November 22, 2022, a curtain raiser event will be organized in Delhi for the formal announcement of this summit, in which the Indian Industries Association has been invited for being a national level industrial Association. In this summit, the state government has come up with a new online system for signing MoUs and monitoring their implementation which can be accessed through Invest UP's website and single window portal Nivesh Mitra. The Infrastructure and Industrial Development Commissioner also informed that along with the Global Investor Summit, an exhibition will also be held in 50000 sqmt, in which eminent companies from India and abroad will also display their products.
Giving his suggestions in the meeting, the IIA President said that at present many problems have to be faced by the Entrepreneurs/Industrialist with the concerned departments for setting up new industries or for any kind of clearance or approval, under which the entrepreneur is unable to set up industries, on which IIDC said that the prospective entrepreneurs who are interested in setting up industries may submit their proposal online on portal of Invest UP.
IIA President informed Mr. Arvind Kumar about the Indian E-Vehicle Expo-2023 to be organized by IIA from 24 to 26 February 2023 and also presented a proposal to join this expo as a co-organizer. The main objective of the E-Vehicle Expo-2023 is to promote e-vehicle manufacturing, development opportunities, showcase EV advanced technologies and policies in Uttar Pradesh. Mr. Arvind Kumar gladly accepted the proposal to join as co-organizer and assured of proper cooperation.