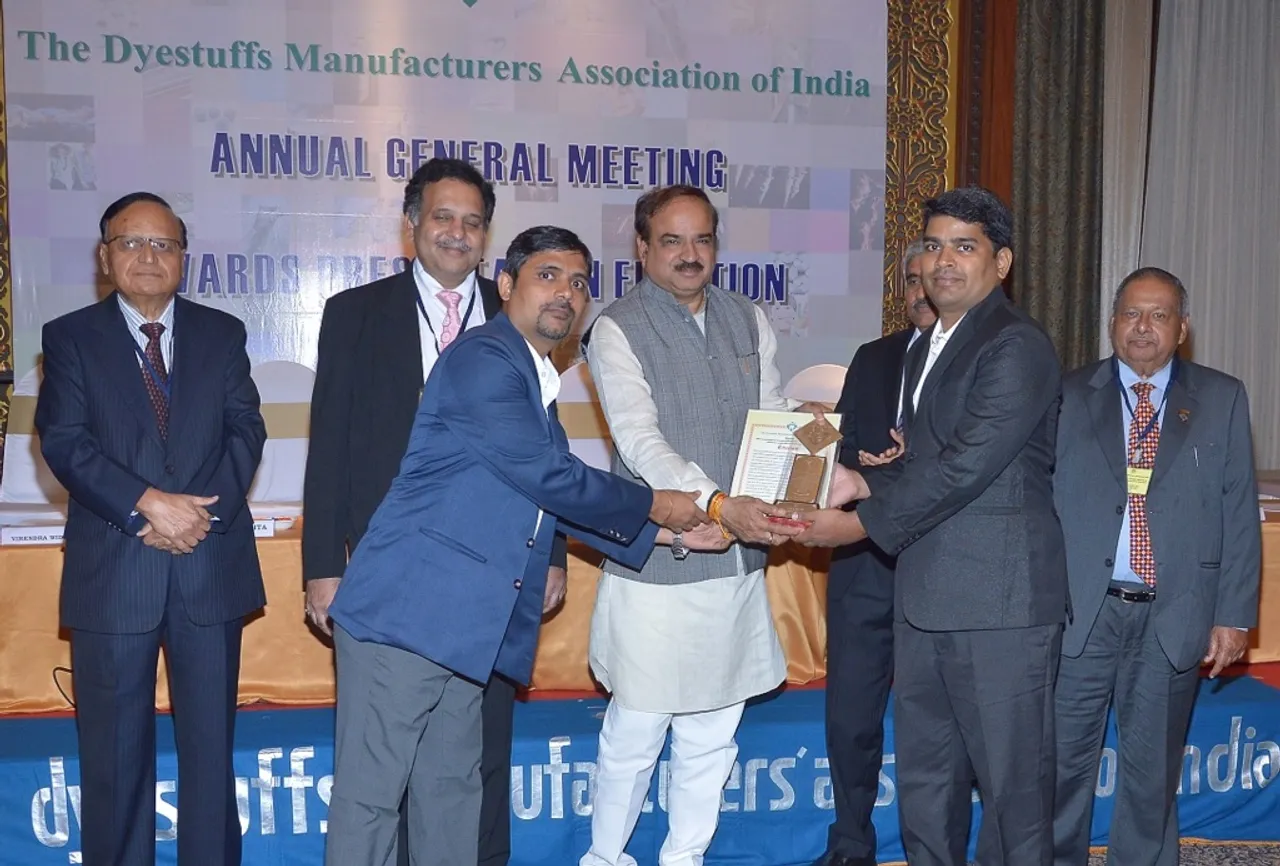 The Textile Effects division of Huntsman Corporation has been selected as the overall winner in the 2016 Dyestuff Manufacturers' Association of India Awards (DMAI) 2016 for recognition of  "Excellent Performance in Exports of Dyestuffs by a Large Scale unit "
NEW DELHI, 1st AUGUST 2016: Huntsman Textile Effects also won the category for "Excellent Performance in Safety & Hazards Control by a Large Scale unit". The awards recognize the outstanding contribution of Huntsman Textile Effects in supporting environment, health and safety and sustainability for the textile industry.
Mr. Amol Yeola, Regional Marketing Manager Huntsman Textile Effects– South Asia,Middle East, Africa and Mr. Sanjay Kadam- Demand Supply Manager- Huntsman Textile Effects'Baroda manufacturing facility received the awards on behalf of Huntsman Textile Effects.Mr. Sanjay Soor,Site Manager- Baroda plant, Huntsman Textile Effects said, "We are honored by this recognition from DMAI. This award reflects our commitment and contribution towards environmental care and our desire to improve the lives of people in and around villages in Vadodara. Our motto is to strive for continuous and sustainable improvements in safety and hazard control towards our employees and the environment around us"
"The award holds significant importance as it is the only award associated with the textile industry in India. We are immensely happy and proud to receive the two prestigious awards that reaffirm Huntsman Textile Effects' focus on innovation that meets real industry needs," he added.
The awards were presented by Mr. Anant Kumar - Central Cabinet Minister for Chemicals & Fertilizers, Government of India at the 66th Annual General Meeting held on 1st July 2016 at Mumbai. Huntsman Textile Effects received the awards based on criteria such as innovation, creativity, development and quality. This is the second consecutive year of which Huntsman Textile Effects has received awards from Dyestuff Manufacturers' Association of India (DMAI). Previously, DMAI has conferred the company with the award for "Pollution Control and Excellent Performance in Safety and Hazards" for 2014 – 2015 and the "Highest Export and Excellence in Safety & Hazard" for 2015-2016.
Huntsman International (India) Pvt Ltd (HIIPL)is a part of the Huntsman Corporation. HIIPLhas sales of approximatelymore than $ 700 million in the subcontinent, and has more than 1,500 associates based in the region. It has manufacturing facilities in Baroda and Ankleshwar in Gujarat, manufacturing textile chemicals, dyes and surfactants, and in Pune, manufacturing polyurethane systems.