To service an outpouring of orders for essentials during the Covid-19 lockdown,  Fraazo, a Mumbai based Consumer Agri-Tech brand is providing doorstep-delivery of Farm-Fresh fruits and vegetables. Fraazo has partnered with leading Hyperlocal platforms viz. Swiggy, Zomato, and Dunzo to expand their footprint to provide quality, hygienic fruits and vegetables to every household.
The COVID-19 pandemic has struck fear in the heart of people who are wary of venturing out of their homes.  There has been an overall increase in customer demand for online delivery of groceries and essentials, and Fraazo has launched innovative service models with a focus on hygienic and quality foods while performing contactless delivery across societies. The brand is currently witnessing heightened interest for their services from people in areas like Powai, Chandivali, Andheri (West), and Andheri (East) in Mumbai and Margarpatta, Hinjewadi, and Vishal Nagar in Pune. With its teams burning the midnight oil to provide express delivery of quality fresh vegetables and fruits. Fraazo stands apart from the competition.
Fraazo sources farm-fresh vegetables and fruits directly from over 500 farmers bypassing the traditional chain to minimize handling helping maintain quality and hygiene, and with their pocket-friendly prices and customer convenience boosting sales significantly over the last 2 months. The pandemic has helped Fraazo accelerate their offerings at a faster pace from the 200 orders per day earlier to almost 1,500 orders a day.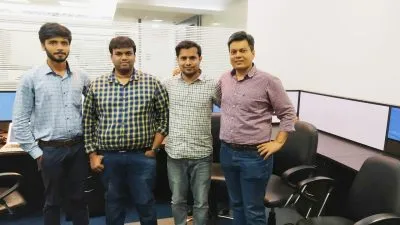 Right to Left- Atul Kumar( Founder & CEO) , Sumit Rai(Co-Founder and CTO), Vikas Dosala (Co-Founder & COO), Aashish Krishnatre (Co-Founder and Head, Sales)
Commenting upon the partnerships, Atul Kumar, Co-Founder and CEO, Fraazo said, "In such unprecedented times, we are striving to ensure continuity in the supply of hygienic and fresh quality of fruits and vegetables to our consumers. In our efforts to ensure the same, we have partnered with Hyperlocal platforms for smooth, and safe delivery of our products across major cities in Maharashtra, providing accessibility and convenience to our consumers."
Mr. Atul Kumar further added, "We are highly obliged to our customers for their trust in our services  and we're focused on ensuring safety measures as our top priority for both our employees and the consumers during this pandemic. We also want to appreciate our Hyperlocal partners for standing up for the citizens in this situation. Seeing the current situation, we all need to work together to help our country fight with the pandemic."
Fraazo App is available on both Android and iOS platforms.