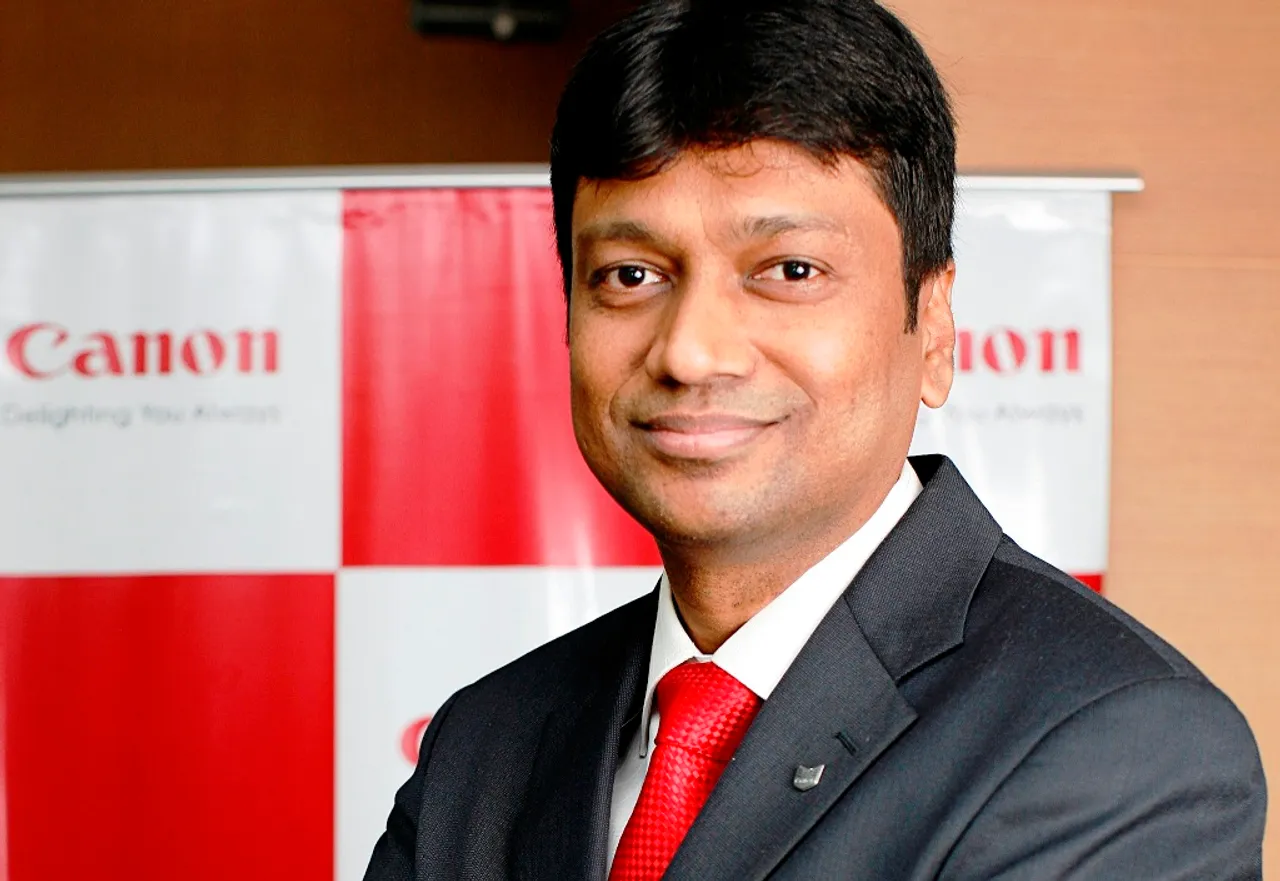 Document and print management is becoming an important area for many organizations. A lot of streamlining is possible through this area. In an exclusive interview with Mr. C. Sukumaran, Assistant Director, CSP Division, Canon India, Faiz Askari of SMEStreet found many interesting trends that are influencing today's business environment.
Faiz Askari. Can you talk about the priorities for Canon in order to understand the key trends of the industry?
Sukumaran: At Canon India, CSP division is one of the strong product division. It holds two major product categories in the A4 segment printers i.e. the Inkjet printers and the Laser printers. The Inkjet category caters to the home and SOHO segments providing a complete range of products to best suit all the needs as per the customer's specific requirements. The Laser category on the other hand majorly caters to the SME's, Enterprise and Government with a wide range of products and solutions.
From the Marketing perspective, our go-to market strategy has been different and independent for both these product categories. The Inkjet category has recently shown a major transition, we see a strong response in the home segment and also a strong growth of adoption by the SOHO's. In the SOHO segment the copy shops, the jobber segments, print shops etc. have shown a promising increase on sales of product. In the Inkjet segment, the product categorization moves from just printers to Multi-function printers to new technology, Continuous Ink Supply Systems (CISS) printers, commonly known as ink tank printers. The demand and sale for the Ink Tank printers have shown consistent growth close to 20 percent year-on-year. The print cost we incur is as low as 8 Paisa for black and white, which has helped us achieve huge growth and expansion in the new segment.
On the other hand SMEs, Government, SOHOs and Large Enterprises are the major drivers for this Laser segment. These printers are used for bulk printing and with newer innovations and technologies we are witnessing huge demand for the color based laser printers by organizations on a larger scale.
FA: 'Document management' is a new trend that has been gaining more relevance, does Canon have a strong role to play in providing such services?
Sukumaran: The CSP division comprises of products from both customer and enterprise categories i.e. Inkjet and Laser printers. The MPS solutions is a part of the Laser segment printers that means providing customized solutions/ services as per the customer's  printing requirements. Canon believes in providing convenience to the customers in tandem with their requirement in the form of a strong software support system.
In the Laser segment, we cater to SOHO's, Government, Enterprises where all these categories of customers have been heavily adopting the managed print services. With the emerging need for A3 and A4 printing requirements we provide solutions to best fit the business needs of the customer. There is an independent division which caters to the A3 printing machines i.e. the BIS division (Business Imaging Solutions) and we work together to provide printers along MPS solutions to our customers.
FA: Could you elaborate in detail about the MPS?
Sukumaran: MPS is all about creating convenience and control by a Document Solutions and this is Canon's strong domain and works for all our devices. Devices are incidental but the software part is the entire infrastructure.
The MPS solutions cater to all a lot of functionalities, which provide solutions like document security, convenience to users, restriction and tracking of prints so they reach the correct user, and many more such solutions.
FA: So in terms of the segments you mentioned, how about education since education is also very active?
Sukumaran: Education has been a segment that prints more and we surely are a part of it.  We cater to the segment with an innovative solution, for example we hear a lot of question paper leaks in a situation where in we have the papers getting printed and stored. These papers are printed a couple of days in advance, then these are sent to the education hub and then they reach the schools.
There is a solution that provides a complete fix to this situation by making the  question papers  available about half an hour before the examination, one needs to log on to the portal and extract the papers and print these and distribute to the students. This is one of the few solutions that helped us connect print solutions with education hub.
FA: It is a complete MPS solution for these educational institutions?
Sukumaran: Canon majorly plays the role of print solution provider and in this case the application comes in from large education providers.
FA: For CSP, education is an important segment and if you can give us some break up in terms of business comes from the BFSI and will consumable will come into this or any other division?
Sukumaran: Inkjet segment is completely dedicated to the home users and customer is an integral part of our division. The entire business model is based on our customer connect and we focus our energies on further strengthening this connect as it will earn us the customer's trust and profitability, in the long run.
We focus at delivering a complete solution portfolio that is a combination of hardware and software, which is combined to deliver better results. From the Laser segment, we cater to Enterprises, SOHO's, and Government agencies etc. Education segment contributes about 5- 8% at this moment, as it is just picking up with a more organized and centralized buying system introduced recently. BFSI contributes to 20% and Government contributes about 50%.
Can you tell us in detail about the Government sector and how is it growing?
Sukumaran: We do not subcategorize our customer portfolio. Government definitely is one of the key segments that we cater to and we have seen good growth in the past few months. The growth has been slow as the complete new system of product buying called GEM was introduced last year, along with couple of factors like GST etc coming into action. The GEM is a central procurement portal created by the Government for the agencies to help them place orders for products.
As a brand we regularly interact with these agencies and educate them on the products and offerings, we have seen a positive rise in business form the segment and we expect this to rise over the years.
FA: What difference do you see from the pre GST to the Post GST phase from the market stand point?
Sukumaran: GST impacted our business in the month of May and June, as there was a slowdown, due to complete de-stocking by the partners fearing that the carry forward stock will have a severe impact on their bottom line.
At Canon India, we were one of the brands who took responsibility of their stock protection. Since July, we have seen a strong phase with the stock coming back to the market. With the Government's GST initiative a lot automation is happening across the business community. A lot of players who were 'fly by night" in a way and did not have any automation have started to automate, you would see sales of laptop, printer and accounting software have gone up. The overall market seems to be moving upwards.
FA: How does the printing market look like and how is Canon doing in this domain?
Sukumaran: We anticipate a rise in the demand for printing in the next few quarters and a strong growth in the coming years.
Is there an approximate figure that you would want to mention that canon has experienced this much growth?
Sukumaran: As a part of our policy we do not share figures but we have witnessed a growth of 25% even after GST. Over all we expect a 20-25% growth in the coming months.
In the SOHO space, what kind of trends are you experiencing?
Sukumaran: We have seen a consistent growth for the past few months from the SOHO sector. The startup culture is expanding tremendously and it shows promising growth with the new emergent entrepreneurs. As per Government regulations like GST, we will have all unrecognized small and big players getting registered and this will bring a wider opportunity for brands like us.