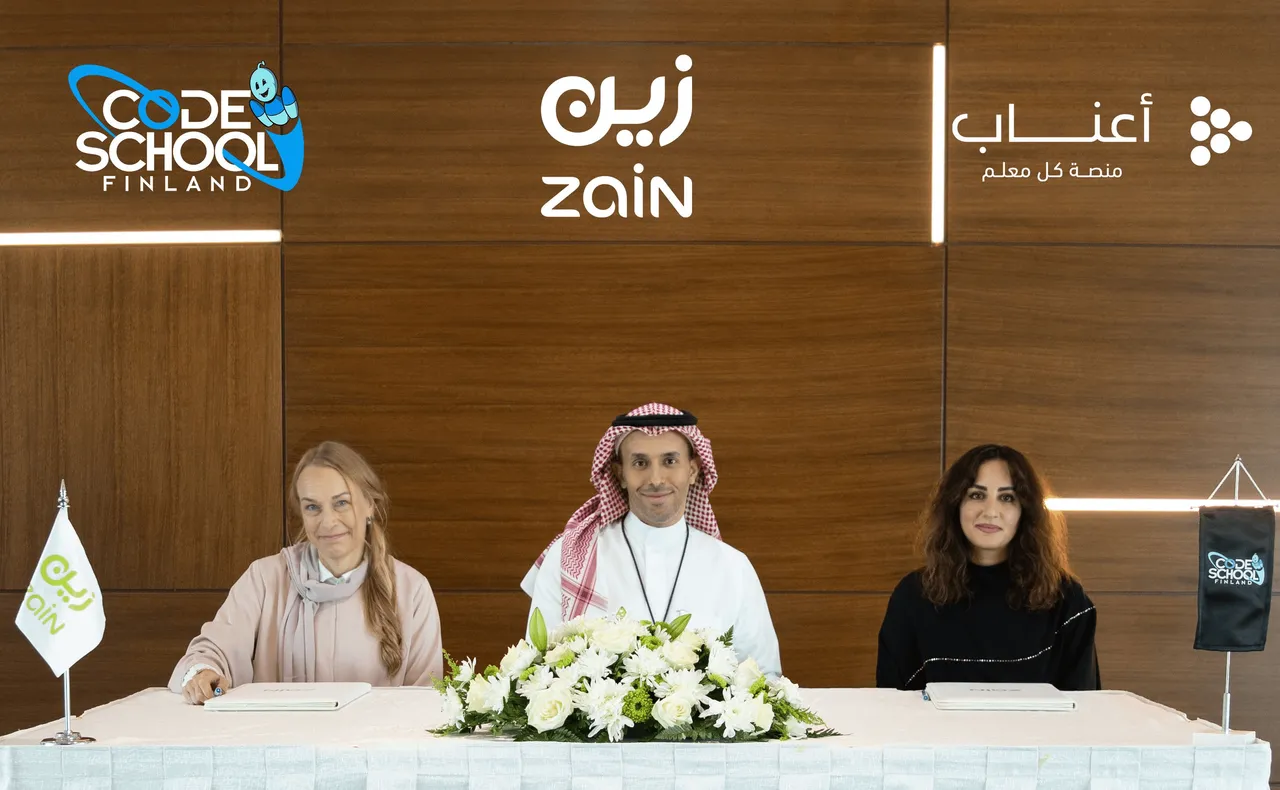 Zain KSA signed a Memorandum of Understanding (MoU) with Aanaqeed Knowledge Company (Aanaab), a renowned Arabic e-learning platform, and Code School Finland (CSF), a global leader in coding, robotics, and AI education. This strategic partnership aims to bridge the digital education gap throughout the Kingdom and support the localization of digital education. The MoU is part of Zain KSA's corporate sustainability strategy and its commitment to enhancing the digital capabilities of Saudi society by implementing training and educational programs, with a focus on developing technical skills, thereby contributing to Saudi Vision 2030's goals to accelerate the Kingdom's digital transformation and bolster Arabic technical content on the internet.
Zain KSA's MoU with Aanaab and Code School Finland demonstrates the company's significant strides in promoting diversity and inclusion by extending educational opportunities to every corner of the Kingdom, including remote regions. The MoU also underscores Zain KSA's unwavering commitment to empowering both female and male educators across Saudi Arabia, aspiring to nurture and graduate a new generation of digital trailblazers. This collaborative endeavor seamlessly aligns with Zain KSA's overarching corporate sustainability strategy, based on three key pillars: operating responsibly, inclusion, and generation youth,  inextricably linked to globally recognized environmental, social, and governance (ESG) practices.
Commenting on this milestone, Mr. Rayan bin Abdullah Al-Turki, Zain KSA's Chief Communication Officer, stated:  "As part of our corporate sustainability strategy, we are dedicated to elevating the digital literacy of all segments of our society. Our primary focus is on empowering the community of educators, who play a pivotal role in shaping the present and future of the Kingdom across various fronts. This dedication contributes significantly to the Kingdom's progress within the Human Development Index. Notably, in the 2022 Human Development Report released by the UN Development Program, Saudi Arabia secured the 35th rank out of 191 countries, a noteworthy ascent from the 40th position in the previous edition of the report."
Al-Turki added: "This partnership will significantly contribute to our broader community engagement efforts in support of the digital transformation journey outlined in Saudi Vision 2030. It also aligns with our commitment to achieving the United Nations Sustainable Development Goals, particularly in the areas of delivering high-quality education, fostering inclusivity and equality, and guaranteeing the right to access knowledge and quality education for all residents of the Kingdom. We are delighted to collaborate with the leading e-learning platform Aanaab and the esteemed global digital skills education provider "Code School Finland". In fact, our shared strategic approach revolves around nurturing innovation and leadership among our youth while fostering sustainability in building knowledge societies that leverage cutting-edge technologies to enhance digital Arabic language content, ultimately benefiting humanity across the Arab world."
In her turn, Aanaab CEO, Mounira Jamjoom, said, "We are thrilled to join hands with Zain KSA and CSF on this ambitious project to empower Saudi talent with digital literacy programs. Our specialized professional development courses are created by distinguished partners, academics, and educators from across the globe. With our distinctive approach and locally tailored content, we ensure that Saudi students have access to top-tier educational resources in their native language."
In her remarks, Code School Finland CEO, Kaisu Pallaskallio, stated, "The collaboration reflects our joint dedication to fostering Saudi talent and empowering the next generation of innovators and leaders. We are delighted to leverage our pedagogical expertise, teaching resources, and professional development services for educators in coding, robotics, and AI to drive educational excellence in Saudi Arabia. Our strategic partnership heralds a sustainable digital transformation in Saudi Arabia's educational sector, empowering the Saudi youth with fundamental digital literacy skills needed for a thriving future."
Zain KSA plays a vital role in empowering Saudi youth through its corporate sustainability strategy, supporting national education goals by sponsoring various youth empowerment initiatives in collaboration with multiple entities, including the EVOLVE program for fresh graduates and the Women in Technology program, which provides guidance and support to female university students pursuing studies in science, technology, engineering, and mathematics (STEM) fields.