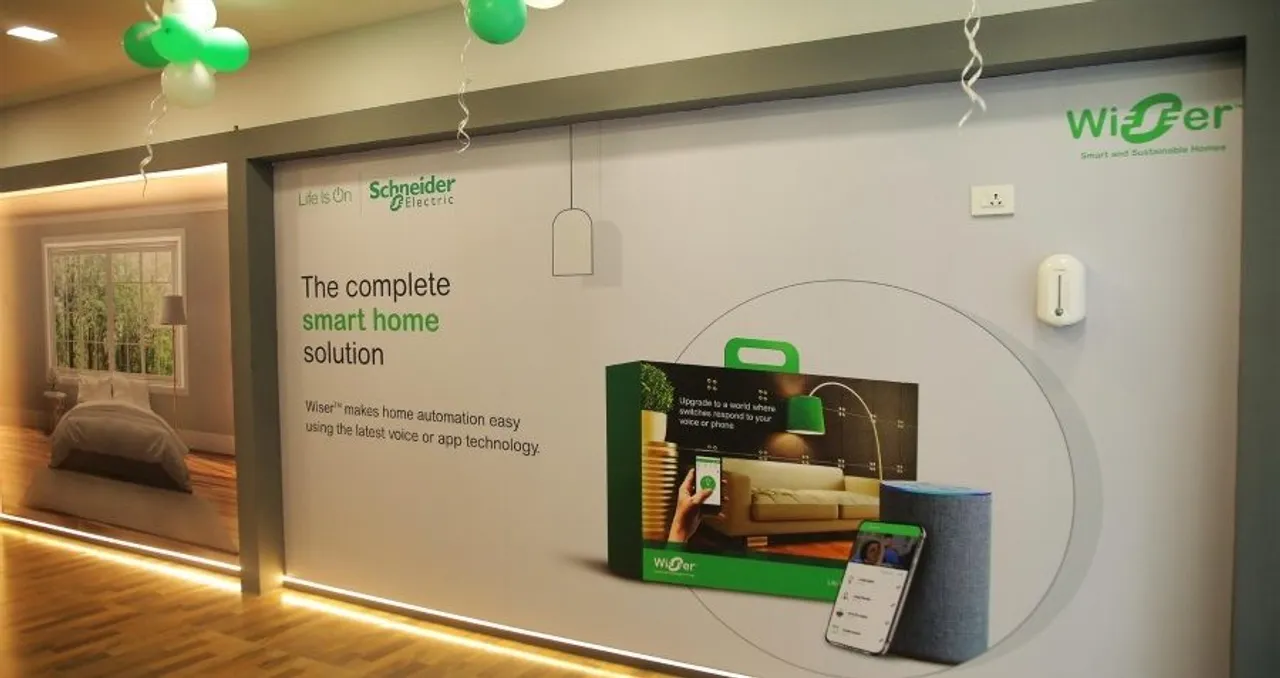 Schneider Electric, the leader in the digital transformation of energy management and automation, and Samridhi Group Pvt. Ltd., today announced the signing of a Memorandum of Understanding (MoU) to foster sustainable and technologically advanced smart home solutions. Through this partnership, Samridhi Group will create energy-efficient and environmentally positive residential spaces powered by a plethora of products from Schneider Electric that include Wiser Smart Home Solution, Unica Pure, a premium range of wiring devices, low-voltage switch gears, etc.
Wiser, an innovation-driven smart home solution by Schneider Electric, combines electrical, multimedia, and telecommunications technologies into a single user-friendly smart or automatic home solution. This automation system makes living comfortable by offering seamless control of your music, home theatre, lighting, air conditioning, sprinklers, and so much more. It also enables reduced energy consumption and an enhanced sense of safety by converting any new or old home into a smart home within a few hours.
Schneider Electric's Unica Pure range of wiring devices offers safety, convenience, and sustainability. Powered by six patented technologies, this range is designed for minimum environmental impact and has the highest international green certification (Green Premium). This versatile range covers requirements across segments, whether it's residential, hospitality, office, or commercial projects.
By embracing cutting-edge solutions and products designed to reduce carbon footprints, the collaboration between Schneider Electric and Samridhi Group will pave the way to smarter, greener, and more environmentally friendly solutions designed for the real estate industry.
Sharing his thoughts on the partnership, Manish Khandelwal, Vice President, National Sales, Schneider Electric, said, "Schneider Electric's core value of sustainability has catapulted our consistent efforts in offering energy-efficient and environmentally impactful solutions to builders and consumers in the home automation space. Recognizing the urgency and complexity of sustainability challenges, we believe that partnerships and collective action are vital for creating meaningful and lasting change. The alliance between Schneider Electric and Samridhi Group brings together the shared vision of amplifying the impact and advancing the cause of sustainability.
We remain steadfast in supporting real estate leaders in their pursuit of creating responsible and sustainable homes in the face of climate change challenges."
Mr. Dinesh Kumar Gupta, Managing Director, Samridhi Group, added, "The signing of the MoU with Schneider Electric has embarked on a journey to create sustainable and technologically advanced homes that meet the demands of the consumer as well as the planet. By including Schneider Electric's innovative solutions, we will create a more comfortable and enhanced lifestyle that will contribute to a greener future. Our shared vision of prioritizing comfort with sustainability will cater to the evolving needs of our consumers along with the requirements of the environment.