TANAKA Kikinzoku Kogyo K.K. (Head office: Chiyoda-ku, Tokyo; Representative Director & CEO: Koichiro Tanaka), which develops the manufacturing business of TANAKA Precious Metals, is pleased to announce that it will exhibit at "Medtec China 2023" medical device design and manufacturing exhibition to be held in Suzhou, China on June 1 (Thursday) to June 3 (Saturday), 2023.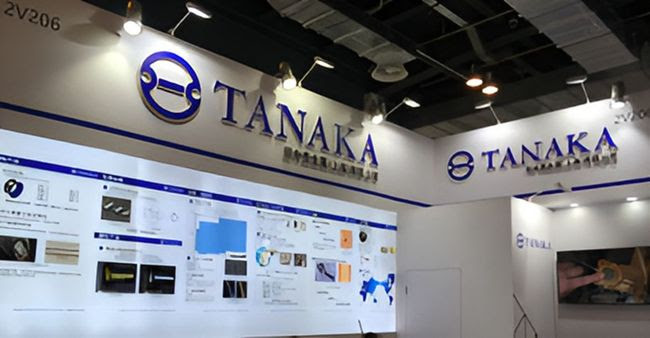 The main exhibited products will include x-ray visible markers, platinum (Pt) alloy wire, electrode tips, and laser-cut parts. The trend in medical settings in recent years has been for low damage (minimally invasive or non-invasive) surgery and medical treatments that impose little physical burden on patients. Precious metals are resistant to acids and alkalis, as well as oxidation.
TANAKA Precious Metals is contributing to the development of the medical and healthcare industry technology by utilizing its precious metal technology cultivated over many years.
Medtec China 2023 Exhibition Outline
– Exhibition Title: Medtec China 2023
– Dates: June 1 (Thurs.)–June 3 (Sat.), 2023, 9:00–17:00 *Suzhou, China local time
– Venue: B1–E1 of Suzhou International Expo Centre (Suzhou, China)
– Official Site: en.medtecchina.com/ *Only English and simplified Chinese sites are available
– Exhibitor: TANAKA Kikinzoku International (Shanghai) Co., Ltd. (A TANAKA Kikinzoku Kogyo K.K. overseas office)
– Booth Number: C1-R208
– Main Exhibited Products: X-ray visible markers, Pt alloy wire, Electrode tips, and Laser-cut parts, etc.
Product Name
Product Photo
Outline
X-ray visible markers
Intravascular treatment using catheters requires visibility under fluoroscopy. TANAKA Kikinzoku Kogyo manufactures markers using Pt and Pt-Ir precious metals that are highly radiopaque.
Pt alloy wire
The Company manufactures wire using Pt, Pt-Ir, Pt-Ni, and Pt-W for guidewire and embolic coils.

Compositions other than the above wire can also be considered upon request.

Electrode tips
The Company manufactures electrodes for the tip components of EP and ablation catheters for arrhythmia treatment.

Microfabrication, such as drilling required for irrigation systems, is also available.

Laser-cut parts
Femtosecond laser machines enable processing with ultra-short pulse widths. As a result, the thermal effect on the material is extremely small and burrs do not occur. Various types of processing are available, such as tube cutting, drilling, notching, spiral, and thin film processing.
*These are offered as precious metal materials for industrial use.