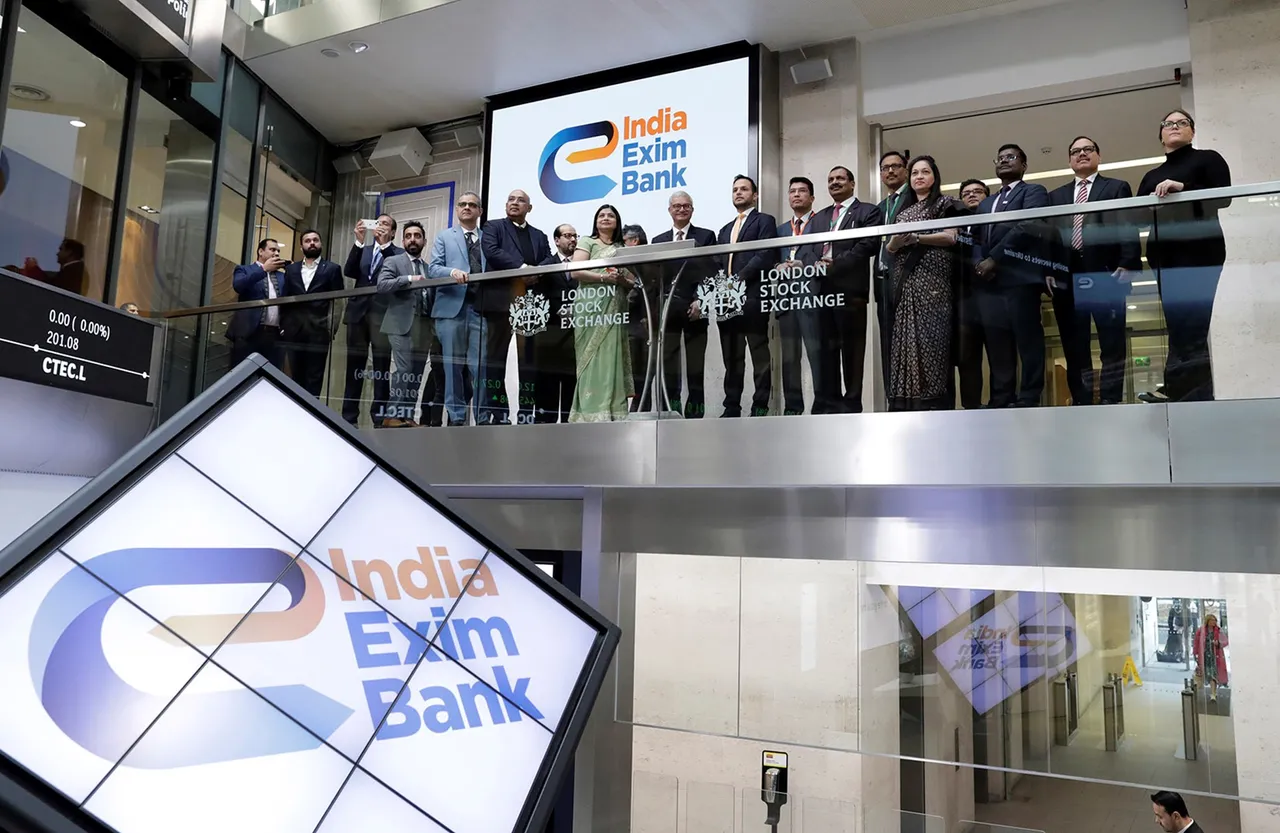 The Export-Import Bank of India, India Exim Bank celebrates the listing of its maiden 10-year US$ 1 billion Sustainability Bond on the Sustainable Bond Market (SBM) Platform by opening the Market at the London Stock Exchange (LSE).  
This Bond was issued in January 2023, making India Exim Bank the first Indian issuer to open the markets for dollar and sustainability bond issuances in 2023. Following which, the Bank received an External Post Issuance Review in July 2023, after evaluation of the projects and assets funded with proceeds from this Bond. The Post-Issuance Review of this Sustainability Bond states that all the reviewed projects complied with the 'Use of Proceeds' criteria and were consistent with the commitments described in the Bank's ESG Framework. The London Stock Exchange has, upon due diligence, qualified Exim Bank's Sustainability Bond to be now listed under LSE's Sustainable Bond Market ("SBM") Platform.
Speaking on the occasion, Dr. Vivek Joshi, Secretary, Department of Financial Services, Ministry of Finance, Government of India, said "The recent developments and collaborative efforts between India and the UK in the financial sector have laid a strong foundation for continued cooperation and growth. Today, having the listing of India Exim Bank's maiden USD 1 billion 10-year Sustainability Bond on London Stock Exchange's Sustainable Bond Market (SBM) Platform, itself is testimony towards our commitment to build on each other's strengths and support mutual aspirations towards sustainable development".
Ms. Harsha Bangari, Managing Director of India Exim Bank, said, "We are delighted to Open the Markets today at the London Stock Exchange. Our association with the London Stock Exchange began in 2017. Today, the Bank has 7 of its issuances amounting to USD 4.7 bn, listed at the London Stock Exchange. The partnership has given our bonds better visibility, apart from providing access to a deep pool of capital and wide investor base. Our maiden benchmark Sustainability Bond is an outcome of our continuous efforts to align ourselves with the global best practices in sustainable finance".
Shri Tarun Sharma, Deputy Managing Director, India Exim Bank, added "As India's Export Credit Agency, as part of our commitment towards ESG, we have refined our policies and strengthened internal processes in order to integrate sustainability into every aspect of our operations. In addition, we are also expanding our support in trade finance, which is aligned with six of UN's Sustainable Development Goals". 
The Bank's ESG Framework has been reviewed by a Second Party Opinion (SPO) provider. The Framework was confirmed to be 'Credible and Impactful' and aligned with the Sustainability Bond Guidelines 2021, Green Bond Principles 2021, and Social Bond Principles 2021, as administered by International Capital Market Association (ICMA), Green Loan Principles 2021 and Social Loan Principles 2021, as administered by the Loan Market Association (LMA), Asia Pacific Loan Market Association (APLMA), and Loan Syndications and Trading Association (LSTA). 
Apart from the London Stock Exchange the Bank has listed this Bond on the India International Exchange (IFSC) Limited (India INX)'s GSM Green platform, and AFRINEX Limited (Afrinex)'s AFEX Green platform dedicated for social, green and sustainable financing. The Bond is also listed on the Singapore Exchange Securities Trading Limited (SGX-ST).